Short on time? My top choice for the best women's basketball shoes and the best basketball shoes for girls is the Under Armour Flow Breakthru 2 Basketball Shoes.
Women's basketball has been around as early as 1892. This was just a year after Dr. James Naismith invented it in 1891. Senda Berenson added some tweaks into the game to make it more appropriate for women. You can find more interesting women's basketball milestones in the history of basketball. With the Women's National Basketball Association (WNBA) and women's basketball becoming an official Olympic sport, there are plenty of opportunities for women and girls to get exposure to the sport.
In this article, I'll be reviewing the following best basketball shoes for girls and women:
Let us start with what you need to look for when shopping for women's basketball shoes.
Should you consider men's basketball shoes?
Shopping for basketball shoes in the men's section can give you more choices in terms of availability of designs and range of sizes.
How about the fit and sizing? Will a shoe created for a man's foot work with a woman's? A study on gender differences in adult foot shape in April 2001 by Wunderlich RE, Cavanagh PR noted that for the same foot length, a woman's foot will have (1) a higher arch, (2) a smaller instep in terms of circumference, (3) a shallower height for the first toe, and (4) a shorter length of the outside ball of the foot.
You can refer to the diagram below which I have created to see which exact parts of the foot were measured.
While there may be differences, these are typically subtle and it remains to be seen whether including these small changes in a shoe design will actually result in a much better fit. So yes, you can consider men's basketball shoes if you are unable to find anything suitable in the selection for women.
A good rule of thumb to get the equivalent women's US size from men's sizes is to subtract 1.5 from the men's size.
Cushioning And Support
Basketball games require a lot of running and jumping. You need shoes that can absorb the shock and can give you proper support to sustain the constant pounding on your feet, ankles and knees. The two parts to focus on would be the midsole and the insole.
Before we continue, let's check out this video to look at some of the top plays of the decade in the WNBA to get an idea of how women's basketball has progressed and the styles of basketball shoes that the players wear.
For the midsole, the most common material used for basketball shoe midsoles is ethyl vinyl acetate (EVA). This is a type of foam which is lightweight, durable, sturdy, and is great for withstanding hard impact. Another popular material is thermoplastic urethane (TPU) which is also lightweight and durable.
The insoles or sockliner that come as part of the shoe will usually be soft and made of foam. It adds a layer of cushioning to your feet. If you have a specific foot condition like high arches or flat feet, then it's best to check out more specialized types of insoles for added support.
Traction And Stability
Traction is very important to prevent injuries due to slippage. The pattern on the outsole of a shoe is the key factor that determines how good the grip of the shoe is. A shoe with the traditional herringbone pattern is a safe and solid bet. Makers of basketball shoes have been innovative in the patterns that go into the outsole which can be as reliable as the herringbone pattern. These patterns can also be decorative and enhance the overall look of the shoe. The shoe outsole is commonly made of rubber.
Secured To Your Foot
Your basketball shoes must feel secure on your foot to ensure stability. You wouldn't want your shoe to slip off your foot in the middle of a fast break.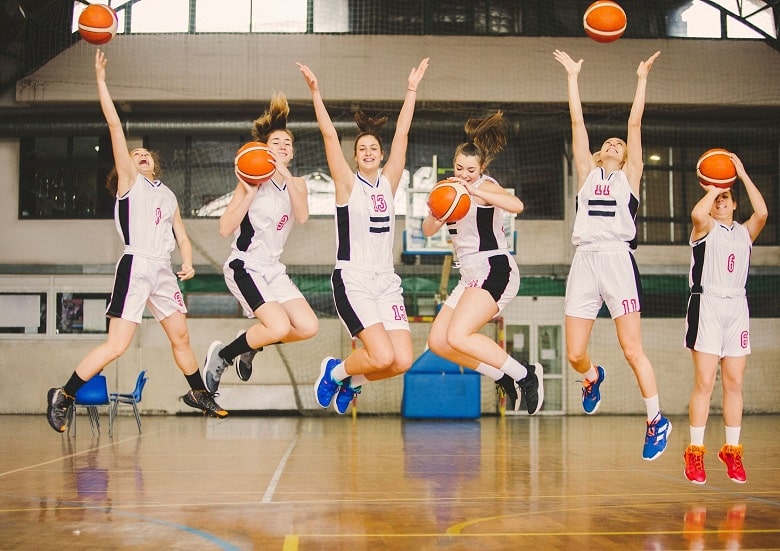 Shoe laces are the best bet as they provide the best level of adjustment in terms of fit. Velcro straps are a convenient option but make sure that shoe fits well after you have fastened the straps.
You would also want to look for a padded heel and ankle collar as this helps keep your heel and ankle in place.
Lightweight
The perception of weight can be subjective so it is best to try the shoe to make a proper judgement. Having that thought in your head that your shoe is heavy will impact you more than the real weight of the shoe itself. I have tried on shoes that felt heavy to me which actually ended up being the same weight as others that I perceived to be lighter.
A thicker midsole and outsole contributes to the weight and bulk of a shoe. This isn't necessarily a bad thing since the use of EVA and similar materials have made basketball shoes a lot less heavy.
Comfortable
Other features like moisture wicking sockliners and a soft and breathable upper material adds to the comfort that you get out of a shoe. You will get a lot more mileage and value for your money if you get a shoe that you love to wear.
High Top, Mid Top or Low Top?
This is mainly a matter of personal preference. If you need guidance, I recommend that you choose based on the position that you play. Low top and mid top shoes work best for guards and small forwards as they are constantly on the move. If you are a power forward or center then high tops and mid tops are the preferred shoe cuts.
The Top 5 Picks: Tested And Reviewed
Now that we know the different factors to consider, let's go and decide which one to buy.
The Under Armour Flow technology first feature in the Curry Flow 8 makes its way to basketball shoes for women These shoes are light, weighing only ten ounces. The outsole is made of rubber with a unique pattern, ensuring great traction and durability.
The midsole uses the UA Flow cushioning technology. It not only lessens the blow on your feet when you land from those jumps, it is also extremely bouncy. The shank (a thin piece of material between the insole and midsole) in the midfoot provides increased support and structure. This plus the heel counter with external TPU wing cradles your heel and ensures that your feet are locked in place. The 3D-molded sockliner (insole) adds further comfort.
The upper of the shoe is made of engineered mesh with no sew films. The mesh has perforations on it for breathability. It has a half-bootie construction and molded collar for a secure fit without being too restrictive. This shoe is comfortable and generally doesn't require breaking in.
I like the mid top cut which makes it versatile and will work for any position that you play.
Pros
Superior cushioning using Flow technology
Great arch support and traction
Lightweight
Cons
Less popular brand for basketball shoes
This the women's version of the Zoom Freak 3 made popular by NBA star Giannis Antetokounmpo. This is another mid top shoe which is best for power forwards like him but will also work for other basketball positions.
The midsole is made of lightweight molded material which is hollow at the underfoot. Two Zoom Air units are strategically positioned in this place. The position allows for optimal compression and energy release for maximum responsiveness and bounce.
There are a few standout features on this shoe. The first that you'll notice is the hook-and-loop strap. The thick strap goes over the lower part of the shoe laces to minimize internal foot movement. I like how the shoe stays secure on the foot when making a dash for a loose ball thanks to the hook-and-loop strap.
The outer side of the midsole is accentuated by a piece of TPU. This is not there for aesthetic purposes only. The bright-colored piece helps to keep your feet stable when doing quick side-to-side direction changes.
The outsole is made of rubber with an interesting pattern for great floor grip. The upper is made of mesh textile which is comfortable and breathable. It has a traditional tongue construction made of mesh which helps increase the airflow and makes it easy for the wearer to slip the shoe on.
Pros
Two strategically placed Zoon Air units for excellent cushioning and bounce
Good arch support and traction

Lightweight
Cons
The Jordan Women's Shoes Nike Zoom '92 is inspired by the iconic designs of basketball shoes during the 90's decade. This shoe scores high in the style department. If you are into retro designs then this is definitely the one for you. I picked the cactus flower colorway since this is not the usual color that you would see in basketball shoes.
The midsole is made of lightweight foam which is responsive and delivers excellent cushioning. Of course, this will not be called Zoom without the presence of Zoom Air units. They are placed at the forefoot to add a spring into your every step. The outsole has a traditional herringbone pattern to provide for traction and grip. The Nike Air and the Jordan logo also feature prominently in the outsole.
The Nike Zoom '92 uses a mix of materials for the upper allowing for texture and dimension. It remains breathable in spite of the mixture of various materials.
This is one shoe that you can use not only on the court but also for casual wear. It will go well with jeans or athleisure clothes.
Pros
Exudes retro cool
Lightweight and responsive
Can serve a dual purpose – basketball and lifestyle
Cons
Design may not appeal to everyone to shoe that favor more modern styles
Priced higher than other options
Inspired by Kyrie Irvings quick moves, the Kyrie 6 shoe is made to give you that extra spring in your step. This is one of my recommended basketball shoes from the men's section. A very versatile shoe that can work for all basketball positions.
The midsole is made of lightweight foam which is soft and supportive. Nike Air Zoom Turbo cushion units under the ball of the foot adds to the comfort factor and enhances your on-court speed. This foam midsole perfectly complements the curved outsole and gives you that swift and smooth heel-to-toe transition. This is everything you need for support and performance.
The curved outsole extends towards the side of the upper and has a unique multi-angle blade pattern design providing excellent grip. This makes the shoe a great choice for cutting through opponents and making fast lateral movements.
The Kyrie 6 comes with an adjustable thick midfoot strap which holds down your shoe laces and keeps your feet stable. It has a padded collar and heel counter to keep your ankle in place and ensure it is properly aligned. The shoe will stay secure on your foot while you execute your fancy footwork to get that opening and make that shot.
Pros
Exceptional support and cushioning
Lightweight and responsive
Excellent traction with patterned outsole extending all the way to the sides of the upper
Cons
Runs narrow. Take a size up after converting to women's size.
These shoes are comfortable, lightweight and responsive. This is another one of my picks from the men's section that can be suitable for women. The shoe has a minimalist and clean design making it a crowd pleaser.
The Adidas Pro Bounce 2019 features a Flexible Bounce midsole cushion, a type of foam that is meant to be soft, flexible and bouncy hence the name. The Bounce cushion was designed in-house by Adidas with performance as the primary consideration.
The outsole features a Zonal herringbone pattern with flex grooves for outstanding traction. It has a padded ankle collar with additional cushioning for added stability. The lace closure ensures a secure but pleasant fit. The upper is made of two-tone textile material and has a textile lining. It is secured to your foot with a lace closure.
The sizing on this shoe can be tricky. I recommend checking at least two sizes to try and get the right fit.
Pros
Lightweight and responsive
Great cushioning and support
Clean and minimalist design
Cons
The Awesome Choice
My choice for the best women's basketball shoes is the Under Armour Flow Breakthru 2 Basketball Shoes. These shoes are simple and reliable. I love that these shoes provide exceptional cushioning and support through the latest UA Flow technology and midfoot shank. A solid rubber outsole with a unique pattern provides excellent grip to keep you steady as you make your cutting moves. The use of perforated mesh textile supported by no-sew films achieves the right balance between comfort, style and durability.
This shoe presents an outstanding value for money. It comes at an attractive price point without compromising on features. This is also the choice of WNBA players such as guard Ty Harris.