If you quickly want to know my choice for the best basketball shoes for centers and forwards, then I'd recommend Nike LeBron XVII as the best one.
Big guys are relied upon to cover the paint and protect the rim. On the offensive end, centers and power forwards work on the post and power their way to the hoop. This has been the traditional way on how the game is played. As the game has evolved, so have the positions. In order to excel in these roles, you must have basketball shoes that are durable enough to support your weight, force, and movement.
What I have mentioned above are the fundamental principles that I will be using in reviewing and recommending the best basketball shoes for big guys.
In this article, I will be reviewing the following top-rated basketball shoes for centers & forwards:
Impact Protection
The painted area near the hoop gets clogged all the time. Guards drive to the basket. Forwards post up and attack the rim. Centers bang bodies in the paint. Boxing out and positioning for rebounds happen at every possession. Being in the center exposes you to the risk of being in contact with so many moving feet. Impact protection is very important for big men. This is to ensure that you have the right support when your opponents throw their weight against you. Smaller guards who run into you when you set up a pick can also cause extreme impact to your feet. There are several scenarios that you have to keep in mind to protect yourself from unexpected impact. Let's check out this video to see how versatile NBA big men move on the court while executing their amazing plays.
Ankles are sensitive and the right level of shoe support is required. You should be looking at support and cushioning that can prevent your ankles from rolling. Having your ankle ligaments stretched or torn is not a good way to enjoy the game. Recovery from injury is a costly and tedious process.
Focus On The Game
Centers and power forwards are no longer limited to the shaded lane under the hoop. Pure low post players have slowly been diminishing in recent years. As the pace and style of the game changed, big men's game is also quickly evolving. Their skill sets have expanded. Many of the centers and forwards nowadays have the ability to stretch the floor all the way beyond the three-point arc.
With the emergence of the stretch four and five players, our criteria for choosing shoes have also progressed. We have to consider their ability to play and shoot from the outside and at the same time impose their weight and presence in the shaded lane when needed. This makes the process of choosing the best basketball shoes for centers and forwards more complicated but also more exciting.
Material
When reviewing basketball shoes, you have to look at the different components: the outsole, the midsole, and the upper. Sturdy and durable rubber outsoles are the standards but they vary in thickness and pattern. Midsoles are crucial to your stability and balance when in motion. This can also determine the comfort level when you wear them to your game. Soft and comfortable midsoles are required. Thick phylon midsoles are always a plus. This is usually made of EVA (ethylene vinyl acetate) which is essentially plastic made of ethylene and vinyl acetate compounds. It greatly improves shock absorption for centers as they jump to grab that offensive or defensive rebound. It is generally very lightweight and gives you a distraction-free feel. The upper provides comfort and breathability. This can be made of leather, synthetic materials or mesh fabric. The key is to not have shoes with uppers that are too stiff and restricts flexibility.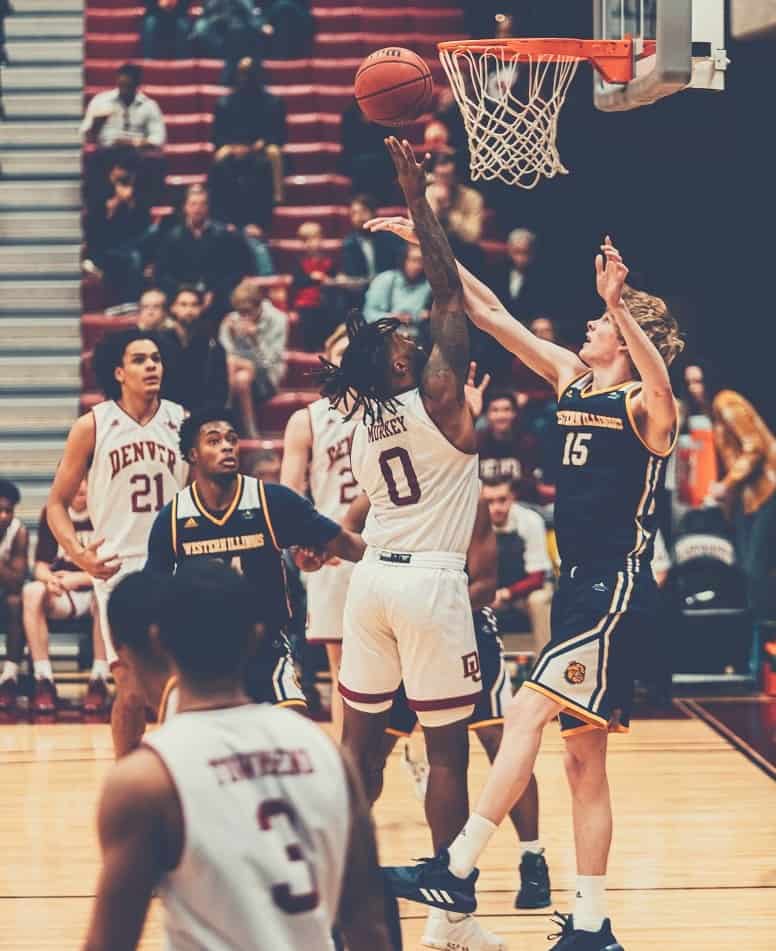 The combination of the different parts and how it impacts your performance is what will guide us in this review.
Grip
Thick rubber outsole is the number one consideration. In terms of impact reaction, a good heel to toe transition should be taken into account for heavier guys. Outsoles have different patterns for different surfaces. The traditional herringbone pattern works very well for big guys. Multi-directional patterns are also effective in improving traction when you are positioning yourself under the basket.
Although traction was not the top priority for centers and forwards before, it is increasingly becoming important as big men extend their range. Good shoe grip and traction are more important than most big men think because they can impact pivot moves and can strengthen your rebounding position.
Check The Upper
High tops and mid tops are traditionally the preferred shoe cuts for centers and power forwards while guards often wear low tops. This is to give you the rigid support that big men demand. Although hi tops are heavier, these types of shoes will provide better ankle support and cushioning. The additional support also gives your feet a strong and solid position when you plant them on the paint to cover the lane. Whether the upper is made of synthetic leather or mesh, the crucial deciding factor is how the material combines with the other parts of the shoes to determine the overall stability and support. You will have to consider materials for the upper that can support both your defensive stance and your agility needs on offense.
Aesthetics
NBA stars have signature basketball shoes and these are usually designed to enhance the style of their game. Aside from the striking looks, these shoes are made of high quality uppers, midsoles, and outsoles. I have checked out shoes with designs that are classic and also those with striking cool patterns.
To complete your on court appearance, check out my article about the best basketball socks to complement your basketball shoes.
My Top Five Recommendations
Choosing the best basketball shoes for big men can be a daunting task so I've listed down the best available options for you.
The Nike LeBron XVII signature shoes are made of heat-molded yarn uppers that are knitted into a lightweight material. It is both durable and breathable. Nike calls this material the Knitposite. The idea of this finish is for maximum flexibility and movement. The adaptive Flyknit technology was combined with the protective characteristics of Foamposite to come up with the Knitposite construction.
This pair has the biggest Max Air units across the heel that can absorb shock from hard landings. This can support even the heaviest centers and forwards. Visible under the ball of the foot are the substantial Air Zoom units that are extremely responsive to pressures from high impact areas. Big men will benefit from the support and stability that this provides.
The Lebron 17 comes with wide collars that give big guys the ease of putting these on and off. At the same time, the collar provides a comfortable and secure fit when laced up. Directly under the heel, are 15 mm soft foam pods that add the much needed cushioning for heavier players. The lacing system is finished off with a secure and stabilizing plastic clip for that extra locked in feel.
The tongue's motif is LeBron inspired. The topline of the shoes has a jagged finish to replicate the look of a crown.
Pros
Durable Knitposite for a sock-like upper with hard shell in key areas
Biggest Max Air units
Visible Air Zoom units for maximum shock absorption
Soft foam pods for added cushioning
Cons
The Nike Kyrie 6 basketball shoes are made of engineered leather and mesh upper. It is ironic that a pair of basketball shoes designed for a guard like Kyrie Irving is so suitable for big men. The materials of the upper are extremely comfortable and breathable. The unique outsole wraps up to the sides of the upper. This makes it ideal for post up moves, boxing out, and rebounding. A strap is added across the midfoot for tightness and grip. You get the feeling as if the shoes won't ever come off. It is that locked in feel that will give you the edge in confidence against your opponent.
It comes with a huge Nike Air Zoom Turbo unit in the forefoot. The curved outsole helps with your precision moves as you position yourself under the basket. The multi-angle cushioning gives you the much needed support when playing in and out of the shaded lane.
The strap across the midfoot combined with the molded 360 degree traction provides centers the support and foot stability that you need. This pair is a fusion of traditional and modern technology that will give you the performance and look that you desire.
Pros
360 degree traction
Multi-angle cushioning
Exceptional all-around grip
Cons
Some players reported longer break in period
The Adidas Marquee Boost basketball shoes are made of pure textile upper. It is extremely breathable and comfortable. This pair of mid-top shoes has thick padded heel collar for extra support. It is suitable for both centers and forwards.
The molded ankle collar feels secure and snug even during intense moments of the game. The Boost foam midsole cushioning is made of expanded thermoplastic polyurethane (eTPU). The benefit of this material is its durability and flexibility without compromising performance. Responsiveness is quite high on the midsole. This would especially be useful for big men and the impact their feet generate on their shoes from hard landings. The outsole has intricate zonal herringbone patterns for excellent grip and traction. This is due to the amount of rubber that comes in contact with the court surface. Big men can feel confident in the overall support and protection that this pair of shoes provides.
The Marquee Boost has a classic basketball shoe design. It is the Adidas modern take on the vintage Marquee basketball shoe model. The smooth textile lining and elastic lace closures are a plus for centers. With accent colors strategically placed across the shoes, this pair exudes a subtle yet striking appearance. This can be considered as one of the best Adidas basketball shoes I've ever worn.
Pros
Padded heel collar for extra support
Textile upper for comfort and breathability
Boost foam for durability and flexibility
Cons
Can be a bit tight when new
The Adidas OwnTheGame basketball shoes are made of mesh upper with synthetic leather zones. This combination makes the shoes comfortable for lateral movements. The mid-top design has a Cloudfoam cushioning in the midsole and footbed. Clutch players can focus on their game when wearing these shoes as the material is comfortable and has a distraction-free feel to it. Cloudfoam was developed by Adidas using EVA (Ethylene-vinyl acetate) compound. The EVA material when applied to the heel pad in the midsole gives you the superior underfoot cushioning that you need to face the physicality of the game. An OrthoLite sockliner is added for extra comfort.
The rubber outsole is extremely durable. It is made of Adiwear material which is a very strong rubber and has non-marking characteristics. It was a rubber product primarily used before for high-abrasion areas in tennis shoe outsoles. Luckily for us basketball players, Adidas decided to incorporate this technology into their line of basketball shoes. Traction is enhanced by the Adiwear outsole. A heel pull is added for easy wearing which proves to be very useful especially for big guys with wide feet.
This pair of OwnTheGame basketball shoes has very clean aesthetics. The classic Adidas 3-stripes are carefully debossed in the mesh upper resulting in a modern yet traditional Adidas look.
Pros
Cloudfoam cushioning for superior underfoot comfort and support
Good traction from Adiwear outsole
OrthoLite sockliner
Cons
Synthetic leather is not as breathable as natural materials
The Adidas T-Mac Millennium comes with a synthetic upper for a comfortable fit. It is suitable for long games with high impact. This pair has solid support for big men. The forefoot is enhanced by embroidery and a TPU (thermoplastic polyurethane) material for support. This is extremely useful for lateral support. Big men can rely on this pair for power play inside or smooth shooting for stretch big men. The textile lining is smooth and has a silky feel to it. The midsole is made of Boost material which is extremely responsive to your pressure.
The main benefits of the Adidas Boost are durability, flexibility, and shock absorption. Exactly what centers need to perform their best. The rubber outsoles are thick and strong. They come with the traditional herring-bone pattern for good traction and sole durability. Setting up a pick or posting up won't be an issue with the traction you get from the sole. This pair would be good for either indoor or outdoor use for big men.
In terms of appearance, Adidas did a good job of making this pair of T-Mac shoes look modern yet retro. Overall, this pair has a very cushioned and stable feel. It is recommended for big guys who require good lateral support.
Pros
Comfortable upper
Very good lateral support
Grippy herringbone outsole
Cons
Synthetic leather may look flimsy
The Awesome Choice
While it is tough to choose a single pair of basketball shoes for centers, the Nike LeBron XVII stands out for its durable Knitposite material.
The sock-like uppers with hard shells in key areas give them an edge over the other basketball shoes. The heat-molded yarn uppers are comfortable and breathable. The large Max Air units are a plus. Shock absorption is excellent with its visible Air Zoom units. To round it off, the soft foam pods provide cushioning for extra comfort. These LeBron James signature basketball shoes have met all the criteria for the best basketball shoes for big guys.