In a hurry? If you quickly want to find the best basketball shoes for guards, then I'd recommend the Nike Kobe Mamba Focus as the best one.
Being a point guard myself, I am fully aware that guards require specialized skills to excel and equally specialized basketball shoes to match our skills. As a point guard, you should have excellent ball handling skills and court vision. Off guards have good long range shooting skills that can extend beyond the arc for a three-point shot. Both positions require speed and agility to outsmart their defenders. Basketball shoes play an important role and choosing the right pair can further boost your confidence.
In this article, I will review the following best basketball shoes for point guards and shooting guards:
Support And Comfort
Guards have to constantly move. Whether you have the ball in your hands or reading your opponent's defense to get the space and position you need, your quickness will be your asset. With this in mind, you should be looking at low or mid top shoes. These types of shoes would give point guards the maximum flexibility when they call the plays. For off guards, these shoes give them an edge when they break free from their defenders for that mid range jumper.
Shoe construction is important because it affects both your physical performance and the confidence that you exude on the court. We will review the upper, midsole, and the outsole to determine the best combination and construction. For speedy and quick guards who need extra ankle support, you can check out my article about ankle support and foot stability.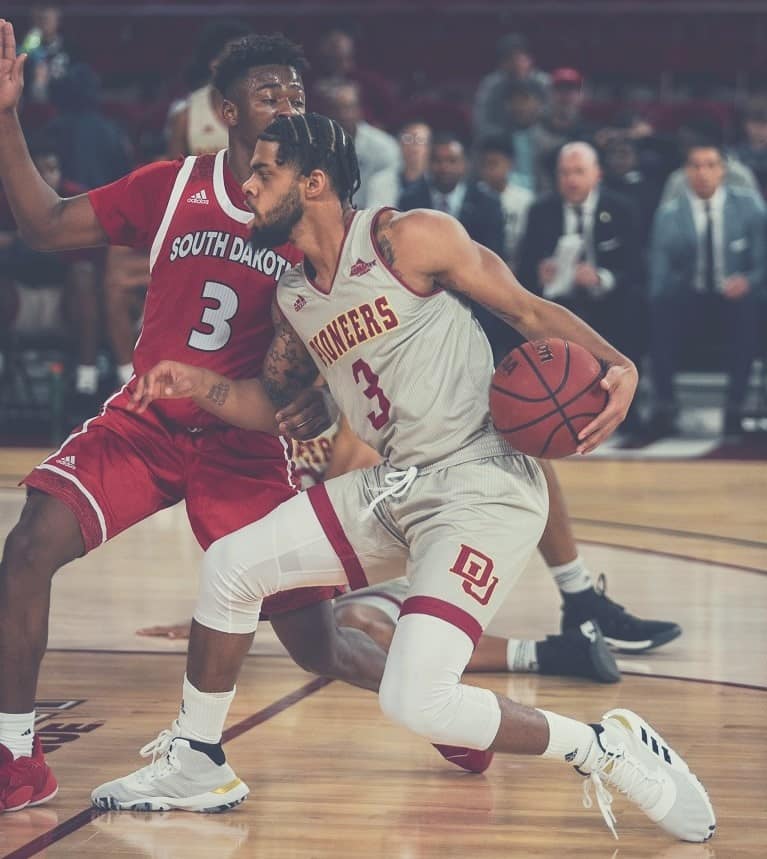 Enhance Your Speed
Different materials and finishing provide different effects on the playing court. For quick guards, you should be looking closely at the quality of the outsole and materials that make up the upper.
Rubber outsoles are the standard of good quality basketball shoes. The patterns on the outsole differentiate a good pair from an excellent one. In this review, we have looked at shoes with outsole patterns that provide the best traction and grip when you run the length of the court. We'll also be looking at basketball shoes that will give guards the confidence to shift speed and change direction at will.
For outsoles, the traditional herringbone pattern provides good grip and traction. Flex grooves are embedded in certain patterns and enhance flexibility and comfort. Shoes with full length cushion will also be beneficial when crafty guards slash through the middle for a layup or tear drop shot. Let's watch this video to see how NBA point guards execute their nifty plays.
Durability
For guards to maximize the performance and durability of their shoes, they should be looking at midsoles and outsoles that are built for constant sharp impact.
Aside from calling the shots and hitting triples, you are also tasked to defend the best shooter and playmaker from the opposing team. You should also protect yourself from the impact when the opposing team's big man sets a pick. Being effective in both offense and defense is tough. Having a pair of shoes that can withstand both ends of the floor not only enhance your performance but also protect you from injuries.
The midsole and outsole should neither be too thick nor too thin. We will consider this factor when reviewing the shoes.
Style
Wearing the shoe design that you love will display your personality. Ultimately, you have to be comfortable with the color, cut, and overall shape of your shoes. People actually remember the shoes that you wear more than you think they would.
With so many different style options, guards are spoiled for choice. As the court general, the crowd's eyes are glued to the point guard as soon as the tip-off is done and the ball lands in your hands. Shooting guards on the wings are always on the spotlight as you cut through your defender and catch the ball to release that quick jumper.
In terms of style, we will review shoes with classic and elegant designs. These designs are suitable for most team colors.
Break It In
Don't wear your new basketball shoes to that all important game without making sure you are comfortable with them. We will be recommending shoes that require a minimal amount of time to break in. This is made possible by the cushioning materials in the midsole. Soft and breathable uppers can also speed up break in period.
Wear your new shoes to your team's practice or scrimmage. You can jog or run on it for a short distance. Move to your left and right to make sure there is no pain and that the shoe size is right for you.
Choosing the right pair of socks will also provide the much needed support and cushion for your feet.
Keep It Clean
The rule of thumb is to have separate pairs of shoes for outdoor use and indoor play. This would enhance the longevity of your basketball shoes.
Whether you use your shoes for streetball or on the hardwood, keeping it clean is a must. Wipe the shoes and remove any visible dirt. Brush the outsole and make sure there are no grime stuck in between the grooves of the pattern. If you can't afford a shoe brush, just use your old toothbrush.
As always, putting some sneaker balls in when you are not wearing your shoes can help reduce foot odor. Put your shoes back in their original box to retain its shape and form.
The 5 Best Basketball Shoes For Guards
Choosing the right basketball shoes can be confusing. I have narrowed down the best basketball shoes for guards options for you to choose from.
Nike's Kobe Bryant Mamba Focus signature shoes have an embossed upper material that improves foot control and stability. Described as a low-profile shoe that is built for attack, guards can gain more confidence in knowing that this pair is designed for players like them. The eyelets in the upper are made of TPU (thermoplastic polyurethane) with snake eyes as inspiration.
The outsole has a distinctive Mamba-inspired tread pattern which allows quick guards to move freely in all directions. Your fadeaway, tear drop, and side steps would be supported by zoom air units. The midsole has a very responsive reaction to your hard landings. A molded lightweight framework and heel cage provide comfort and support.
The thick high quality rugged outsoles are durable for either outdoor or indoor use. This pair of low top shoes can be your go-to pair for important games as it has the combination of good quality materials, fine detailing, and unassuming but classy appearance.
The black or white colorway is my choice. It looks elegant with Kobe's "The Sheath" logo in the tongue. Whatever your uniform color is, the classic black or white will surely look good when you rock them.
The embossed upper material and the zoom air units combine to make a pair of very comfortable shoes out of the box. You can break in this pair in no time.
Pros
Excellent traction
Mamba-inspired tread pattern in the outsole
Lightweight and breathable
Responsive midsole
Cons
Kevin Durant's signature Nike KD Trey 5 has a unique engineered mesh upper. It is both flexible and breathable which suits perfectly for quick guards who love to show off their crossovers and between-the-legs dribbling.
Nike's revolutionary Renew foam is incorporated in the insole. This responsive foam has maximum shock absorption and can reduce impact on hard landings. The insoles have an instant broken in feel. You will have peace of mind in terms of comfort. The rubber outsole has the right amount of thickness that makes it durable for outdoor and indoor use. The translucent finish of the outsole delivers a cool appearance for flashy guards. The lacing system is easy to adjust and fits most widths.
Despite having a Kevin Durant signature logo in the tongue area, this pair of Nike shoes is budget-friendly. There are multiple colors to choose from with the Black and Gray colorway being my favorite. Depending on your team color, the red, blue or grey colorways are all very striking and projects a lot of character.
Cleaning and maintenance is not difficult as the outsole pattern is not prone to dirt being stuck. The breathable mesh upper helps with odor control but letting your shoes air dry before storing in the box is a must.
Pros
Grippy outsole and excellent traction
Revolutionary Renew foam for instant broken-in feel
Trendy KD signature shoe design
Budget-friendly
Cons
Mesh upper can easily get dirty
This pair of Nike's signature LeBron James shoes are made of tightly knit mesh upper. The midfoot has a wide mesh knit pattern that provides additional flexibility, comfort, and snug fit. The eyelets in the upper are accentuated with TPU (thermoplastic polyurethane) for a more posh appearance. The overall construction is solid and at the same time light and supportive. The midsole has a full-length cushion that covers from toe to heel. This feature enhances shock absorption.
The rubber outsole has a herringbone pattern with LeBron's hometown of Akron subtly marked on it. "LLTK" (Long Live The King) is imprinted on the midsole. The story of the shoes is basically a tribute to LeBron's roots.
Traction is excellent with the outsole pattern having a good amount of surface area that comes in contact with the floor. Shifty guards will find this pair of shoes really grippy and changing speed and direction will not pose a problem. Comfort is enhanced further with an additional collar that has achilles-tendon support.
Durability scores highly as the rubber outsole is thick and strong. The tread in the traction patterns are intricate yet would not easily wear off.
Overall, the quality of the shoes is top-notch. This is available in mainly classic colors of black, red, and grey.
Pros
Excellent traction
Quality knit mesh upper
Encapsulated air sole unit from toe to heel
Cons
Knit mesh can be a challenge to clean
Under Armour's Lockdown 4 basketball shoes are made of soft molded synthetic leather upper. The perforated finish makes it breathable and comfortable. It also has a padded collar and tongue cushion for added comfort.
The integrated sockliner provides a unique underfoot cushioning and support. The midsole is injected with an EVA material (Ethylene-vinyl acetate) to improve shock absorption and is lighter in weight compared to rubber. The rubber outsole has multiple levels of adaptive traction patterns. This pattern and design make the outsole extra durable.
The overall design is simple yet looks classic enough for different uniform colors. The black and white colorways are my favorite as they are perfect for indoor or outdoor use. There are also grey options for you to choose from.
This pair of mid-top shoes rank highly in terms of value for money. I would not mind roughing this out with my friends in the outdoor court but they are also comfortable enough if used indoors. Just make sure you have separate pairs for indoor and outdoor use.
Keeping this pair clean is a breeze. The synthetic leather is easy to wipe and dirt comes off quickly. With its outsole pattern, a quick brush can make it clean again.
Pros
Multi-level adaptive traction patterns
Breathable
Value for money
Cons
James Harden's signature Stepback shoes from Adidas are made of textile upper with a synthetic toe cap. The ergonomic lacing system provides a snug and locked in feel without compromising your comfort. The shoes are lightweight and breathable. This enables guards to make fancy moves without being restricted by their shoes. Be it a stepback three or running jumper, this pair of Adidas shoes have bouncy and super grip outsole that supports your every move.
These low top shoes have wide forefoot and a cushioned flexible midsole. You can rock this all day and still stay comfortable. Running up and down the court during fastbreak would not be a problem. The high traction is supported by a herringbone pattern in the sole's front. The heel has a unique pattern with a strong grip effect. These shoes have thick rubber outsoles and can withstand both indoor and outdoor beating.
The design is simple but elegant. I especially love the white colorway for its classic Adidas vibe. The James Harden logo on the tongue is subtle and adds a distinct twist to its classic design.
You should regularly wipe down the shoes for it to stay clean. Brush the outsoles before storing your shoes.
Pros
Lightweight and breathable
Ergonomic lacing system
High traction
Bouncy cushioning
Budget-friendly
Cons
Cleaning and maintenance can be a challenge
The Awesome Choice
While it is a difficult task to pick a single pair, my choice for the best basketball shoes for guards would be the Nike Kobe Mamba Focus.
Arguably one of the best Kobe Bryant shoes ever made, the superior traction from the Mama-inspired tread pattern will benefit guards the most. The zoom air units in the midsole provide a very responsive reaction to your footwork. You will feel the difference when you execute a step-back or fadeaway jumper.
Overall, this pair of low top Kobe shoes is indeed built for quick attack especially when paired with high performance socks. With its lightweight and breathable material, your elevation will not be compromised. The responsive midsoles assure you of safe landings after you take off for a strong drive to the hoop.