With their widespread reputation as sought-after basketball brands, Spalding and Wilson require little introduction.
Their names echo through time, as both brands have carefully built a history of making top-notch basketballs.
Wilson was the NBA's official game ball supplier for 37 years, from 1946 to 1983. However, from 1983 to 2021, Spalding took over that role. Interestingly, in 2021 (exactly 37 years later), Wilson reclaimed the role as the official ball for the NBA.
NBA switching has gotten people talking and wondering which brand really makes the best basketball.
Addressing that is precisely my aim with this article – to guide you so you can determine which of the two stands out as the better choice.
Quick Overview Of Wilson And Spalding
The NBA was originally the Basketball Association of America in 1946. After 3 years, it merged with the National Basketball League in 1949 and rebranded as the NBA.
Throughout the NBA's 70+ year history, only two basketball manufacturers have held the prestigious title of official ball supplier – Spalding and Wilson.
Wilson, or Wilson Sporting Goods, traces its roots back to 1913. Originally operating as the Ashland Manufacturing Company, the company's name was later changed to Wilson Sporting Goods Co.
Thomas E. Wilson, a Canadian-born businessman, transformed it from a modest Chicago meat-packing operation into a powerhouse brand specializing in producing premium sports apparel.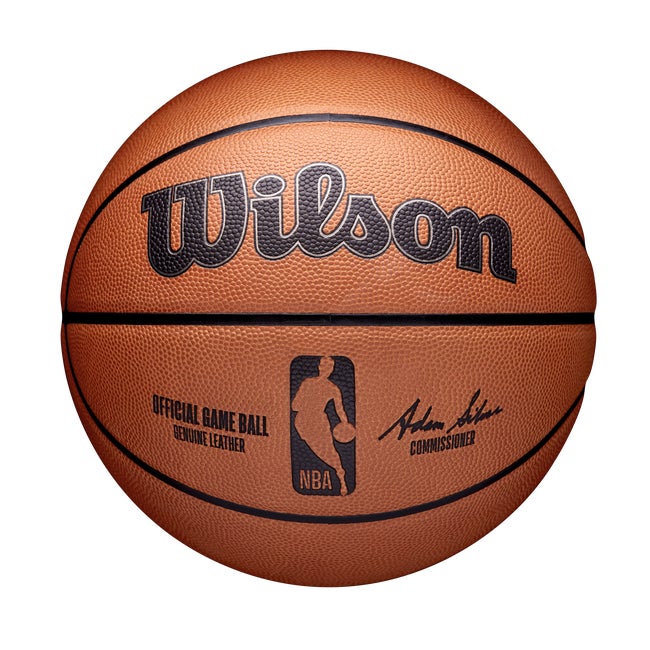 From its humble beginnings, Wilson pioneered the creation of a basketball tailored specifically for the NBA and reigned as the official NBA basketball for 37 years.
However, in 1983, Spalding basketballs became the official basketball of the NBA.
Spalding is another famous company that's been making sports gear since 1876.
Combining Albert Goodwill Spalding's baseball experience with his business skills, A.G. Spalding & Bros. emerged as a dominant company in the sporting goods and basketball industry.
Notably, Spalding crafted the first basketball after the game's inventor, James Naismith, asked A.G. Spalding in 1894.
Spalding's creation of the first basketball was a major contribution to the game's development, as players had previously used a soccer ball since its invention in 1891.
Simply put, Spalding basketballs introduced the very first ball for basketball. Subsequently, when Wilson entered the basketball scene years later, the NBA adopted their balls in 1946.
Wilson served as the official basketball of the NBA from 1946-1983. Spalding then held this role from 1983-2021.
Yet, in the middle of May 2020, the NBA announced the switch to Wilson game balls.
Spalding vs. Wilson: A Side-By-Side Comparison
Both Wilson and Spalding know that basketball is more than just a game. It's about players, fans, and the thrill of the court.
With both sports brands' long standing experience in making quality basketballs, just like any business, of course, they have adapted to the latest trends and advancements in the game.
They've considered keeping the ball dry, giving it a great grip, and making it feel right. Spalding and Wilson have been using new ideas to make basketballs even more fun to play with.
They've added things like better grips and special materials to make the basketballs feel great in the player's hands.
The quality of a basketball is determined by its durability, grip, material, and price.
So, whether you're playing for fun or in a big game, Wilson and Spalding basketballs have you covered. They make basketballs for everyone, from beginners to pros.
In this direct comparison, I'll break down the crucial factors that define basketball quality.
Durability
Regarding durability, both Spalding and Wilson basketballs are excellent choices.
Spalding basketballs are known for their robustness. They are often crafted from composite leather that resists wear and tear.
However, Spalding might feel a bit heavier than Wilson basketballs. This makes them better suited for indoor play, where excellent control is key.
On the flip side, a Wilson basketball is also durable, but they tend to be slightly lighter than Spalding's.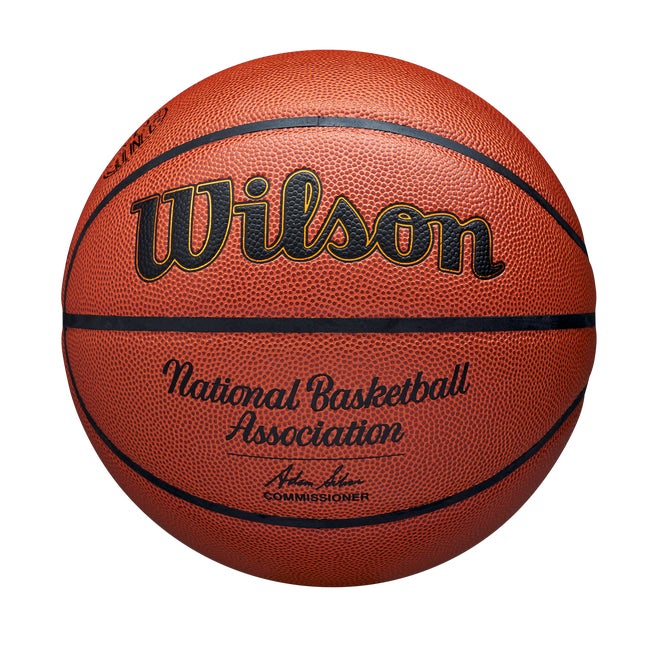 Wilson offers a synthetic leather cover. This makes the ball lightweight, resilient, and suitable for indoor and outdoor play or on rough surfaces.
If you're seeking a basketball for indoor use, a Spalding ball could be your go-to due to its durability.
However, Wilson basketballs, which use synthetic leather and thicker bladders, are frequently considered slightly more durable due to the improved versatility it brings.
WINNER: Wilson basketballs
Grip
Spalding and Wilson also offer a variety of basketballs with different technologies.
Spalding's "hybrid" basketballs combine composite leather with a microfiber layer for enhanced grip, while a Wilson basketball uses moisture-wicking covers and "Cushion Core" technology for improved control and responsiveness.
Wilson basketballs use EVO-microfiber composite material for a consistent feel, and the moisture-wicking properties give the ball a tacky grip.
Spalding basketballs have deep channels and premium composite leather, providing an exceptional grip.
However, Wilson basketballs use innovative microfiber materials that provide a similar grip while absorbing less moisture.
This gives Wilson balls a slight edge over Spalding regarding consistent grip, especially during intense play.
WINNER: Wilson basketball
Material Composition
The new Wilson NBA ball retains Spalding's eight-panel design and uses the same leather material. This change was intended to enhance on-court performance and consistency.
These new balls have NBA pro seams to create a distinctive channel design and a more durable cover material. This has resulted in improved grip, control, and durability.
Further contributing to the range, the Wilson NBA Indoor/ Outdoor Basketball emerges as one of Wilson's top sellers.
Its high-performance features include Ever Bounce Construction and Inflation Retention Lining, which ensure consistent bounce and quality when used in indoor/outdoor courts.
The Pure Feel Cover also improves the sensory experience and gives game basketball players a genuine NBA league feeling.
I also think it's worth noting Spalding's advancements in material composition. They were the first brand to create a basketball using synthetic and composite leather, setting higher material standards in basketball.
However, even with this in mind, new Wilson basketballs offer a wider range of advanced material choices to cater to individual preferences.
WINNER: Wilson basketball
When comparing basketball quality, Spalding and Wilson offer a range of options with similar materials. Both brands have higher-priced genuine leather balls and more affordable composite leather cover options.
Wilson's official NBA game ball made of genuine leather is priced at around $200, while Spalding's equivalent is listed at an average price of $140.
While the price is a factor, Spalding and Wilson provide high-quality basketballs, and the difference is very small.
Most of their composite leather and microfiber composite balls are similarly priced, along with their rubber balls. In terms of quality, you can't go wrong with either choice.
However, Spalding offers balls that are generally geared at consumers on a tighter budget and come in affordable and average price points – from inexpensive rubber balls to composite options.
WINNER: Spalding basketball
Frequently Asked Questions (FAQs)
If you're unsure which brand to choose when buying a new basketball, this section should answer a few more of your questions about Spalding vs. Wilson basketballs.
Why Did the NBA Change the Official Game Ball From Spalding to Wilson?
Seeking an improved basketball, the NBA opted for Wilson due to their better grip, durability, and consistency. Wilson's agreement to use recycled materials aligns with the NBA's sustainability objective.
Some NBA players didn't like the new ball, and they thought it affected their shooting.
"Not to make an excuse about the ball, but it's a different basketball. It doesn't have the same touch/softness as the Spalding ball, and you'll see it this year. It's gonna be a lot of bad misses," said Clippers forward Paul George.
Despite some player criticism about how the new ball feels, the NBA has stuck with the change, and Wilson basketballs continue to be used in the league.
The NBA's decision also makes Wilson the official ball supplier for the Basketball Africa League, G League, and WNBA under the same contract.
So when did the NBA stop using Spalding? The new Wilson ball has been chosen as the official supplier of NBA basketballs since the 2021–2022 season.
Is Spalding or Wilson the More Popular Brand?
Spalding and Wilson are significant brands in the basketball world.
However, historically speaking, Spalding has a stronger association with basketball due to its direct role in the sport's development.
Again, Spalding is renowned for their high-quality gear and equipment – especially their balls for providing players with a consistent feel and bounce they highly appreciate.
Spalding Balls' status as a great basketball brand is largely due to its classic look and tactile feel.
However, Wilson's recent return as the official basketball supplier for the NBA has revitalized its presence. This significant comeback has made Wilson's basketballs favored among players and fans.
They have a modern look and feel that some players and fans prefer.
Don't forget the NBA's logo. As the official game ball of the NBA, Wilson basketball has the right to bear the NBA's logo on its basketballs. This is part of the contract between Wilson and the NBA.
The NBA's logo is a symbol of its history and excellence. The league connects with fans and players worldwide with its logo on the ball.
Is Spalding or Wilson the Better-Reviewed Ball on Amazon?
Between Spalding vs. Wilson, there are over 80,000 Amazon reviews spanning a range of basketball options.
Wilson's basketballs boast an average Amazon rating of 4.6 out of 5 stars, slightly ahead of Spalding basketballs with an average rating of 4.5 out of 5 stars.
The Wilson Evolution Game Basketball is a notable contender, earning a remarkable 4.9-star rating.
This basketball features a durable composite leather cover designed to withstand various conditions. The channel design of Wilson evolution enhances grip and control.
This is also approved for play by the National Federation of State High School Associations (NFHS-approved). The NFHS-approved basketball has an intermediate size of 6, 28.5″ circumference.
The Wilson NCAA replica is the one used in college games.
On the Spalding side, the Spalding TF-Trainer Weighted Indoor Basketball stands out with a 4.8 rating. This weighted indoor ball has improved ball handling and shooting and retains a constant bounce.
However, in the end, it all comes down to what suits your playing style, what you like, and what you need.
Spalding vs. Wilson: Which Is Better?
While the Wilson ball edges ahead in some aspects, the differences are small.
Both brands offer really good basketballs that follow strict rules to ensure they work well on the court. Plus, there are lots of options to choose from.
Spalding is known for its basketballs made from a mix of materials that feel soft and respond well. On the other hand, Wilson basketballs have a cool trick – they can handle moisture well so that you can get a better grip.
To figure out which is right for you, think about your style and what you like.
If you love old-school stuff, Spalding might feel more familiar. They've been around for a long time and have a strong historical contribution to the sport.
But if you're into new game tech and basketball trends, Wilson basketballs could be your thing.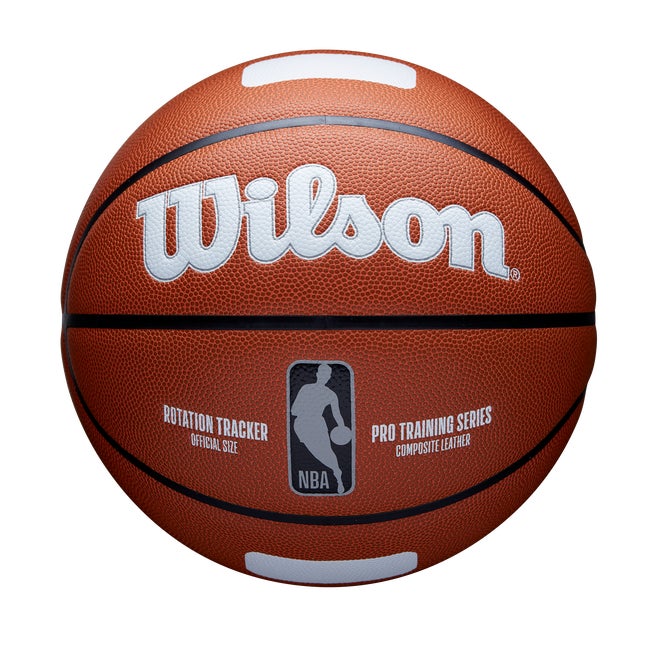 They've made a comeback as the NBA's official game ball, with some innovations that make them really good at grip and durability.
Both brands have basketballs for different players. So, it's all about finding the basketball that feels just right for you when you're out there having fun on the court.
Get a Spalding Basketball If:
If you're a fan of the classic and traditional basketball feel.
If you appreciate a basketball brand with a long history and strong ties to the sport's development.
If you're looking for affordability without compromising quality.
Get a Wilson Basketball If:
If you prioritize the latest innovations and advanced materials in your basketball.
If you value superior grip, consistency, and durability in your gameplay.
If you're interested in supporting a brand committed to sustainability.