"Height is might" and there is no other sport that validates this saying more than basketball. With the average height of professional basketball players in the NBA listed at 6'6", you would think that all successful NBA players are vertically gifted. However, many small and short basketball players have already carved a name for themselves in the NBA.
In this article, I'll list five of my favorite short basketball players in the NBA including the shortest NBA player of all-time and will analyze the skills and characteristics that they have/had which made them stand out from the rest. For the purpose of this discussion, these short basketball players are all standing at 5'11" or shorter.
Muggsy Bogues
Spud Webb
Isaiah Thomas
Earl Boykins
Nate Robinson
Ball Handling Skills
Ball-handling goes beyond just great dribbling skills. The ability to protect the ball and withstand a full-court press while maintaining composure and calling the plays will make a short basketball player outwit most defenders. Mastering the ability of dribbling with ease using either hand is the core of good ball-handling skills. Short basketball players will certainly be playing the guard position given their height so excellent ball-handling skill is a paramount.
If you are looking to improve your ball handling skills, here are some tips that I have for you:
Keep your hips low to protect the ball
Fake by using shoulder movement
Use eye direction to sell fakes
Use peripheral vision to see where your teammates are
It is easier said than done so make sure you have lots of practice and try as many moves as possible during pick-up games. Idolizing NBA guards and imitating their moves are good ways to stay motivated in improving your skills.
Speed And Agility
Without the gift of height, all famous and successful short basketball players have unparalleled speed when it comes to fast break and open-court offense. The advantage of being small is that taller players will have difficulty keeping pace.
Quickness combined with agility are the common denominator of small NBA players. The ability to shift direction and change speed when in transition are the advantages for smaller guards. These traits are not innate talents but are honed through practices.
Mental agility is another characteristic that short basketball players possess. Being a point guard is like an assistant coach on the court. You have to outsmart taller players while at the same time keep track of teammates and their positions in order to execute the best play possible at that particular moment. There are a myriad of play combinations that come to a playmaker's mind so it is even more difficult for more vertically challenged players during intense moments of the game.
Shortest Person To Dunk?
Who is the shortest person to dunk in the NBA? Although there are rumors that Muggsy Bogues can dunk, there has been no proof that he has ever dunked in an actual NBA game.
In the NBA, the shortest person to dunk and make an impact in the slam dunk contest is Spud Webb.
Jumping ability is the most important skill that a short basketball player must have in order to dunk. Intense training is required in order to have a high vertical jump.
If you have seen Spud Webb's highlights in the 1986 NBA slam dunk contest, then you would know what I mean. For a short basketball player to stand out, your vertical jump has to be outstanding. His vertical jump is reportedly around 42 to 46 inches.
There are many articles online that promote training to improve vertical jump. This is testament to the demand and desire of basketball players to outjump the competition and to create their own highlights and posterize big men.
Sports medicine has advanced tremendously over the years with multiple training methods geared at increasing an athlete's vertical jump. According to an article from PubMed, the four main methods used for training can be categorized into: weight training, plyometric training, whole body vibration training, and electromyostimulation training. Based on their scientific findings, the combination of plyometric and weight training yielded the best result in increasing vertical jump performance.
5 Famous Short Basketball Players
Now that we have covered the skills of talented small players, let us have a look at five of the best short basketball players.
1. Tyrone Curtis "Muggsy" Bogues
Height: 5 feet 3 inches
Achievement: Represented United States basketball in the FIBA world championships winning the gold medal
Averages: 7.7 points, 7.6 assists, 1.5 steals
Muggsy is the shortest NBA player of all-time and had a stellar professional basketball career. His career spanned 14 years starting from 1987 up until 2001. He was drafted 12th overall in the first round of the 1987 NBA draft by the Washington Bullets.
He went on to play for three other teams (Charlotte Hornets, Golden State Warriors, and the Toronto Raptors).
2. Anthony Jerome "Spud" Webb
Height: 5 feet 6 inches
Achievement: 1986 NBA slam dunk champion
Averages: 9.9 points, 2.1 rebounds, 5.3 assists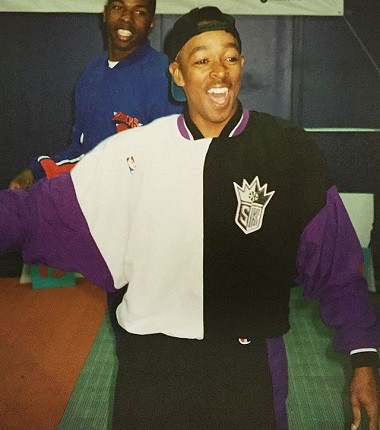 How many basketball players below six feet can reach the hoop and dunk the ball? What more at 5'6" and winning the NBA slam dunk contest defeating the great Dominique Wilkins? That basically sums up the reason why Spud Webb is one of my favorites basketball players.
Spud entered the NBA as a 4th round 87th overall pick by the Detroit Pistons in the 1985 draft. He went on to play from 1985 till 1998 and played for the Atlanta Hawks, Sacramento Kings, Minnesota Timberwolves, and the Orlando Magic.
3. Isaiah Jamar Thomas
Height: 5 feet 9 inches
Achievements: 2 times NBA All-Star
Averages: 7.7 points, 1.3 rebounds, 1.7 assists
Isaiah was drafted by the Sacramento Kings in the 2nd round 60th overall in 2011. He has also played for the Phoenix Suns, Boston Celtics, Cleveland Cavaliers, Los Angeles Lakers, Denver Nuggets, Washington Wizards, and New Orleans Pelicans. He once scored 53 points against Washington on May 2, 2017 and 52 points against Miami Heat on December 30, 2016.
He was also selected to the US national basketball team and played in the 2022 FIBA AmeriCup qualifiers.
4. Earl Antoine Boykins
Height: 5 feet 5 inches
Achievements: USA basketball male athlete of the year
Averages: 8.9 points, 1.3 rebounds, 3.2 assists
Earl Boykins was undrafted in the NBA back in 1998. He signed and played for several short-term contacts before eventually getting his big break. The Denver Nuggets signed him to a $13.7 million contract for five years.
He has played for several teams in the NBA that spanned 13 years. After his stint with the Nuggets, he also played for the Milwaukee Bucks, Charlotte Bobcats, Washington Wizards, and Houston Rockets.
5. Nathaniel Cornelius 'Nate' Robinson
Height: 5 feet 9 inches
Achievements: 3 times NBA slam dunk contest champion
Averages: 11 points, 2.3 rebounds, 3 assists
Nate Robinson was drafted by the Phoenix Suns in the first round of the 2005 NBA draft as the 21st overall but was later traded to the New York Knicks. His best season came during 2008-2009 when he averaged 17.2 points and 4.1 assists per game. His career-high score was 45 points in an overtime loss back on March 8, 2008.
Nate is best known as the first three-time slam dunk champion in the NBA. Watch some of his highlights including some ankle-breaker moves to get inspired to play beyond your height.
Conclusion
Short basketball players are rare in the NBA but are nevertheless more exciting to watch. The above mentioned five best short basketball players are testament to the fact that skill, motivation, and drive to succeed are more than enough to compete with taller and bigger players.
Aside from having good ball handling skills, speed, agility, and awesome vertical jump, a bit of charisma and flair can give short basketball players the attention and admiration that they deserve.
Feature Image credit: Mark Warner, CC BY 2.0, via Wikimedia Commons