In a hurry? My recommendation for the best Wilson basketball is the Wilson NBA Authentic Series Basketballs.
If you want to improve your basketball performance and take your game to the next level, having the right basketball is the first logical step.
Wilson has long been a well-known brand for sporting equipment, especially basketballs. They've been known to supply many basketball tournaments with reliable basketballs that players of different skill levels can use.
You might wonder, "How do I know which is the best Wilson basketball for my game?"
In this article, I'll review the following best Wilson basketballs:
The 5 Best Wilson Basketballs
I'm sure you are getting confused with the myriad of Wilson basketball options so read on as I've got you covered with my detailed review below.
Here are the best Wilson basketballs on the market and what makes them outstanding.
Specifications
Style: Indoor/Outdoor
Material: Microfiber
Weight: 0.73 kg
Channel Construction: NBA Pro Seams
Internal Construction: Ever Bounce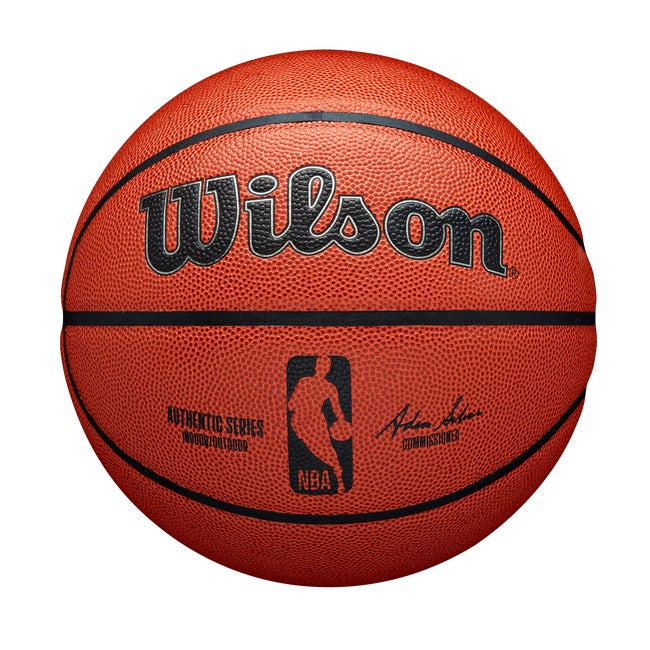 If you could have just one basketball, then I would personally recommend a Wilson ball that falls under the NBA Authentic Series, as these are some of the best Wilson basketballs on the market today.
This type of basketball is an official game ball replica, meaning that it offers you a design that's sure to improve your overall gameplay experience.
Its composite channels include Commissioner Adam Silver's signature and the traditional orange basketball color. You can opt for the official size or a ball size that fits you better. There are plenty of variations to choose from.
Besides being an analog of the official game ball of the NBA, it also comes with a highly durable cover, making it great for indoor and outdoor play.
It also provides a good grip and bounces consistently, allowing you to handle it comfortably whenever it flies into your hands. It offers athletes great value for their money, given its price point and features.
However, you might need to break this ball in before you can properly use it to get the optimal grip you look for in every basketball. Once that's done, however, you can expect an improved playing experience the more you use it for your games.
This ball will change how you play basketball thanks to its top-notch features and how it improves your overall experience during a game.
If you're looking for the Wilson NBA official game basketball, then go and get it in this link.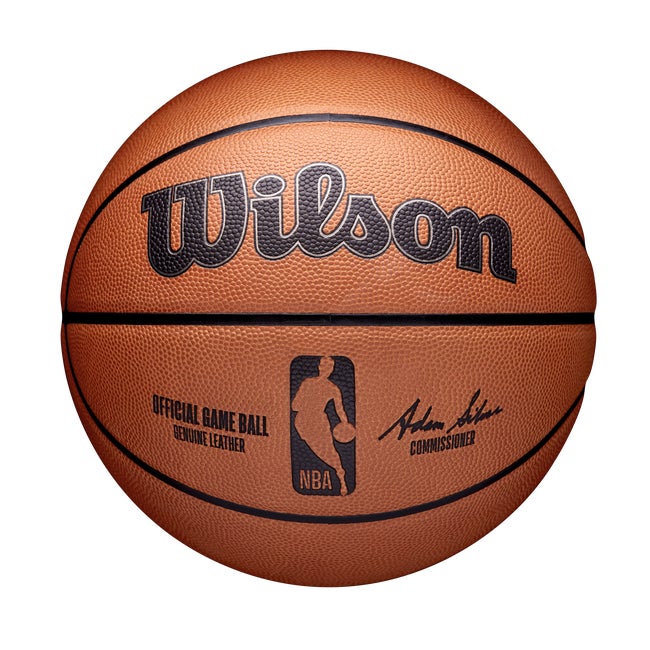 Pros
Great grip
Leather feel
Durable composite leather cover
Wide range of sizes
Affordable
Cons
Needs to be broken in for maximum effectiveness
Specifications
Style: Indoor
Material: Micro-Touch Composite Leather
Weight: 0.45 kg
Channel Construction: Composite Pebbled Channels
Internal Construction: Super Soft Core
The Wilson Evo Nxt Official Basketball is one of the best Wilson Basketballs when it comes to its value for money. Despite being more expensive than some of the other models on this list, its features are proven to positively impact the playing experience of any player.
It features their revolutionary extended range tech, with its super soft core construction providing more spin and control when shooting the ball. The extended range tech also allows you to dig your fingers much deeper into the ball for good grip and better ball control.
It also has a micro-touch cover to handle moisture better. Even if the player sweats a lot, its double-layered grip can efficiently channel moisture away so you can maintain your control over the ball during intense moments.
This basketball was also designed for better on-court optics, opting for a brighter orange color for the ball compared to the other balls I've listed.
While it has some of the best features, it can be quite expensive for some people. However, the ball features make up for it, especially with it being one of the best Wilson basketballs on the market.
If you're looking for a worthy splurge for any game environment, this nice basketball can be at the top of your list.
Pros
Great grip
NFHS and NCAA approved
Better on-court optics
One-year manufacturer warranty
Cons
Specifications
Style: Indoor/Outdoor
Material: Tackskin
Weight: 0.46 kg
Channel Construction: NBA Pro Seams
Internal Construction: Standard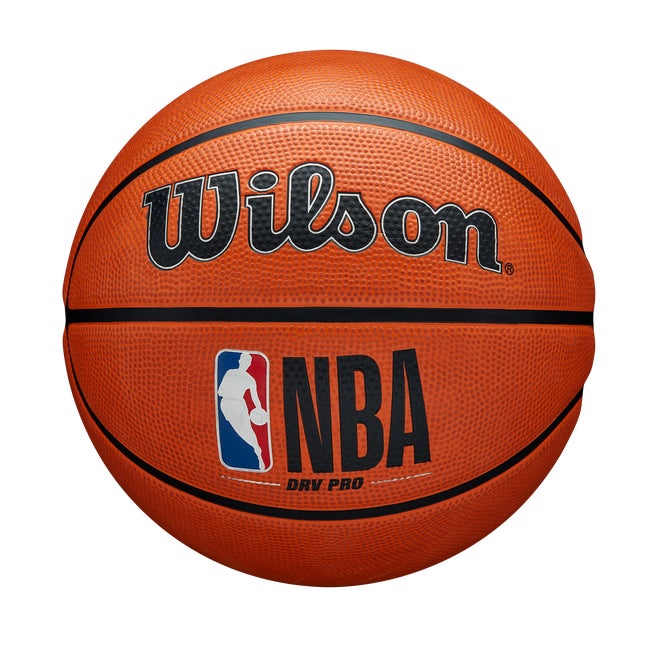 You don't have to spend much on a ball to play basketball well. The Wilson NBA DRV series is proof, as it's one of the most affordable options from the Wilson brand. However, it's still considered one of the best Wilson basketballs out there.
This basketball is best for outdoor use, especially with its durability and rugged performance cover. Its rubber outer material was designed to be used outdoors and withstand the elements. However, you can also use this in indoor courts.
Its design also provides a good grip on the basketball, just like any other official basketball.
While you can opt for the official size, you can also look into their wide variety of sizes on offer. They also offer youth sizes, so even a child can start early and basketball as their sport.
That said, unlike the other inflated balls on this list, you would have to pump it with air before you start playing. Fortunately, it already comes with a pump and valve needle.
Despite its low price, this basketball is designed to improve your skills and help you perform your best during a game.
Pros
Different colors and designs
Decent grip
Comes with a Wilson-branded inflation pump and valve needle
Variety in sizes
One-year manufacturer warranty
Cons
Specifications
Style: Indoor
Material: Composite Cover
Weight: 0.54 kg
Channel Construction: Composite Pebbled Channels
Internal Construction: Micro-Fiber Composite Leather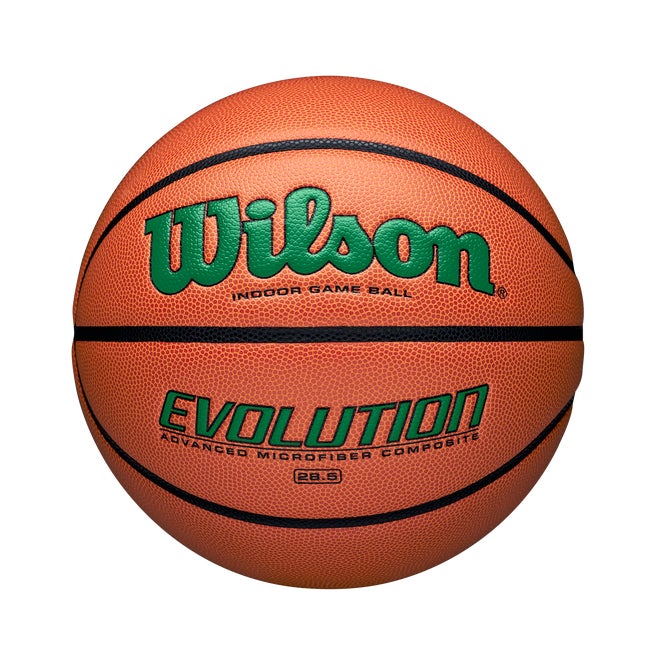 One of the best Wilson basketballs for indoor play is the Wilson Evolution, specifically designed to enhance your performance on the court.
This basketball has an extremely smooth feeling and provides excellent grip, thanks to its cushion core carcass. The combination of ultra-durably butyl and low-density sponge rubbers provides excellent comfort.
Its laid-in composite channels provide a more consistent texture on the outer surface of your basketball. It helps you be more comfortable on the court, especially with its reliable grip and stable bouncing when dribbling.
It also comes with high-definition pebbling to enhance the overall performance of the ball features while you're playing.
However, this basketball is slightly more expensive than others on this list. It's also not designed for the outdoors and can easily damage its outer cover on rough surfaces.
Overall, if you're looking to play indoors and are looking for a really reliable basketball, then the Wilson Evolution is my top pick.
Pros
Soft material
Consistent bounce
Great fingertip grip
No deformities or bulges over time
One-year manufacturer's warranty
Cons
Not for outdoor courts
Slightly expensive
Specifications
Style: Indoor/Outdoor
Material: Composite Cover
Weight: 0.59 kg
Channel Construction: Textured Composite Channels
Internal Construction: Cushion Core
I recommend the Wilson NCAA Replica Game Basketball if you like playing basketball outdoors. While you can also use it indoors, I'd consider it one of the best Wilson basketballs for outdoor games.
This basketball is well-known thanks to March Madness, the period when the National Collegiate Athletic Association (NCAA) has its season.
This is when the men's and women's college basketball tournaments occur, an exciting time for many players of the sport and the different colleges and educational institutions across America.
The textured and deep channels help further maximize your grip points, making it easier to hold for any player, regardless of their background in the sport. Whether they're beginners or pros, they should have great control over this ball.
Its sponge-like core also provides more softness and control compared to stiffer ones, making them more comfortable to handle. It helps you develop how you dribble and shoot during a game.
However, this basketball only comes in the official size and doesn't provide youth sizes. It's not recommended for younger players. The outer cover can also get damaged easily if the ball isn't well taken care of.
Overall, this ball is reliable for those who like playing basketball on courts outdoors and is flexible enough to accommodate indoor players.
Pros
Great bounce
Doesn't attract dust while playing
Great grip
Leather feel
Decent price
Cons
No youth sizes available
Outer cover can wear down after a few months
Can occasionally feel inflation nozzle
Why Choose Wilson Basketballs?
Wilson is known to produce some of the best basketballs on the market. Since they're used for countless professional and amateur games, you will surely get a nice basketball that can help improve your playing style and technique.
Wilson is also the official ball provider of the NBA, WNBA, and NCAA. Wilson basketballs are known worldwide as an official game ball in many competitive basketball games.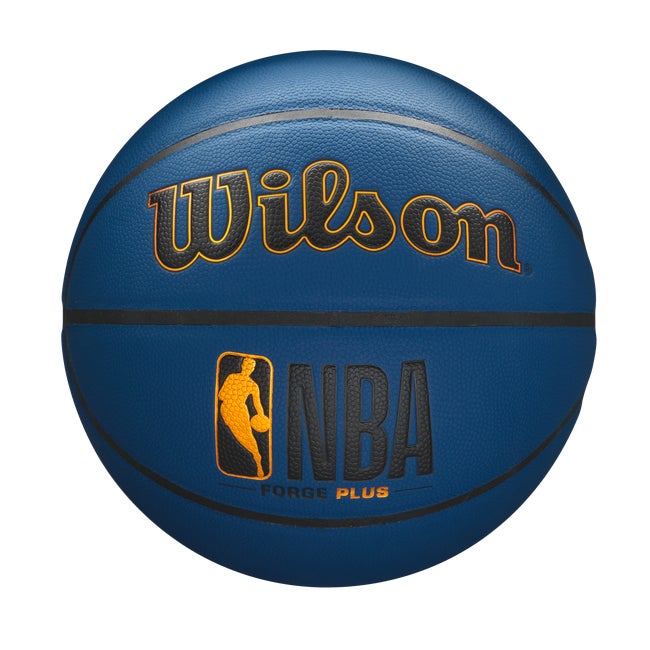 They've also provided basketballs for March Madness and other similar events, further guaranteeing their performance on the court and place in the market.
They have different basketballs for different game types, ranging from recreational play to professional games. You can easily choose a basketball that will fit your needs.
Benefits of Wilson Basketballs
These are the most common benefits of Wilson basketballs compared to any other ball on the market:
They improve the playing experience of any player.
Their basketballs are designed with composite channels, providing better grip and ball control while playing and a super soft feel.
The synthetic material provides more durability compared to rubber and genuine leather.
Factors To Consider When Buying A Wilson Basketball
Finding the best basketball can be tricky and will depend heavily on your playing style and environment. Each basketball's performance differs, and each has its pros and cons.
If you're looking for ball features that will fit your playing style, you must consider your environment, the ball's details, and even the air it retains.
Here are the important factors to consider when looking for good Wilson basketball.
Indoor/Outdoor Use
There are basketballs designed for specific environments.
An indoor ball is usually reserved for indoor play only. These are built for the hardwood floorings of indoor courts to provide the best combination between bounce and grip.
On the other hand, those assigned for outdoor play are usually more durable and designed to be played with, rain or shine. They're also designed to withstand outdoor courts and their rough surfaces.
Using an indoor ball on an outdoor court can easily damage the ball's material. These basketballs are not made for concrete or asphalt floors, which are the common surfaces for outdoor courts.
However, outdoor basketballs can also be safely used indoors. There's usually little to no difference in performance for these basketballs.
Some of the basketballs I've listed work in either environment. You can choose if you want something for indoor or outdoor play, depending on your typical environment.
Price
When choosing a basketball, it should fall within your budget.
There are many affordable options when it comes to Wilson basketballs. You, fortunately, don't have to spend a lot to buy a great basketball.
Try to find a balance between the ball's features and price so you don't have to trade off what you need.
Durability
If you plan on playing basketball a lot, you'd want a basketball that will last for a long time.
Also, note where you can use your ball to choose one that matches where you usually play. If you purchase an indoor/outdoor type of ball, you'd expect it to be more durable than those designed exclusively for indoor courts.
Wilson makes basketballs with only the best materials to ensure that it's safe and durable to play with, whether for recreational or competitive basketball.
Grip
Your basketball's grip will depend on its material. It can help improve your control over the ball, whether you're dribbling it across the court or making that winning three-point shot.
It's best to find a ball that sticks well to your hand for better grip.
Some Wilson basketball models even have special grooves to enhance your grip on the ball while you play.
Material
The material of your basketball helps determine its durability and where you can use the ball. The usual options are rubber and composite leather.
If you want a basketball that provides a soft feel when bouncing it, opting for composite leather basketballs is best.
The composite leather material provides the even surface and precise pebbling you need to handle your basketball comfortably.
If you're not particular about how the ball feels in your hand, you can go for a standard rubber Wilson basketball.
Genuine leather can also be an option for some people. However, it's not as long-lasting as composite materials and can rip and tear over time.
Core
The core can also affect how the basketball feels in your hand while you're playing.
A cushion core helps provide better ball control compared to stiffer cores, which can help you develop and practice your skills.
You'd also want a core that provides cushioning. This will allow your fingers to dig themselves deeper into the ball surface while you're playing.
Air
A good basketball is designed to withstand air pressure, especially with all the dribbling it has to survive. The design of the outer material usually affects how well it can take the pressure while being used.
Most Wilson basketballs are designed with inflation retention lining so your basketball can have longer-lasting air retention. You don't have to constantly worry about not having enough air.
This will also ensure that you always have a good grip on your ball and can easily control it on the court.
Ball Size
The size of your basketball will greatly depend on who's playing.
Some balls are designed smaller for children, making them a great way to develop their skills while they're young and their bones are still fragile.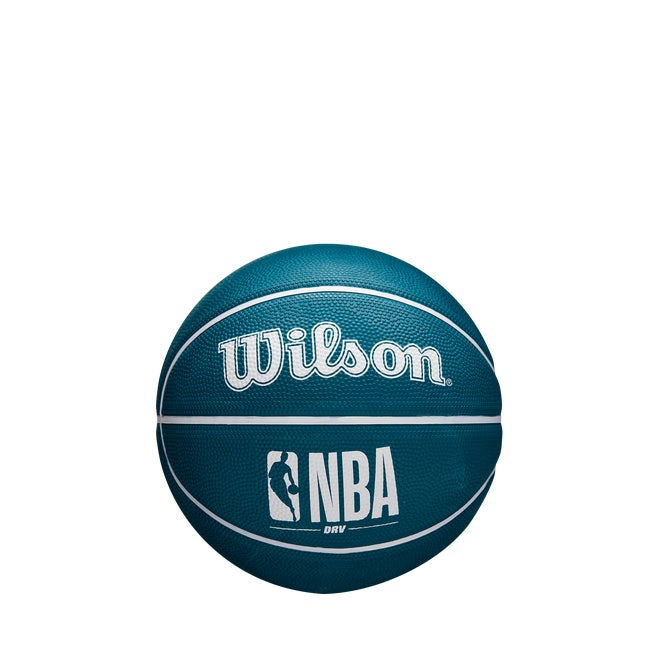 Some basketballs are only available in standard adult sizes.
Many of the models suggested have various sizes, so you can easily find the size that will match your needs.
Frequently Asked Questions
You may have more questions about Wilson basketballs and how to find the best one for you.
I've compiled the most common ones to help you with your research.
Where Are Wilson Basketballs Made?
While Wilson is a Chicago-based sporting goods company, their basketballs are made in China.
However, there is no information available on whether the materials used are also from Xinjiang.
This keeps the basketball affordable while retaining its high quality, making it an excellent game ball.
Why Did The NBA Switch From Spalding To Wilson?
Unlike Spalding balls, which are made of genuine leather, a Wilson basketball is made of composite leather, known to last longer and be more durable.
Their basketballs also have better bounce and grip than Spalding balls, making them a more suitable choice for professional games.
Wilson is an excellent brand if you're looking for a reliable leather ball designed to handle the most competitive gameplay.
Is Wilson the Best Brand for Basketballs?
The answer usually depends on user preference.
While Wilson is the official sponsor of many major basketball events and associations, like the NBA, you can also consider other major brands.
Brands like Baden Sports, Nike, and Spalding offer similar basketball quality.
It all depends on the model and what you're comfortable with.
Conclusion
It's no secret that Wilson makes some of the best basketballs that can improve your performance during a game.
Hopefully, this guide helped you find the best Wilson basketballs you can use and the factors that can affect your choice.