No time to read? If you quickly want to know what my choice is for the best wall mounted basketball hoop, then I would recommend the Goalsetter Wall Mounted Basketball Hoop as the best one.
I started playing basketball with a mini hoop mounted on my bedroom door. While the door mounted basketball hoop was fun, I started to want a sturdier option that was closer to the real thing. A basketball hoop that can be mounted on the wall or roof was one of the options that I looked at. I liked having the choice of mounting my basketball goal to any sturdy surface.
In this article, I will share with you the best wall mount basketball hoops.
Benefits Of A Wall Mount Or A Roof Mount Basketball Hoop
Flexibility – A wall or roof mount basketball hoop can be used indoors or outdoors. You can reap the benefits of basketball training at any time. If you place it indoors then you can continue to play even during bad weather.
Space-saving – A portable hoop like Spalding's The Beast has a base measuring 36 x 64 inches. You don't need to dedicate this area in your yard or garage with a wall mounted basketball hoop. It can double up as space for your car or other things when you are not using the hoop.
Ease of Assembly – Unlike portable or in-ground basketball hoops which would require at least three persons and a full day to assemble, some wall mounted basketball hoops can be assembled by at most 2 people in as little as 2 hours. This is true for lighter weight hoops made of polycarbonate.
How To Find The Right Spot To Mount Your Basketball Hoop
Location – If you are mounting the hoop indoors, choose a spot that has enough height clearance. If you will be using the hoop for a half-court game, then ensure you can free up that space when playing.
Structural integrity of the wall or roof – This is very important to avoid untoward accidents. Check if the wall is sturdy enough to support your basketball goal. In general, it is not advisable to mount on a brick wall and on a metal or tile roof. Review the warnings and specifications on the product very closely. I suggest consulting a builder or structural engineer if you are uncertain.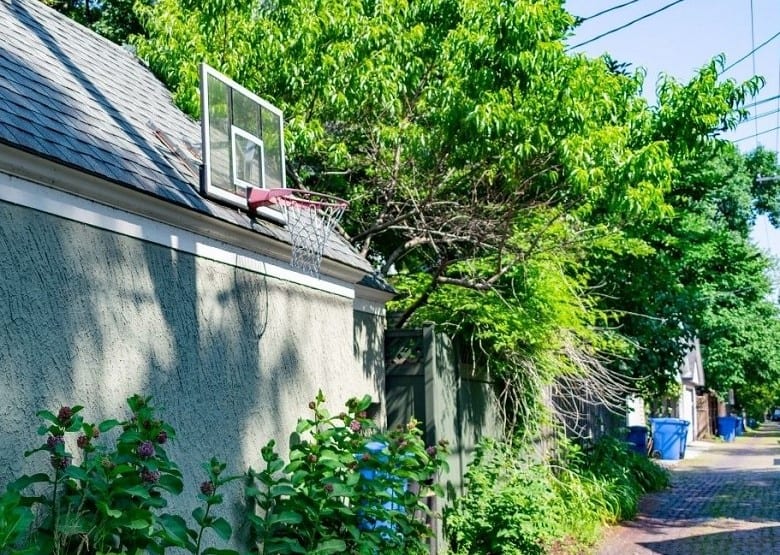 What To Consider When Choosing A Basketball Hoop
Backboard Size And Material
An NBA regulation size backboard will have a measurement of 72 inches horizontally x 42 inches vertically.
Most basketball hoops for home use would be smaller. They would range from 44 to 60 inches horizontally and 33 to 38 inches vertically. I recommend going for at least a 54 or 60. There are a few that come in 72 inches. If you have the space, then go for this size. This will let you have a realistic and close to professional playing experience. Do check with your HOA (homeowners association) for restrictions on backboard sizes.
For backboard material, you can choose from polycarbonate, acrylic or tempered glass.
Polycarbonate or enhanced plastic is the most budget-friendly. Backboards made of this material usually do not bounce the basketball back very well. There are however good quality polycarbonate backboards that you can consider if cost savings is an important consideration.
Acrylic is the middle tier option. Acrylic backboards will have a good bounce and not as heavy as tempered glass.
Tempered glass is the top material of choice for backboards. This is the same material used for the basketball goals in the NCAA and NBA. You can expect the best bounce performance and longevity from backboards made of tempered glass. It does come at a cost.
Overhang
Overhang is the measurement from the front of the backboard to the post. For portable and in-ground hoops, the post is the pole that supports the backboard. For wall or roof mount basketball hoops, this would be the distance from the front of the backboard to the wall or roof.
If you are using the hoop for fast action games then you should allocate a minimum overhang of 2.5 feet. If you can go for 4 feet then better. This will prevent players from crashing into the wall during a fast break.
If you just plan to use the hoop for practice shooting then this would not be a major consideration.
Rim
You can choose from a standard or breakaway rim.
A standard rim will not have a hinge and spring. This is the more economical option.
A breakaway rim on the other hand has a hinge and spring. This gives it the flexibility to move and bounce back when a player dunks. I tend to prefer a breakaway rim since it is more fun. There is that sense of satisfaction when the rim bends and makes a sound when you dunk.
The spring on breakaway rims can either be covered or exposed. The covered springs are the standard for professional hoops. They look better and are sturdier.
Whether you are getting a standard or breakaway rim, I would advise against hanging on to the rim after dunking for safety reasons.
Adjustability
Many basketball hoops include a wall mount that is height-adjustable. This feature is really useful if the basketball players in your household are a mix of younger kids and taller adults. You will get more bang for your buck as both groups will be able to enjoy playing at a comfortable height.
Families with growing kids will also benefit from this feature. Parents can adjust the hoop height as their kids get taller.
If these benefits are not a selling point for you, then a fixed height basketball hoop will work well. Fixed height hoops are usually cheaper.
Package Inclusions
The most basic wall or roof mount basketball hoop package will include the backboard, the rim, and the net. For this basic package, you will need to purchase the wall mount and mounting hardware (screws and bolts) separately.
Many will come with the steel frame for the wall mount. These are a better option. You do not need to worry about the compatibility of the backboard with the wall mount. Do note that you will still need to purchase screws and bolts. Have the mounting hardware ready before assembly so you do not find yourself stuck midway.
Cost
All the previous sections that I have talked about contribute to the cost of a wall mounted basketball hoop.
I suggest setting a budget first. Once you know the amount that you are willing to spend, you should carefully review which features are important to you. This will help narrow down your options.
5 Best Wall-Mounted Basketball Hoops
After giving you the low down on basketball hoops, let us take a look at the best wall or roof mount basketball hoops that you can buy.
The Silverback NXT 54 as the name suggests has backboard size of 54 inches across. The vertical height is 33 inches. The package includes the backboard, rim, nylon net, and wall mount. It does not include mounting hardware so I recommend adding this to your purchase.
The backboard is made of durable polycarbonate with a thickness of 4mm. The polycarbonate material used is of decent enough quality to have a good bounce. It will not have the same performance as a tempered glass. This is what keeps the cost relatively low for what you get.
It has a professional style breakaway rim. The spring on the rim is covered making it ready for dunking action.The height adjustment is achieved through an all-steel crank actuator. It can go as low as 7.5 feet to a maximum of 10 feet which is the NBA and NCAA regulation rim height. The wall mount is made of powder-coated steel.
In terms of assembly, the basketball hoop comes partially assembled with attached hardware (Quick-Play design). This will allow you to assemble your goal in two hours or less.
Pros
Good sized backboard
Professional breakaway rim
Height adjustable from 7.5 to 10 feet
Quick-Play design, can be assembled in 2 hours
Backed by a 5-year limited warranty
Affordable price
Cons
Backboard is made of polycarbonate
Backboard only comes in one size
Options. This is what I liked about the Goalsetter range of wall mount basketball hoops. With choices on the rim, backboard material, and adjustability, you will be sure to find one of their products that will suit your specific requirement.
Let me quickly summarize for you:
Backboard size – Goalsetter lets you choose from 54, 60 and 72 inch backboards. Unlike the Silverback NXT which is only available in size 54.
Backboard material – You can go for tempered glass for a professional game feel. The backboards are also available in acrylic if you prefer a more affordable option with a good bounce.
Rims – There are four types of rims available. The most basic is the single static rim which is a standard rim without the spring. The double static rim is the next step up which is also a standard rim but has a double ring for durability. Third is the HD breakaway rim that comes with a single covered spring. Finally the collegiate breakaway rim which has two springs instead of one and covered. Personally I find the HD breakaway rim as the best value.
Height-adjustment – Goalsetter has two types of mounts. A fixed mount which is on their Baseline models and height-adjustable model. The height-adjustable model has a greater range of adjustment than other hoops. It can be lowered to as low as six feet and go up to the regulation height of ten feet. The six feet height is useful if you have very young kids that want to play basketball.
The one that I find as the best value for money is the Goalsetter adjustable glass backboard in size 60. You get a 60 inch tempered glass backboard, a HD breakaway rim and height adjustable wall mount. While this isn't cheap by any means, you get top notch specifications.
If a tempered glass backboard is not an important factor to you, then you can save some money by looking at the acryclic version. You can customize the backboard size and the type of rim.
If you are happy to forego the height-adjustment then their Baseline model is worth considering. It lets you choose the backboard size, the backboard material and the type of rim.
Note that all models do not come with the screws and bolts to mount the goal to the wall. Purchase these in advance before starting on the installation.
Pros
Full-range of backboard sizes: 54, 60 and 72
Great quality backboard regardless if you choose the tempered glass or acrylic
Different types of rims to choose from
Option to choose from fixed height or adjustable
Adjustable wall mount has a greater range of adjustment, can go as low as 6 feet
Cons
Price is on the higher side
Will take more time and effort to assemble due to the weight of the backboard
PROGOAL is another source of great quality, heavy-duty basketball hoops. They do not have as many customization options as Goalsetter but they do offer a roof mount option.
The PROGOAL wall mount basketball hoop comes with a tempered glass backboard and are available in two sizes: 60 and 72 inches. The wall mount is height-adjustable from 7.5 up to 10 feet. The breakaway rim has covered double springs.
The package comes with the backboard, solid steel mounting bracket, breakaway rim and nylon net. Screws and bolts to mount the goal to the wall need to be purchased separately.
Their roof mount offering comes with an acrylic backboard. The backboard is ½ inch thicker than similar ones in the market. It is available in two sizes: 48 and 60 inches. I definitely recommend the 60 inches over the 48 unless you have space constraints. The covered dual spring breakaway rim flexes when dunking.
Pros
Durable tempered glass backboard
Two size options: 64 and 72 inches
Solid steel height-adjustable mounting bracket
Covered double spring breakaway rim
Roof mount option available
Cons
Price is on the higher side
Less customizations available on the wall mount option
Will take more time and effort to assemble due to the weight of the backboard
The First Team RoofMaster gives you extreme flexibility on where you can mount your basketball hoop. Most basketball hoops offer a separate bracket for a wall or roof mount. The steel mounting bracket for the RoofMaster works on both an angled roof or vertical wall installations. This is the product's best selling point.
Aside from the flexibility to mount on a roof or wall, the height of the basketball hoop can be adjusted to as low as six feet until the regulation height of ten feet. It is easily adjustable with just a few turns of the hand crank that is included in the package.
This benefit does come at a cost. This can be more expensive than other wall mount or roof mount only hoops. You should think carefully if this is useful to you or not.
The Nitro model comes with a 60 inch tempered glass backboard with a frame made of anodized aluminum. The tempered glass backboard allows for excellent rebounding. It is very durable. The goal is a heavy duty flex breakaway rim. The backboard, rim and structure is backed by a limited lifetime warranty.
The RoofMaster is also available in other sizes and backboard materials. The Turbo features a 54 inch tempered glass backboard. Acrylic versions are available in 60 inch (Select), 54 inch (RoofMaster III) and 48 inch (RoofMaster II).
Pros
Steel mounting bracket can work for both angled roof or vertical wall
Height adjustment can go as low as 6 feet
Nitro model features a durable tempered glass backboard
Options available to select other sizes and backboard materials
Breakaway rim with covered springs
Limited lifetime warranty on backboard, rim and structure
Cons
Quite pricey due to the flexibility offered by the steel mounting bracket
Will take more time and effort to assemble due to the weight of the backboard
I included a budget option since not everyone will be looking for a professional grade wall or roof mount basketball hoop. This Lifetime 73650 is a great entry-level choice for those looking to upgrade from a mini hoop.
With a backboard at 44 inches, this will give you a good enough size to play. The backboard is made of polycarbonate which is shatterproof. Do note that the rebound of the ball is not going to be similar to what you get from tempered glass. It could get loud as well when the ball bounces off the backboard.
The included breakaway rim is a standard regulation size of 18 inches. The rim has double exposed springs which still makes for good dunking action.
The package only includes the backboard, rim and net. The mounting unit to attach it to a wall or roof has to be purchased separately. The 9594 Universal Mounting Kit from Lifetime works well with this backboard and is pretty affordable. The mounting kit can be used for mounting to a wall, roof or even a pole. Note that it is a fixed mount. You also have to purchase your mounting hardware such as screws and bolts separately.
When considering the Lifetime 73650, keep in mind that the lower price means that you do not get top of the line configuration. However, it is good value for the price you pay since you can use a regulation size basketball with the flexibility of a breakaway rim. If you are fully aware of the shortcomings of this solution and are fine with them then you'll find yourself pretty satisfied with the purchase.
I recommend this as a great starter kit for parents with kids entering into adult basketball.
Pros
Very affordable, great starter hoop for venturing into adult basketball
Shatterproof polycarbonate backboard
Easier to assemble than tempered glass hoops
Breakaway rim works for dunking
Universal mounting kit works for wall, roof or mounting to a pole
Cons
Only a single size available, smaller than usual backboards
Bounce from backboard is not as good
Exposed springs on rim
Mounting system and hardware has to be purchased separately
The Awesome Choice
After carefully weighing all options, my choice for the best wall mounted basketball hoop is the Goalsetter Wall Mounted Basketball Hoop. I was impressed by the amount of customizations that they have available plus the overall quality of the product. I personally prefer the 60 inch tempered glass backboard with HD breakaway rim which for me makes it the best value for a professional grade basketball hoop.
If you are looking for a more affordable alternative but still want an upgrade from entry-level hoops with regulation size rim, then I would recommend the Silverback NXT 54 Wall Mounted Adjustable-Height Basketball Hoop. The mounting unit is included so you don't have to purchase it separately. You get a breakaway rim with covered springs and a backboard that has decent bounce.