If you're in a rush and want to find the best trampoline basketball hoop, then I would recommend Skywalker Trampoline as the best one.
Did you know that the trampoline was invented in the 1930s as a training tool for gymnasts and astronauts? George Nissen, a gymnast, thought of the idea to create a bouncing rig to practice his somersaults. Trampolines were then used by astronauts to orient themselves on how to react in the air. It eventually caught on with more people and the enjoyment of the trampoline has spread across the world. In 2000, trampolining became an official Olympic event in Sydney.
In this article, I'll be reviewing the following top-rated trampolines with basketball hoop:
Things To Consider When Buying A Trampoline With Basketball Goal
How Safe Is A Trampoline?
As with any toy or equipment, there are inherent risks involved. However, with adequate knowledge, preparation, and supervision, these risks can be mitigated. The trampolines that I have reviewed in this article come with safety net and padding. The pads will cover the edges and hard surfaces. You have to regularly examine if there is any damage, tear or deterioration before using the trampoline. Check if there are any detachments and fix them immediately before use.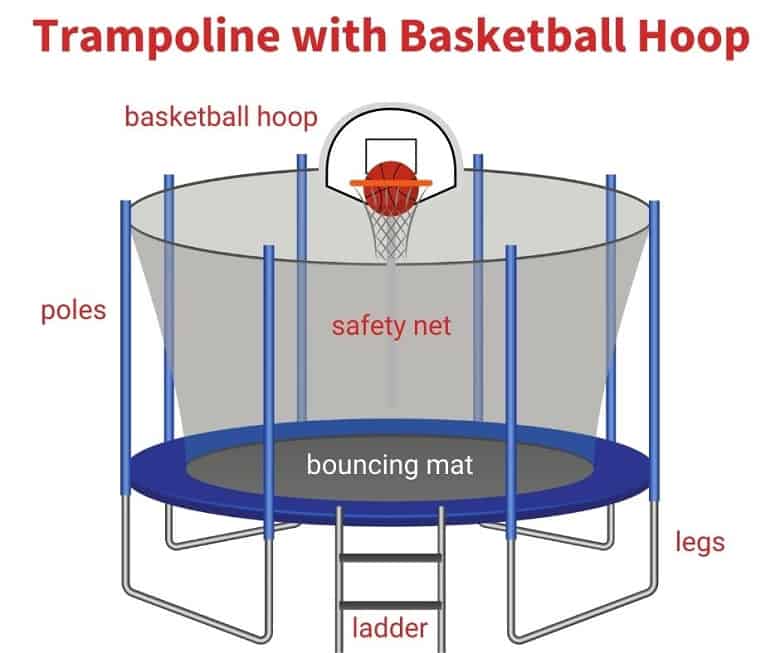 As a safety precaution, always set up your trampoline at ground level. A fall on ground level poses a lower risk of injury as compared to a fall from a higher surface. You have to make sure that the trampoline is not set up in close proximity to trees, poles, and any hazardous structures. Children should be supervised at all times even if they are over the age of six. You should also limit their activities on the trampoline. Do not allow extreme activities like flying somersault or flying kick as these activities increase the risk of injury. Safety is of utmost importance so take extra precaution before enjoying the trampoline.
How To Set Up A Trampoline With Basketball Goal?
A very important aspect that is often neglected when buying a trampoline with basketball goal is the set up process. I will run through the process with you so that you can get a better idea before you purchase the trampoline.
First step is to prepare and condition yourself for assembling the trampoline. Wear comfortable clothes as it will require some effort to install it securely. Your order will likely come in two or three big heavy boxes. The package may come with a screwdriver. If you have a power drill, that would really be helpful to speed up the assembly process.
Once you take the pieces out of the box, you will have to lay the curved bars and form them in a ring. You will notice that some of the pieces have a square on it while the others don't. You have to make sure that the adjacent pieces are alternating between one with a square and one without a square.
Next step will be to assemble the legs. When putting the poles, make sure that you align the holes. The bottom pieces should also be lined up and placed on the right spots. Once you have the poles aligned, open the bag of bolts and insert them into the holes. There's quite a few to go through so a power drill will come in handy in this step.
After that, you will have to get the mat or pad out. The most important thing to remember is that there is a warning sign. This will have to face up and should be right in the middle. The next step is to securely attach the springs.
After this step, put the outer layer on. This will come with straps and you will have to tie them to the poles. Following that, you will take the bent poles, slip the padding on, and put on the cap. You will then attach this to the net and post. Final step is to close the holes with the caps. Make a final check on the stability and security before getting the kids to hop on the trampoline.
The trampolines that I have reviewed in this article have easy installation steps to follow. You can get help from some family members and turn this into a fun activity. Just make sure not to involve young children.
How To Have Fun With Your Trampoline?
Trampoline with a basketball hoop makes a very fun activity for kids. They will be encouraged to practice diligence and teamwork. Plus, it is a great physical activity for active children. They will enjoy the bouncy feeling and will appreciate the fun jumping without the seriousness of competitive sports. You can create rules for them or the kids can be creative and come up with their own set of rules. This will help develop their creative thinking. There are so many options to play the game even if the kids are not familiar with basketball rules.
Trampolining with a basketball hoop can be a great way for them to discover different moves. Kids learn fast and with the added bounce from a trampoline, they will quickly discover how their bodies react to different surfaces. In addition, they will interact with other kids to score a basket in a friendly manner. It will also be an opportunity for them to make their first slam dunk! This will enrich their childhood and will provide them with memories to look back to when they grow up.
6 Best Trampolines With Basketball Hoop
Now that we have a good understand of trampolines, let's go and decide which best trampoline with basketball hoop to buy.
The Skywalker trampoline was developed with safety in mind. The patented enclosure covers all the gaps in between the enclosure of the net. This "no-gap" enclosure system will make sure that the entire jumping surface is protected from any untoward pinching points, holes, and openings. The springs are made of rust-resistant steel for durability and stability. These are hooked around the enclosure safety net for excellent bounce experience. The upright poles are padded with quality foams for superior protection. The safety net is made of polyethylene woven materials and has two zippers. It also has a latch clip for added safety. This can be considered as one of the safest trampolines with basketball hoop.
The trampoline's basketball hoop is made of materials that are safe for children to play with. The soft hoop has a hook and a loop. This is to prevent damage to the enclosure net and the surrounding poles. This trampoline is great for family use. The bounce quality is excellent. With all the safety features in place including a galvanized steel frame, you can focus on your kids and their enjoyment.
Please be aware that the Skywalker trampoline will be shipped in two separate boxes. You may receive the two boxes in different shipments. Wait for both boxes to arrive before you start assembling.
Pros
Patented "no-gap" enclosure system for extra safety
Rust-resistant springs
Polyethylene woven safety net with dual zippers and latch clip
Durable soft basketball hoop with hook and loop
Cons
Comes in two big boxes that are shipped separately
The Kangaroo Hoppers trampoline has all the safety features that meet our stringent guidelines. The safety net is made of a dense mesh material. This will make sure that the entire enclosure is safe for jumping kids. The spring cover pads are wide and neatly cover the frame. You will not notice any gap between the spring pad and the jumping mat. The steel structure is solid and of high quality. This gives the trampoline its durability and stability. The entire steel frame is fully galvanized which prevents rust and corrosion from developing. The springs have a rust-free coating to them. The curvy legs have a unique design which provides excellent stability. The stability of this trampoline will ensure a safe enclosure for your kids to play in.
The mat is made of anti-UV polypropylene material which is not only durable but also gives you a high quality bounce. The high density and wear-resistant mat can withstand high pressures because of its elasticity. It also comes with a heavy duty three-step ladder. Kids will have easy access to get in and get out of the trampoline.
This product comes with a one-year limited warranty. Please note that the basketball hoop will be shipped separately.
Pros
Dense mesh safety net
Galvanized and rust-free springs
Anti-UV polypropylene mat
Heavy duty three-step ladder
Cons
Basketball hoop will be shipped separately
The Merax trampoline features a six-feet height enclosure for extra safety. The overall construction is solid. It has heavy duty steel that is rust-resistant. The six W-shaped legs support the trampoline in its entirety. Ths stability is noticeable in the W-shaped legs even with high impact jumps. There are five poles that are fully padded with foam for impact cushioning. There is one extra thick pole that is UV-proof and supports the enclosure for added safety. The high grade polypropylene mat provides the optimal level of bounce that kids desire.
This trampoline comes with a four-step ladder that is fully galvanized. Access in and out of the trampoline will not be an issue. The flexible jumping map is tightly woven and is attached to 108 trampoline springs. All the gaps are safely covered with durable blue frame pads. This is to prevent hands and feet from being caught in the gaps and in the edges. The basketball hoop comes with an innovative protective net that prevents the ball from getting out of the trampoline enclosure. The rust-proof design ensures durability to withstand inclement weather. It is also advisable to get some wind stakes in order to help stabilize the trampoline when you encounter strong winds.
Pros
Six W-shaped legs for stability
Four-step ladder
Innovative protective basketball net
Cons
Comes in three boxes that may not be delivered at the same time
The trampolines from Songmics come with an enclosure net, a basketball hoop, a jumping mat, a safety pad, and a ladder. You should choose a size depending on your child's age. I would recommend getting the 15 feet trampoline as an investment as kids grow fast. The steel frames are made of galvanized steel for durability. The legs are W-shaped and are strong and supportive. The six legs are stable enough to support the trampoline from heavy pounding and jumping. It is protected by six poles that are all padded with foam. The enclosure comes with a zipper for added protection. The jumping pad features an eight-thread sewing technology. This greatly improves stability and quality of bounce. Please read the instructions carefully before you start with the assembly.
The trampoline is attached to 108 springs that are rust-resistant. The jump experience is enhanced by the combination of good quality jumping pad and stability from the 108 springs. The package also comes with two pairs of gloves to assist adults in quickly setting up the trampoline. All the gaps are properly covered by the blue protective pads. It also comes with six U-shaped wind stakes for added stability in the event of strong winds. The package comes with a basketball hoop. Please note that the ball is not included.
Pros
Jumping pad is made of eight-thread sewing technology for stability
Comes with two pairs of gloves for use during set up
Wind stakes are included
Cons
Comes in two boxes and may not be delivered at the same time
This trampoline from the Albott Store is made of heavy duty steel. The stability of this trampoline is supported by the reinforced T-sockets. This prevents any structural twisting from occurring. It comes with 108 springs that can support your kids' persistent jumping. You wouldn't have to worry leaving this trampoline out for extended periods of time as the steel frames are weather and rust resistant. The six U-shaped legs support the entire trampoline to ensure stability during moments of high impact jumping.
The UV-resistant mat is woven and has an anti-slip surface. The vinyl-coated mat is extra thick and durable. It will also last for a long period of time and resist fading. The mat is also weatherproofed so you can leave the trampoline outdoors. All the poles are covered with soft foam padding for impact protection.
This comes with a full-length ladder for convenient entry to the trampoline and ease of exit. You would appreciate the basketball that comes with the package; pump is included. The hoop is stable when hooked properly and can withstand your kids' slam dunk.
As with the other trampolines, you should not drag one side of it when moving the trampoline as it can cause structural damage.
Pros
Anti-slip mat
Weatherproof mat
Stably supported by 108 springs
Basketball and pump are included
Cons
Shipment will arrive in three boxes
What I love about the Zupapa trampoline is the patented basketball tunnel game. It elevates the trampoline basketball game to the next level. It has two tunnels where the ball goes through. This saves me a lot of time from having to constantly pick up the basketball.
In terms of safety and security, the upgraded version has no gap which definitely reduces the risk of getting your kid's hands or feet from getting caught in between the gaps. I also noticed that the springs are fully covered with pads that are thick and durable. It also uses a self-locking frame structure without the use of screws. The result is a much stable trampoline build.
The galvanized anti-rust frame is designed with two steel joints. This forms solid W-shaped legs that sturdily support the entire trampoline for up to 425 pounds.
Pros
Uniquely designed basketball tunnel that is patented
Security certified no-gap design
Heavy duty frame with hot-dip galvanized frames
12 springs for an elevated bouncy experience
Cons
Not the usual hoop design for dunking
The Awesome Choice
All the five sets of trampoline basketball hoop that I have reviewed in this article are of good quality and have the right level of safety features in place. You can choose any of the five mentioned above and you will not regret your purchase. However, the one that really stands out for me is the Skywalker Trampoline.
The superior patented "no-gap" enclosure system provides an extra safety measure. The steel frame and springs are all rust-resistant. The polyethylene woven safety net comes with dual zippers and a latch clip. The basketball hoop is made of soft materials to prevent any injuries when kids jump for a slam dunk. This is certainly the best trampoline with basketball hoop that you can buy online.
If you are looking to enhance your swimming pool with a basketball hoop, you may want to read my article about the best pool basketball hoop.