In a hurry? If you quickly want to know what my choice is for the best smart basketball for training, then I'd recommend DribbleUp Smart Basketball as the best one.
I am always on the lookout for ways to improve my basketball skills. My latest fascination is a smart basketball that comes integrated with an app. It is very fun and at the same time helps improve my basketball dribbling skills. I also enjoy the virtual training sessions at home in live and on-demand classes.
In this new-age era post the pandemic, technology is the norm and everyone is glued to their smartphone. The idea of having a "smart" basketball for training is something that I am absolutely embracing.
In this article, I'll be reviewing the best smart basketball. I'll also share with you my personal choices for the top weighted basketballs for training.
What Is A Smart Basketball?
A smart basketball uses state-of-the-art technology for tracking a player's performance and skills. It is equipped with an embedded optical instrument for measuring basketball bounces. It is created to provide players with trackable statistical insight.
Smart basketballs are paired with an app to provide players with interactive training sessions. The app allows users to join virtual trainings live from the comfort of their homes. There are also on-demand classes for dribbling and ball-handling. I also like that the classes help improve kids' coordination using their hands and eyes when dribbling. The training sessions will improve a player's overall stamina and confidence when playing in actual games. This is quite effective as it uses technology to make learning fun.
The smart basketball app works with most phones and tablets (iOS and Android) so you don't have to worry about compatibility issues with your device. You can also connect it to your television using your Apple TV or Chromecast.
The outer covering of a smart basketball is typically made of composite leather. This makes the ball durable and provides good bounce for improving dribbling skills. Beginners will find smart basketballs to have an overall good grip and feel in their hands.
The embedded tracker utilizes optical motion technology. This allows accurate capture of movements for visual interpretation and analysis. I love that smart basketballs combine two of the things that I am very passionate about: basketball and technology.
I personally see smart basketballs to be more widely used in the future. With more players getting used to this technology, new features and integration with more devices should certainly be in manufacturers' plans.
How Does Smart Basketball Work?
A smart basketball works by having an embedded chip with an optical marker sensor. This sensor detects motion patterns from the ball. The sensor transmits the data collected to a processor that can understand and analyze the raw data. This process is typically done using Bluetooth technology to send information to your phone or tablet.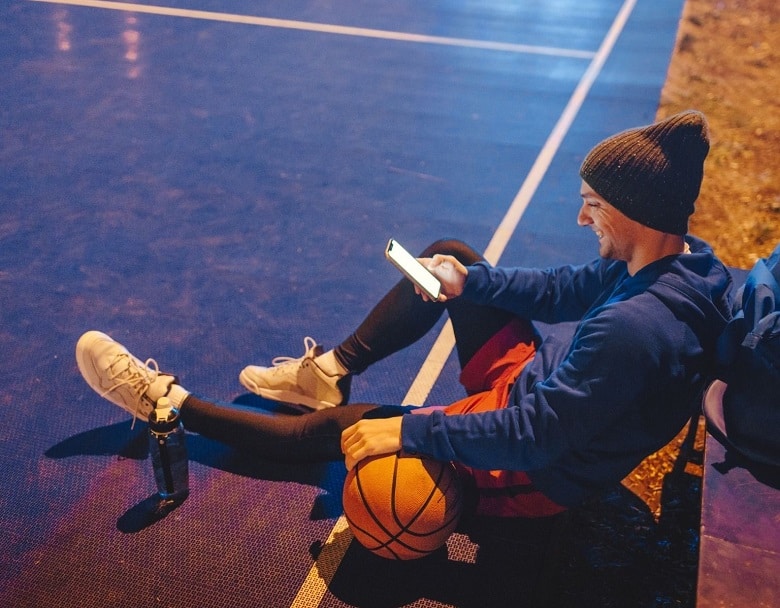 The app would then use AI-based technology to transform data into visual representation of movements and patterns. This results in an interactive activity that mimics a training session with a knowledgeable instructor.
One of the main focus areas of a smart basketball is dribbling. Some of the patterns that it can monitor are the speed and force of a dribble, the height of a bounce, and the arc. The goal is to provide a guide for players to see their behavior and highlight their mistakes.
Smart basketball apps nowadays also come with live classes that you can join from your mobile devices. Brands hire professional basketball instructors to conduct these live online sessions. In some cases, there are up to 30 classes across different skill levels that are available for you to choose from. This allows you to tailor your training sessions depending on your age, skill, and progression.
The fun would start by scanning the basketball using the app. The ball's vision sensor tracks the movement and monitors it real-time for you to see on screen. There are targets that are set for you to stay focused. The repetitions and your form are all monitored and tracked. You can even compete with your friends on the leaderboard.
What Is A Weighted Basketball Used For?
A weighted basketball is a training tool using resistance. The ball typically weighs more than double that of a normal basketball weight of around 1.4 lbs. This basketball helps you develop stronger fingers, wrists, and forearms. The rationale for the use of weighted basketball is to develop your strength so that you can have better control of the basketball.
In terms of size, there is no difference between a normal basketball and a weighted basketball. These weighted balls come in the official size similar to what you would use in competitive games. The circumference of a weighted basketball is 29.5″ for men's basketball and 28.5″ for women's basketball.
The materials used for weighted basketballs are also similar to that of your typical basketball. These can be made of rubber or composite leather. Weighted basketballs are manufactured for indoor or outdoor use. You have to make sure that you examine the composition of the outer cover before making your purchase.
During training, I would use a weighted basketball to improve three aspects of my game: passing, shooting, and dribbling.
I love doing passing exercises with a weighted basketball because it improves my court vision. I can get a better feel of where the ball is going. This gives me a better sense of the ball direction and trajectory when passing or receiving the ball during fastbreak.
I am constantly working on improving my shooting range. The weighted basketball is an excellent tool to get your arms to work. This will train you in terms of strength around your forearms for those long range shots.
Dribbling is a core skill that any basketball player should have. I use this to improve my ball-handling especially when simulating full-court press break. The strength on the fingers and wrists you will develop from this exercise will be extremely useful. This gives you the skill to beat your defender with a crossover move when needed.
Best Smart Basketball And Weighted Basketballs
Now that we have a solid understanding of smart basketball technology and use cases for weighted basketball, let's go and find the best training basketball to buy.
The SIQ Smart Basketball comes with an app and a sensor to help monitor your training using the same analytics that professional shooting coaches use.
I love that the material of the basketball is of premium quality. It does feel good on my hands when I use it. I get that feeling of dribbling an official leather basketball despite it being a training basketball with a sensor in it.
What impressed me about this smart training basketball is the patented next-gen 9D sensor. The AI used on the app is also very impressive as it allows accurate progress tracking via the app.
For kids who want to build their confidence and at the same time have fun while training, this is a perfect gift for them.
Pros
Patented Next-Gen 9D sensor
Good value for money
Fun competition against players around the world
Great gift for aspiring basketball players
Cons
App subscription is limited to 6 or 12 months
The DribbleUp basketball is made of durable microfiber composite leather. It has an embedded optical marker which pairs very well with the mobile app. The embedded optical marker provides very accurate live ball tracking.
This smart basketball comes in regulation basketball size and weight. This is the optimal size and weight for normal basketball drills.
What I love most about this smart basketball is the availability of virtual trainers. In our current situation, I can easily pop up a virtual trainer anytime of the day. There are up to 30 drills for me to choose from. The live ball tracking and virtual speed meter are quite accurate. This allows me to quantify my training and set targets for each session.
I'd recommend that you allocate about six feet or two meters of space at home for your virtual training.
The basketball and app are easy to use. You start by scanning the basketball on the app and follow the subsequent instructions. Kids can set targets and compete with anyone on the DribbleUp platform across the globe. For those competitive players out there, you can see your results on the leaderboard and aim to beat everyone.
This smart training basketball is suitable for beginners as well as those looking to further improve their ball-handling skills.
Pros
Durable composite outer cover
Pairs well with both iOS and Android
Works well with Apple TV and Chromecast
Several interactive virtual training courses
Suitable for beginners and seasoned ballers
Cons
Main training focus is on dribbling only
The SKLZ control training basketball is made of good quality synthetic leather. I like this material because it is very durable. It can also be used for both indoors and outdoors. The diameter of this weighted basketball is 29.5″ which is that of the official men's size. The weight is 3 lbs. This is around twice the weight of a normal basketball.
I noticed that the texture and bounce are very similar to regulation basketball. This helps with your training so you won't have to adjust too much when in actual games. Passing, dribbling, and overall grip are quite good. You will stay focused on training with the additional weight and not be bothered by any issues with sticky or slippery outer cover.
For me, this serves as a basketball medicine ball. The weight is just right to help strengthen my fingers and arms. I love using this to incorporate into my dribbling exercises. If you are using this for training outdoors, I would recommend that you buy another one for indoor training.
The black color is also a winner for me. I can easily distinguish my weighted basketball from my regular game basketball.
For your other training needs, SKLZ also offers smaller lightweight basketballs for improving hand speed and ball awareness.
Pros
Made of durable synthetic leather
Great grip and bounce
Black color for easy identification
Cons
For advance training; not that suitable for beginners
The Baden SkilCoach training basketball is made of rubber. This type of material is very durable for outdoor use. It can withstand the elements but requires constant cleaning to retain its grip.
The bounce is pretty good on the blacktop. If you want a smoother bounce for using indoors, you may want to consider the other options in this article.
I love that the price is very affordable. Beginners who do not want to spend a fortune on training will find the Baden SkilCoach basketball the perfect choice for them. It is a good compromise between quality and price.
It holds up very well on rough surfaces. I would use this to train and practice my dribbling and passing in preparation for 3×3 games. This is also a good option if you want to improve your streetball dribbling and rebounding skills. When doing passing drills, a bit of friction may be felt. It can also be a little slippery when it gets moist or wet.
The weight is approximately double that of a normal rubber basketball. It comes in sizes 29.5" (official men's basketball) and 28.5" (official women's basketball).
Overall, this is a good quality budget weighted basketball for outdoor training.
Pros
Great value for money
Durable rubber outer cover
Perfect for training on the blacktop
Cons
A little too rubbery for me
The Spalding TF-Trainer weighted basketball is made of composite leather. The outer cover is durable yet smooth and soft to the touch. I love that Spalding has a weighted training basketball specifically designed for indoor play. I like the feel of the composite leather on my hands during training and practices as it gives me a more competitive feel. This is probably more psychological than anything else.
The weight is around three pounds and is similar to other weighted basketballs. The bounce is quite crisp and is perfect for dribbling exercises. For passing drills, the texture feels good on my fingers. It has good and accurate bounce which is a must for training balls.
If you are doing rebounding exercises, the Spalding TF-Trainer's texture is great on fiberglass backboards. The weight is just about right to strengthen your arms for grabbing a rebound.
Dribbling exercises are my favorite. The friction of this weighted basketball on the hardwood is not very evident. It bounces like a standard basketball despite its weight. I can do extended dribbling drills with both hands without getting irritated easily.
Spalding has been producing top quality basketballs and the TF-Trainer is no exception. For the quality of materials, the price is not too bad either.
Pros
Great weighted basketball for indoor training
Composite leather is perfect for indoor weighted ball
Good bounce and grip
Good price for composite leather ball
Cons
Not suitable for outdoor training
The Wilson NBA weighted basketball is made of high quality premium composite leather. What I love most about this basketball is that despite the three-pound weight, this Wilson training ball still bounces like your standard NBA regulation basketball.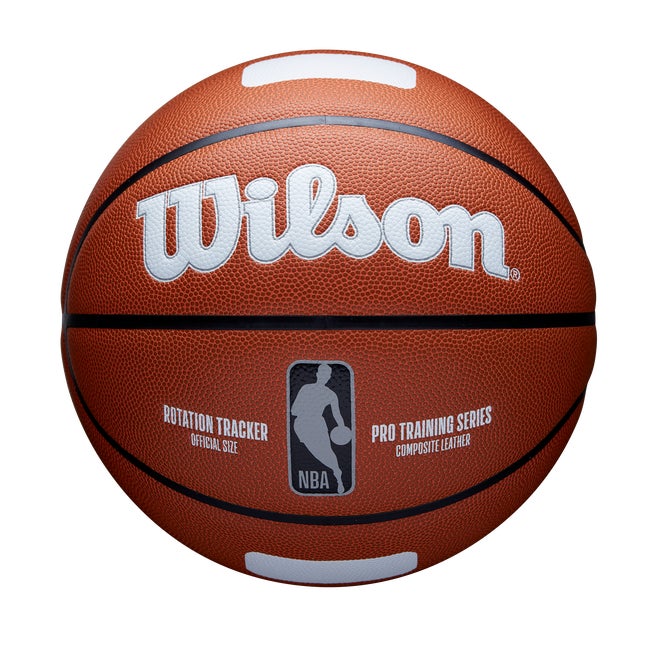 The three main training purposes for a weighted basketball are dribbling, passing, and rebounding. When dribbling, I get the feel of a leather basketball and bounce of a standard official ball. Passing drills are easily affected by the quality of outer cover and bounce. I must say that this basketball passes this test with high grades. Rebounding drill on the backboard also feels good. I like that the composite leather bounces like a top-grade basketball when it touches the glass backboard.
The channel construction is another aspect that I love about this weighted ball. It is manufactured with NBA pro seams construction. You get a professional look and feel of NBA quality basketball even if it is a weighted training ball.
Wilson makes this weighted basketball in size 7 (29.5") and size 6 (28.5″). You may want to explore the below option if you are looking for the WNBA women's size.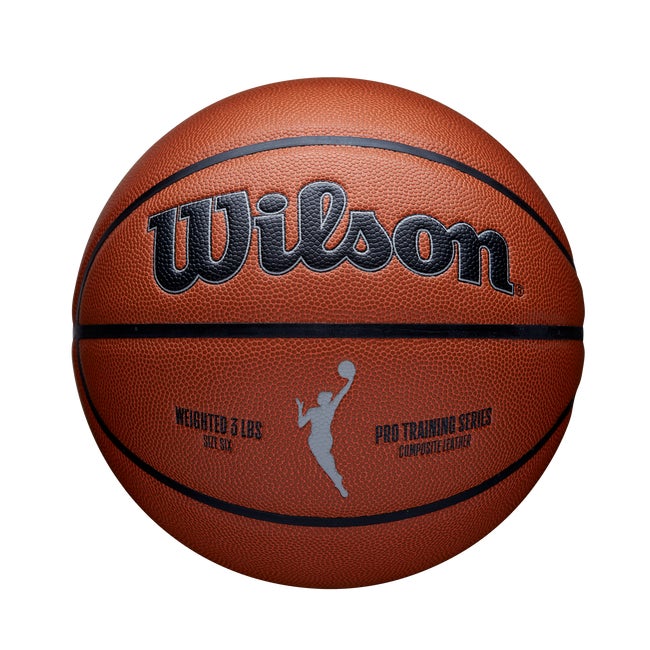 For me, this is arguably the best weighted training basketball. I would definitely recommend this for serious ballers who are training for an upcoming league. The NBA branding is definitely a plus as it means that a certain level of quality is met to merit the NBA logo being displayed on it. Even NCAA and NBA level players would find these basketballs to be truly top-of-the-line.
Pros
Premium microfiber composite leather
Bounces like a regulation basketball
Official NBA and WNBA branding
Ball channels are NBA quality pro seams
Cons
Pricier than the other weighted basketballs
The Awesome Choice
While each one of us may have different training needs, I would recommend the DribbleUp Smart Basketball with Virtual Trainer App for both beginners and advanced players who are looking to up their game.
Smart basketball with a paired mobile app is definitely something that basketball players like us must try out. The use of technology in basketball training is something that I personally embrace. I also advocate it to all my friends and readers because it is fun and interactive.
The availability of live sessions with professional trainers as well as the myriad of new classes that come up each week make this smart basketball stand out as the best smart training basketball.
If you are looking for a weighted basketball for training, then the Wilson NBA Weighted Training Basketball is my top choice for that.