No time to read? If you quickly want to know my choice for the best portable basketball hoop, then I would recommend Spalding The Beast Glass Portable Basketball Hoop as the best one.
Practice makes perfect and what better way to improve your hoop skills than to have your own basketball hoop on the driveway. We have several choices available and if drilling on the ground is not an option for you, then the best way to go is to buy a portable basketball hoop that is durable and can withstand extreme impact.
In this article, I will be reviewing the following portable basketball hoops for driveway:
Stability And Durability
When shopping for a portable basketball hoop for your driveway, the first thing that you have to consider is the stability of the base and pole. These parts of the basketball hoop system should be strong and durable enough to withstand the demands and impact from high pressured long jumpers and rim rattling slam dunks. The rim must have a breakaway technology that allows it to snap back to its original position and provide an arena-like feel to your game.
In order to achieve the stability needed, the base should have the capability to hold a large amount of weight to lock the basketball system in place. This is usually achieved by having a base that has a receptacle that can hold up to 50 plus gallons of sand or water. The trick is to make sure that you place the base on an even surface before filling up the base with weight.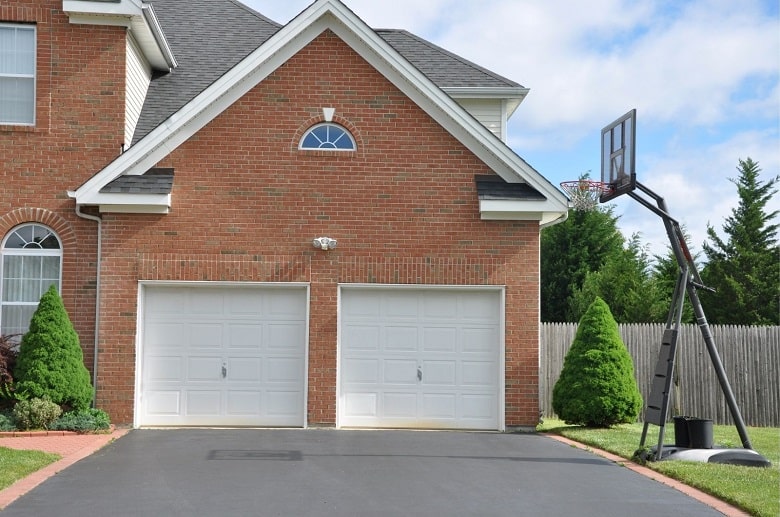 Basketball hoops are not cheap so we have to get the best value out of our money by ensuring that the materials are durable enough to last a long period of time. Tempered glass is my recommended backboard not only for its professional look but also its durability to withstand different weather conditions on the driveway. Ideally, we should choose a basketball net that is indicated as suitable for all weather. The pole is another component that requires our careful scrutiny. Check the quality of the pole by inspecting the finer details like powder-coated or anodized steel. This would give you peace of mind once the hoop is assembled and installed.
Portability
Having a portable basketball hoop gives you the flexibility to move and adjust your basketball playing area depending on what suits your needs. I have carefully analyzed the different types of portable basketball systems in this article. The first and foremost criteria are a base that has wheels to allow you to conveniently position the basketball hoop and a sturdy lock mechanism to put everything in place. These features basically let you move your basketball playground wherever you go. The wheels have to be thick, strong, and smooth to allow seamless moving and adjusting. This is exactly what I have looked at when reviewing the different portable basketball hoops that are available.
While in-ground basketball hoops may come with the perceived stability of a drilled-in basketball system, portable basketball hoops are not to be left out in terms of stability as I mentioned above. I love that portable basketball hoops nowadays have such a solid base that its stability can certainly live up to my high expectations. This is especially useful if you have teenagers who might want to bring their basketball hoop outside and bring it back indoors or to the driveway at night. The products I will be reviewing in this article all have smooth wheels for ease of movement.
There are different price ranges and quality levels so we have to weigh each pro and con carefully when deciding which one to buy. Lower cost may mean a different type of material used for the wheel, pole or base. I will check out each one and pick only the best value in this article.
Adjustability
One benefit of having our own basketball hoop is the ability to adjust the height of the rim. This will give players of all height and skill levels the opportunity to practice and enjoy the game of basketball. The ultimate portable and adjustable basketball hoop should allow us the flexibility to lower the rim to around seven feet or move it up all the way to the professional regulation rim height of ten feet. There are several types of lift system to adjust the rim height and I will be considering only the top-notch systems that deliver the best value for your money.
From screw jack lift system to easy slide actuator, adjustment of height should not be a problem with the best available portable basketball hoop in this review. This allows you to adjust the height depending on your competition in just a matter of minutes. One particular aspect that I spent a lot of time scrutinizing is the technology used to lock the rim after adjustment. You will have peace of mind knowing that all the five products in this review have met my stringent criteria and guidelines.
Every basketball player's dream is to be able to dunk the ball with ease. While not everyone may have the natural gift of height or trained vertical jump skill and talent, the adjustability of the basketball hoop gives everyone the opportunity to experience a slam dunk at a comfortable hoop height. This alone is worth a million bucks to many of us basketball lovers.
My Top 5 Recommendations
Now that we have a solid understanding of the different factors to consider, let's go and decide which portable basketball hoop is most suitable for your needs.
Spalding The Beast Glass Portable Basketball Hoop is available with a 60-inch or a 54-inch tempered glass backboard that gives you that amazing arena-like feel. The superior breakaway snapback rim is of top quality and comes with an all-weather basketball net. The background adjustment system is derived from a screw jack list technology that allows the backboard to be adjusted from as low as seven and a half feet to a maximum height of ten feet which is the official NBA regulation rim height.
The stability of this basketball system comes from the solidly supported base that has a large capacity of 55 gallons. You can fill this power move base with water or sand. Four high quality durable wheels are attached to the base to allow ease of mobility and to give us ballers ultimate portability. In terms of durability, the five-inch square pole is made of steel that is of top-notch quality and can withstand extreme basketball impact due to its heavy duty frame.
Overall, this basketball system provides the ultimate balling experience for players of all ages. From the professional look and feel to the convenience and ease of assembly and height adjustability, this is without a doubt a beast of a basketball hoop.
Pros
Professional look and feel
Tempered glass backboard for great offensive performance
Convenient base wheel for ease of movement
55 gallon base capacity for maximum stability
Adjustable rim height (7.5 to 10 feet)
Cons
The Silverback portable basketball hoop system uses advanced technology and engineering to improve portability and ease of assembly. It comes with Quickplay technology and the major components are pre-attached and pre-assembled. Based on experience, the goal can be attached in approximately 90 minutes. This is a lot faster to assemble than the other basketball systems.
The Infinity Edge backboard provides excellent performance. For rigidity, it can also fold backwards. I love how the ball reacts to the backboard especially when you use the glass for layups or short jumpers. The steel frame is quite strong and stable. The foundation of the Stabili-Frame technology is the steel frame structure below the base. The weighted wheels and large base provide balanced weight distribution and a lower center of gravity. All these features result in an improved stability of the entire system. The ErgoMove design is inspired by the design of a wheel-barrow. The basketball hoop can easily be transported by two people. This is done by tilting backwards on its large weighted wheels. It comes with a rear kickstand that prevents the goal from tipping over. The height adjustment can be done using the actuator and can be adjusted from 7.5 to 10 feet.
Pros
Quick and easy to assemble
Adjustable height using an actuator
Wheel-barrow design for great portability
Cons
The steel rim makes loud sound when hit by a basketball
This Spalding portable basketball hoop has a backboard that is made of durable polycarbonate material. It measures 54 x 32 inches and is quite durable and weather-proof. I like that the backboard comes with an arena-like padding as I usually tap the board when finishing my layup. The breakaway rim is flexible and snaps back quickly to its original position. The rim height is adjustable in 6-inch increments so you can adjust it according to your desired height. The adjustment mechanism uses Spalding's ExactaHeight lift system which is easy to use even for kids. The height adjustment is from 7.5 to 10 feet which is great especially if you have growing kids.
The base has a 34 gallon capacity which can be filled with sand or water. It is equipped with two wheels so you can move it anywhere you'd like. The wheels are of good quality and smooth when rolled. You wouldn't have a problem moving the hoop to another location. All these features come in a really affordable price tag. I would recommend this if you are on a budget and want a portable hoop with all the minimum required features.
Pros
Great value for money
Easy to use ExactaHeight lift system
Durable backboard and snapback breakaway rim
Cons
34 gallon capacity of the base may not be the most stable
The Merax portable basketball hoop system has a backboard that is 44 inches wide. The breakaway rim has a dual-spring design and comes in a regulation size of 18 inches. It has a large base with a basketball storage which is a plus for me. The stability of the hoop is supported by the base which has a 21 gallon capacity or around 220 pounds. This should be sufficient to most ballers like us. The system can be moved around using the two built-in wheels which are quite durable. It is weather-proof so you can set it up indoors or outdoors without having to worry. The all-weather resistant system has a rust-proof finish on the poles and comes with a cap on top to prevent water from getting into the pole. The nylon net and the plastic base are also weather-resistant.
The Merax portable basketball hoop has a telescoping height adjustment mechanism from 6.6 feet to 10 feet. This 6.6 feet height is suitable for younger kids. However, you wouldn't have to worry as this can be adjusted all the way to a regulation height of 10 feet. The price for this portable basketball hoop is not bad either. Given all the features and the price tag, this is another great value buy.
Pros
Dual spring breakaway rim
Eight level adjustments from 6.6 feet to 10 feet
Comes with a basketball storage
Cons
21 gallon capacity base is not the most stable
The Lifetime portable basketball hoop has a shatterproof fusion backboard that measures 48 x 30 inches. This is made of a blow-molded polyethylene plastic frame which looks and feels like a piece of glass but without its steep price. The graphics on the backboard are screen-printed which looks cool when the hoop is set up on the driveway. The graphic doesn't easily fade and the hoop will look good for an extended period of time. Lifetime names its rim technology the Slam-It rim which is similar to a breakaway rim technology. This portable hoop system can be used outdoors as it has a weather-resistant finish adjustment pole, solid rust-proof steel, and all-weather nylon basketball net.
The height of the hoop can be adjusted from eight feet to ten feet using a broomstick or post. It's not the easiest to adjust but it does the job. The pole which has a diameter of three inches is thick, strong, and stable. It can withstand the high impacts of basketball and gives an overall sturdy feel to the hoop system. With its adjustability, aesthetics, and affordable price, this is certainly one that I would recommend to those who are starting out with basketball.
Pros
Shatterproof fusion backboard made of polyethylene plastic frame
Responsive Slam-It snapback rim
Cool backboard graphic
Value for money
Cons
Height adjustment of 8 to 10 feet using a broomstick or post
The Awesome Choice
All the five portable basketball hoop systems that I have reviewed in this article are suitable for your driveway. You can buy any of the five mentioned above and you will not regret your purchase as they have their own advantages and disadvantages. However, the one that really stands out from the rest is Spalding The Beast Glass Portable Basketball Hoop.
The massive 60 inch tempered glass option is my choice as it gives a professional arena-style basketball hoop system. The solid steel frame and pole along with the weather-resistant feature make this a worthwhile investment. The power move base with 55 gallons of capacity provides unparalleled stability for the most intense basketball games.
If you are looking for an in-ground basketball hoop or a wall-mounted basketball hoop, you should definitely check out the articles that I have written about them.