If you're in a hurry to find the best outdoor basketball shoes, then I'd recommend Nike Lebron Soldier XIV as the best one.
Streetball has been my favorite pastime since I was young. Be it a half-court play, 3×3 or a game of 'horse', it never fails to bring my competitive spirit out. The main struggle I always have is finding the best outdoor basketball shoes to rough it out and to prevent injury at the same time.
In this article, I'll be reviewing the following basketball shoes for outdoor.
How To Choose Good Outdoor Basketball Shoes?
Basketball shoes have three main parts: the outsole, the midsole, and the upper. When choosing good outdoor basketball shoes, the outsole is the obvious part you look at. However, the midsole and the upper significantly affect the comfort and longevity of your shoes. Leather or mesh uppers look good and are comfortable for outdoor use.
Shoe Construction
Outdoor games tend to be less structured and more physical. Choosing the right type of shoes can make a difference in terms of support and comfort.
If you are a player who does a lot of crossovers, slashing to the basket, and step-back jumpers, low cut shoes offer less hindrance to your speed and agility on the blacktop. Low cut shoes also look aesthetically pleasing on guards especially if you match them with some cool-patterned socks.
For big men who do the dirty work of boxing out and covering the paint, high-top shoes provide more support when you land on your feet after grabbing that rebound. You wouldn't want to fall on the unforgiving concrete and get all bloodied. Stretch fours should find a balance between ankle support and room for lateral movements. Mid tops support this flexibility while you move in and out of the painted area. Let's watch this video for some of the FIBA 3×3 outdoor basketball highlights to get an idea of the level of competition and the types of outdoor basketball shoes they wear.
Durability And Performance
Most basketball shoes are designed for hardwood flooring. The factors to consider when selecting your outdoor shoes are the outsole material and pattern. Most durable basketball shoes have rubber outsoles for maximum durability and concrete-resistance. Thickness of the outsole can affect the longevity of your shoes as it gets the most beating. The quality of the midsole impacts shock absorption. Materials like EVA (ethylene-vinyl acetate) improve shock absorption. These are lighter in weight compared to rubber. Shoes with EVA midsoles can be beneficial to guards and forwards who love to drive strong to the hoop.
Outsole Traction
The outsole pattern improves grip and multi-directional traction. There are several tread patterns in the shoe market. Herringbone pattern is generally what you should be looking for as it has good grip on concrete and asphalt surfaces. However, certain brands have unique traction patterns and work very well outdoors. The shoes that I've reviewed here have tread groove patterns that have a good amount of surface area that come in contact with the floor for increased traction resulting to excellent pairs of basketball shoes with best traction.
Aesthetics
We all love to sport our team colorways in our shoes but maintaining their appearance while playing outdoors is a real challenge. Dust, dirt, moisture, and other elements can easily get in the way of our shoes. Dark colored shoes are a great way to alleviate some of these concerns and mask the appearance of dirt in our shoes. But white shoes can always be an option if you don't mind the scruffy look after a few wears on the outdoor court. Proper care and maintenance will also play a big role on your shoes' aesthetics and hygiene.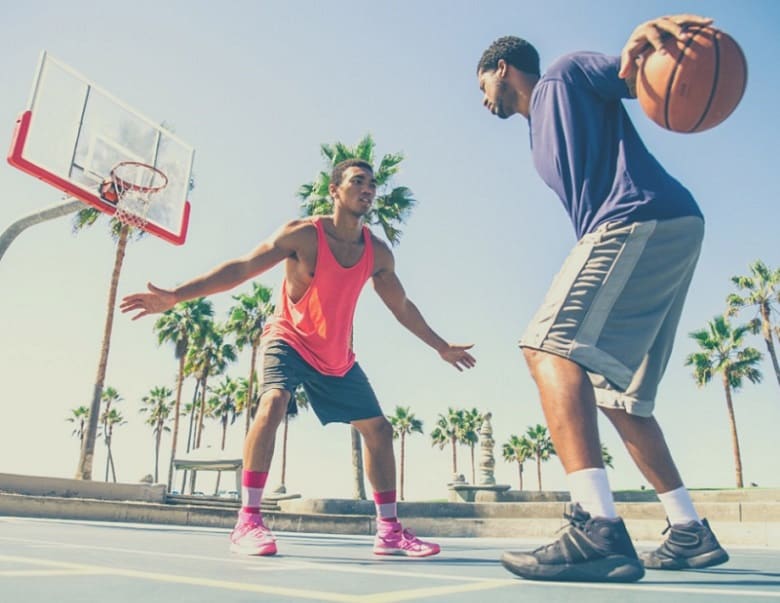 Break-In Period
Before you hop on the court and strut your new kicks, make sure you wear them indoors. Lace them up (or strap them) and try to walk, jump, and make a few lateral movements to get a feel of your new shoes. You don't have to perform very high impact activities for this. The aim is to have the shape of your feet slightly molded on the insole. Adjust the laces (or straps) to get the right level of tightness. It won't fit like a glove on your first wear but eventually they will.
Different brands and models have different materials, thickness, and density of the insole. This will affect the length of time required to break in. It would normally take about two wears before you can fully break in your shoes.
Make sure that you don't feel uncomfortable from the initial wear as it may indicate a wrong size or width. Go half a size up if you wear very thick socks.
Care And Maintenance
Keep your outdoor shoes separate from your indoor ones. You would want to keep your indoor shoes away from the elements and keep it as pristine as possible.
After using your outdoor shoes, brush off the dirt from the outsole. You can use an old toothbrush for this. Wipe any visible dirt with sponge and warm water. Let them dry in an open area or shoe rack. Make sure your shoes have enough airflow to prevent any foul smell from developing. Tossing some sneaker balls in when you are not wearing them can help reduce foot odor. You should always store your shoes back in the original box to keep their shape.
5 Best Outdoor Basketball Shoes
Now that we have covered some of the factors to consider when choosing the best outdoor basketball shoes with good traction, let us get to the fun part of deciding which pair to buy.
This pair of Nike LeBron signature shoes has an unconventional dual lace and toggle system. With this system you can be assured of a secure, distraction-free, and locked-in feel. You will love these shoes if you hate tying laces.
The high-top design has an expandable inner sleeve and is suitable for both big men and guards as it provides good ankle support in various situations. Together with an extended tongue in the upper, you will not struggle to put these shoes on. You will also appreciate the jacquard textile material for its breathability and durability without compromising comfort.
You will find that the intricate herringbone pattern on the rubber outsole provides good traction on outdoor surfaces. Additionally, the zoom air units in the midsole enhance shock absorption during hard landings. The loaded heel also offers you dynamic responsiveness.
There are dark colorway options that you can choose from. These colorways meet our requirements for ease of maintenance. The black, gray, and vivid purple models are quite dope and I wouldn't mind rocking these with jeans. A prominent LJ silhouette is stitched in the upper and blends well with the overall aesthetics of the shoes.
The shoes will be a little bit tight out of the box but should be fine after you break them in. This shouldn't take long. One wear and it molds to your feet.
Pros
Herringbone outsole pattern for outdoor surfaces
Thick rubber outsole
Secure locked-in feel
Multiple color options
Cons
Laceless design might not appeal to everyone
Jacquard textile upper isn't premium but good enough for outdoor
Nike Precision basketball shoes have a piece of seamless looking upper that is made of mesh materials. This provides us with excellent breathability and comfort even in rough outdoor conditions. The intricate webbing system design in the midfoot gives us a secure locked-in confidence to run up and down on dusty courts.
The design is closer to a low-top model and provides a perfect balance of support and flexibility. These are suitable for guards but big men can find these comfortable as the fitting is on the wider end. Nike Air units are integrated in the heels and help cushion your impact when you grab that rebound or sprint down the court to catch an outlet pass. The rubber outsoles are made durable by the modified herringbone pattern. This supports outdoor surfaces and has a good grip when you stay low for defense.
Some players may find the arch support a little higher in the midsole. Breaking these in for them might take a little longer but will eventually be comfortable after the third wear. The usual breaking in methods we've covered earlier would help a great deal.
Multiple colorways are available. This can also double as a pair of casual sneakers and looks good with jeans. Maintenance is not a problem either. Simple wiping of the outsole would usually suffice.
Pros
Modified herringbone pattern for superior traction
Good ankle support
Ease of mobility
Affordably priced
Cons
Arch support can be high and requires longer break in for some
The Nike Mamba basketball shoes have a Flyweave upper construction that provides great support and breathability for streetball. You will notice that the Lunarlon foam midsoles have solid support and cushioning despite them being lightweight. You can find comfort and confidence when diving for the loose ball or sprinting down the court to try to stop that fast break.
The outsole is made of rubber and is very flexible which makes the shoes extremely comfortable during lateral movements. A micro-tuned outsole pattern supports multi-directional grip and traction for enhanced outdoor play. You won't have problems doing crossovers, spin moves, and step back jumpers.
Outdoor durability is decent considering the rubber outsole is not as thick as the other models. However, the traction more than made up for the lack of outsole thickness. The stability when running and jumping is good for outdoor conditions.
Several colorways are available and are all very aesthetically pleasing for outdoor use. Kobe Bryant's logo (The Sheath) is prominently emblazoned on the tongue. Not a bad thing especially if you are a fan.
Cleaning can be a chore as the outsole can be a bit difficult to clean due to the nature of the micro-tuned patterns. However, an old toothbrush should do the trick.
Pros
Micro-tuned outsole pattern provides multidirectional grip and traction
Lightweight cushioning from Lunarlon foam midsole
Stable support from the outsole's outriggers
Affordable considering it is a Kobe Bryant signature shoe
Cons
Materials used in the upper is not top quality
Cleaning is more difficult
This pair of Adidas Men's Pro Next basketball shoes combine leather and mesh materials to form the upper. You will find this combination soft and breathable. The model with black and white colorway has a cool pattern on one side of the upper. This makes it a very striking pair when you are playing outdoors. You can wear these on and off the court.
The mid-top cut has good coverage and support for your ankles. Its comfort and grip allow you to drive strong to the basket with confidence. The cloudfoam midsoles which are made from EVA compound accelerates the break in period. These are lightweight and you can zoom past your defender with ease while wearing these. A zonal herringbone pattern on the rubber outsole provides excellent traction on the blacktop.
There are several colorways for you to choose from. The black, blue, navy or maroon colorways are really good for outdoors. These are generally low maintenance.
Compared to other signature shoes, these are priced lower but quality is not compromised. This pair's build is solid despite it being lightweight. Overall, these are value for money shoes that we can break in quite easily.
Pros
Excellent ankle support for outdoor basketball
Lightweight and comfortable
Short break in period
On par with signature models but is priced lower
Cons
Tends to be narrow near the toe box.
Leather and mesh materials require more care
Under Armour Men's Jet Mid basketball shoes have a textile upper that is breathable and lightweight. You will find that the padded tongue and collar provide extra support and cushion. For those of you who love to do a Steph Curry signature step-back three point move, you can feel secure with the extra padding. The mid-top cut has good arch and heel design which absorbs shock quite well during hard landings.
The rubber sole has a unique pattern and groove that can withstand our quick lateral movements. The grip is good and doing a stop and pop during fastbreak would not be a problem for you.
With proper care, the textile upper will be durable and you can find comfort that these would withstand outdoor beatings. There is also an EVA sockliner that provides excellent heel and toe support.
Breaking in this pair is a breeze because of the combination of extra padding and EVA sockliner. You are also spoiled for choice with the myriad of colorways that are all appropriate for outdoor use. Maintenance is easy with this pair of shoes. Dirt can easily be wiped off from the rubber sole. Overall, this is a great pair of basketball shoes that can support different foot types when playing outdoors.
Pros
Excellent traction from the unique rubber outsole pattern
Breathable and comfortable textile upper
EVA sockliner provides superior comfort.
Multiple colorways for outdoor
Cons
Extra padding does not appeal to all ballers
Textile upper can create dimples if laces are not tied properly
The Awesome Choice
So, what's the best basketball shoes for outdoor with excellent traction capability? The one that really stands out for me is the Nike Lebron Soldier XIV.
The lace and toggle system locks your ankles in an adjustable manner that allows a high level of mobility and at the same time supports you from ankle and foot injuries.
The high top design fits players from centers to guards. In terms of durability, the thick rubber outsole can withstand rough surfaces. The herringbone pattern on the outsole provides traction that is far more superior than the other models. It scores highly on comfort because of the expandable inner sleeve. Maintenance and care would not be a problem as the shoe structure and outsole allow easy cleaning.
What sets my favorite outdoor basketball shoes apart is their ability to provide excellent cushioning and support despite the harsh conditions they endure.