Need to decide now? If you want to know what my pick is for the best mini basketball hoop, then I'd recommend the SKLZ Pro Mini Basketball Hoop as the best one.
A mini basketball hoop is a wonderful piece of equipment if you want to have the convenience of playing and shooting some baskets inside your room or home. It is also an excellent way of introducing basketball to young children to get them excited about the sport.
In this article, I will be sharing with you my top picks for the best mini basketball hoops:
What Are The Types Of Mini Basketball Hoops?
There are three types of mini basketball hoops available on the market. Each one offers a distinct advantage that will be suitable for different types of uses.
Over-the-door
An over-the-door mini basketball hoop, as the name suggests, hangs at the top of your door. This type will come with door mounts that you attach to the backboard which you then hook above the door. That's it, you are done! It is the easiest to set up out of the three types. This mini basketball hoop is best for those who have limited space and do not want to drill a hole in their wall.
Wall-mountable
Wall-mountable mini basketball hoops will require you to drill a hole in your wall. It needs more planning and effort compared to the over-the-door type. What's good about wall-mountable hoops is that they usually have a sturdier build and certain models allow you to have some adjustment to the height after you have fixed the hoop to the wall. It is ideal for those who are looking to play more competitively instead of just shooting as a pastime. These can usually be used indoors like your basement or garage and also outdoors.
Freestanding
Freestanding mini basketball hoops will come with a stand. The advantage of this over the others is portability. You can move it anywhere! You do not need to be limited to doors or be stuck with a specific spot in your wall when you shoot baskets. Most freestanding mini basketball hoops allow for some height adjustment. The disadvantage is that it will take up more space compared to the other two types.
What To Consider When Buying a Mini Basketball Hoop?
Let us now look at the things that you need to think about before you choose a mini basketball hoop.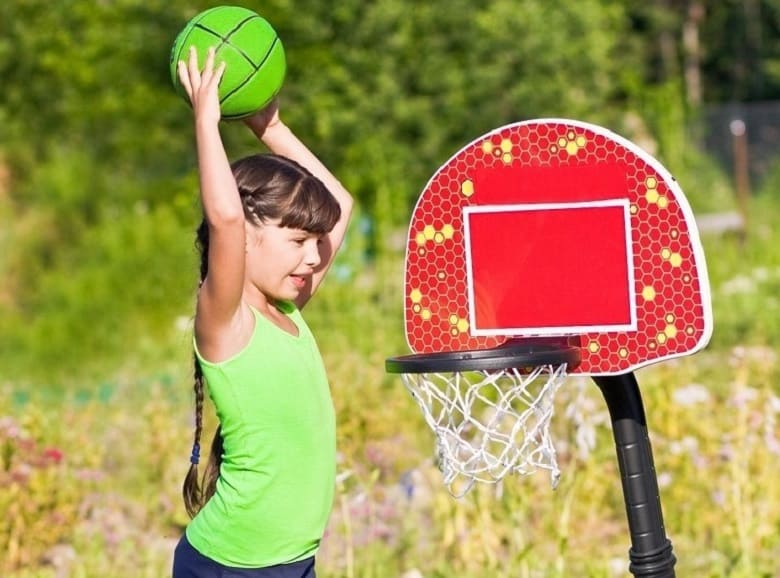 Fit for purpose
Ask yourself – what will I use this mini basketball hoop for? Will you be shooting baskets from your bed, living room couch or office on your own for fun or stress relief? Were you planning to invite friends over for some competitive games? Will it be for your kids to play with?
You will need to select a hoop with a robust build if you plan to use it for competitive games. A simple over-the-door would be your best bet if you just want to shoot hoops for fun.
Who will use the basketball hoop
Will it be used by kids, adults only or both kids and adults? This will allow you to plan the height for the basketball hoop that you will purchase. A safe bet will be a hoop that has options to adjust the height which are available for either the wall-mountable or freestanding basketball hoop.
Location for your mini basketball hoop
Think of the spot where you'll place the mini basketball hoop. How much space have you got? Will you be placing it indoors or outdoors?
The over-the-door option is the best if you have very limited space and plan to use the hoop indoors. A freestanding one will be good for outdoor games but can also work indoors if you have enough space and the ceiling height of your home is higher than the basketball hoop height.

You should also think of the noise-level that can result from the use of the basketball hoop. If you plan to use it indoors, having a ball bouncing off the rim or backboard can get loud and distracting. One option will be to move it to a less used area of your home or purchase soft basketballs. Another solution would be to place additional foam padding into the backboard to cushion the noise.
Check the backboard and rim
Pay attention to the backboard and rim of the basketball hoop that you intend to purchase. Ensure that the materials used are durable and can stand up to the type of play that it will be used for.
The backboard of a basketball hoop can be made of tempered glass or polycarbonate/polyethylene which are forms of plastic. Tempered glass is the material used for the backboard of basketball hoops in the National Basketball Association (NBA) games. This type of glass has undergone controlled thermal or chemical treatment to make it safer and stronger than normal glass. Tempered glass breaks into small, harmless pieces unlike normal glass which breaks into shards. It is scratch resistant. Polycarbonate and polyethylene are enhanced plastic products which are durable. These tough plastic materials can take a pounding and are weather resistant.
Tempered glass backboards are much more expensive and usually only available in full-sized basketball hoops. A basketball will bounce better from a tempered glass backboard which is very useful for shooting. Mini basketball hoops will use polycarbonate/polyethylene. This is what makes them more cost effective and durable but with a slight trade-off on performance.
Basketball rims can come in the standard or breakaway type. A breakaway rim will come with a hinge and a spring which allows it to bend when a player is dunking. It moves back to its original position when the player lets go of the hoop. This is the type of rim that you will see in official basketball games. It is more expensive. A standard rim will not have the hinge and spring and can be suitable for less active types of play. The good news is that most mini basketball hoops already come with small breakaway type rims so you can dunk on them. Do note that you should not hang on them the way the NBA stars do since they would not be able to hold a person's weight.
Ease of installation
Most mini basketball hoops are easy to install. The over-the-door type is perhaps the easiest. Most of them do not require any additional tools. Everything comes in the box. Freestanding hoops may require you to add some weight into the stand e.g. sand or water to keep it sturdy. Wall-mountable hoops will require a drill and more planning.
Height adjustment
This is a nice to have feature which increases the options for play. A hoop that has height adjustment will be useful for children who start young. You can adjust it as they get taller.
Over-the-door mini basketball hoops will not have any height adjustment feature. It will depend on the height of your door or wherever you decide to hang it. If you have several options in your house to hang the hoop with varying heights, then this will not be a problem. If not, your best bet would be the freestanding or wall-mountable mini basketball hoop.
Other items included in the package
While your main purchase is the basketball hoop, it is certainly nice to know what else comes in the package. Most over-the-door mini basketball hoops will come with the accessories you need to assemble the hoop like a mini-wrench.
A lot of mini basketball hoops will come with a small basketball that fits well into the small hoop. The basketball will be deflated. A pump to inflate the ball is not usually included. I recommend getting one along with your purchase if the mini hoop comes with a ball.
What Type Of Games Can You Play With A Mini Basketball Hoop?
Feel free to get creative with your mini basketball hoop! You can play by yourself to hone your shooting skills or to unwind after a particularly stressful day or event. You can play a 1v1 game with a friend or even 2v2 to increase the competition level. Watch this creative take on a 2v2 game on a freestanding mini basketball hoop where the players put an interesting twist. Only the goals that were made through dunking count as points.
5 Best Mini Basketball Hoops
Now that you have enough information, let us take a look at fantastic options for mini basketball hoops to buy.
The SKLZ Pro mini basketball hoop is a solid choice and it's easy to see why. The backboard is made of shatterproof polycarbonate. This mini hoop mounts over the door with foam padded door hooks. It comes with a breakaway rim which gives you the same feel as a professional hoop.
Assembly is quick and easy. It takes about three steps to put it all together. First is to fit the rim to the backboard with the provided screws. Second, attach the net to the rim. Lastly, hang the mini hoop over your door and you are all set!
The package comes with a full set including the backboard, rim, net, door hangers, tools and a deflated rubber ball. The rubber ball is branded with the SKLZ logo. SKLZ has a variety of other mini hoops if you wish to add a twist to your usual indoor games. Check out the XL which comes with a larger backboard. The glow-in-the-dark or showtime versions present fun ways to jazz up your shooting experience at night. You may want to get a light-up basketball to go with the showtime hoop for more fun! The micro option is great if you prefer a smaller sized backboard with foam balls.
Pros
Sturdy polycarbonate backboard
Full set included in the package along with a rubber ball
Breakaway rim
Very easy to assemble
Reasonably priced
Cons
Does not come with a pump
The Franklin Sports Over The Door mini basketball hoop has a backboard made of durable polycarbonate material. There is a foam padding behind the backboard to reduce the impact on your door. It comes with a breakaway rim with dual springs.
The package comes with a mini-sized rubber basketball which fits perfectly into the small hoop. The basketball comes deflated so you will need to pump air into it. The good thing about this set is that the pump is already included so no need to purchase separately. All the tools that you need are also part of the package.
Another option is to buy foam balls to use instead of the rubber ball which makes for a quieter game. A mini-wrench and door hooks that fit into most standard size doors are also included.
Pros
Sturdy polycarbonate backboard
Mini Franklin branded rubber ball, pump and tools included
Breakaway rim with double spring, flexible and great for dunking
Very easy to assemble
Cons
The hooks fit only standard sized doors
If you are a fan of a particular NBA team then you will appreciate the Rawlings NBA Game On mini basketball hoop. The backboard of this mini basketball hoop is emblazoned with the logo of your favorite NBA team. The backboard is made of polycarbonate and measures 18 by 10.5 inches. There is some slight foam padding behind the backboard for cushioning but it is noticeably less compared to the other over-the-door hoop brands that I've reviewed. It comes with a breakaway rim for endless dunking fun.
The team shown in the photo is just one of many options. The package comes with the backboard, rim, net, door clips and a five inch unbranded rubber ball. It only takes a few minutes to assemble. Do note that you will need your own pump to inflate the ball so be sure that you are ready with one unless you plan to use another ball.
A perfect gift for a basketball fan who loves showing support to their favorite NBA team.
Pros
Sturdy polycarbonate backboard decorated with an NBA team logo
Comes with unbranded rubber basketball
Very easy to assemble
Breakaway rim
Cons
Padding behind the backboard is less compared to other over-the-door hoops. This could lead to more wobbling or noise.
From over-the-door type mini hoops, we move on to a freestanding option. The Lifetime 32" Youth Portable basketball hoop has an Impact backboard made of high-density polyethylene material. It is durable like polycarbonate. The backboard has a fun design which will not fade easily. The breakaway rim is flexible enough for dunking.
This hoop is great if you are looking to start your little one with basketball. The height starts at five and a half feet and can go up to seven and a half feet. You will need additional tools along with water or sand to weigh down the base and keep it firm in the ground. While it does take more time to assemble, you have more options on the location where you can set it up. You won't have to be limited to doors and you won't need to drill holes in your wall.
This product does not come with a basketball but has a larger rim which gives you more options for balls that you can use with it. The rim can fit up to a youth sized basketball (size 5, 27.5"). Check out this helpful basketball size guide for more information and recommendations.
Pros
Sturdy polyethylene backboard
Height-adjustable
Breakaway rim
Very portable, can be used indoors and outdoors
Cons
Takes more time to assemble compared to an over-the-door type mini hoop
Does not come with a basketball
More expensive than over-the-door mini hoops
The JustInTymeSports mini basketball hoop is a wall-mountable type hoop with a durable polycarbonate backboard. The backboard measures 24 by 16 inches. This mini hoop is very robust and stronger than most over-the-door types. It has a breakaway rim that is 12 inches in diameter and can take very hard dunks. With this being said, I would caution you against hanging on to the rim of this mini basketball hoop regardless of how durable it is. It is still a mini hoop and not the professional grade that can take on a person's full weight. It is better to be safe than sorry.
The basketball hoop attaches to the wall through screws and steel extension arms. You will need a drill to securely fasten the screws to the wall. While the process to assemble and install it is more involved, it is still a lot easier than installing an in-ground basketball hoop.
The package includes a six inch mini rubber basketball. The more premium build of this hoop commands a higher price. It is more expensive than over-the-door type mini basketball hoops. It is a terrific option if you want to use the hoop for more competitive games or if you are just happy to splurge for a more expensive option to get a stronger built hoop.
Pros
Outstanding build quality, more robust than over-the-door mini basketball hoops
Sturdy breakaway rim, perfect for hard dunks
Larger rim size of 12 inches
Mini basketball included
Cons
Takes more time to assemble and requires drilling holes into your wall
More expensive than over-the-door mini hoops
The Awesome Choice
My choice for the best mini basketball hoop is the SKLZ Pro Mini Basketball Hoop. This option gives the best value especially for those who are looking to buy a mini basketball hoop for the first time. You or your kids will enjoy many hours of play with the fuss-free assembly, sturdy backboard made of polycarbonate and the breakaway rim. It will serve most indoor basketball needs adequately. In summary, you get the right balance between durability, functionality, ease of assembly and cost.
For toddlers, I have written a comprehensive review of the best kids hoops for toddlers.
For competitive games, I would recommend investing in more expensive hoops to get a solid build that can withstand rough plays and give you that arena-like feel.