Short on time? If you need to make a quick decision, then I'd recommend the POWERLIX Knee Compression Sleeve as the best knee compression sleeves for basketball.
Playing basketball when dealing with minor issues like swelling or knee soreness just won't work. What are your options for relief so you can continue to take part in your favorite sport?
I have looked at several options and have come up with the following good basketball knee sleeves that are available online.
What Are The Benefits Of Using Knee Compression Sleeves For Basketball?
Knee sleeves are made of stretchy fabric that cover the knee, the upper half of your calves, and lower half of your thighs. They provide either compression which helps relieve minor aches and supports your knee movement or provide protection from collision and impact.
Let's first understand what "jumpers knee" condition really is.
Compression And Support
Applying compression on your knee and surrounding areas improve blood circulation. Good circulation ensures that the area gets fresh oxygen and nutrients for ease of movement and prevention of muscle cramps.
Another great benefit of compression is enhanced proprioception. Proprioception is your awareness of your body's position and movement.
A study in 2018 by Jacobo Zamporri and Arnel Aguinaldo from the Department of Kinesiology, Point Loma Nazarene University, San Diego, California, USA measured the movement of 23 healthy female collegiate athletes with and without a compression garment.
They noted a slight improvement in the athlete's landing position from a direct vertical jump when wearing a compression garment. This improvement in their biomechanics supports the claim that compression helps with proprioception. This can reduce the chances of knee injury.
Knee sleeves made of neoprene or similar materials produce warmth on top of the compression. This can provide additional relief for soreness and swelling.
Extended Protection
There are knee sleeves options available which provide less compression but more protection. These serve a similar function to knee pads but with coverage extending beyond the few inches on top and below your knee cap.
Some people may prefer this to a shorter knee pad since they would tend to better secure the padding in place. The covered areas will also be protected from scratches.
This basketball knee sleeves review will focus on the ones that provide compression and support rather than protection. Check out my article on best basketball knee pads if protection is what you are after.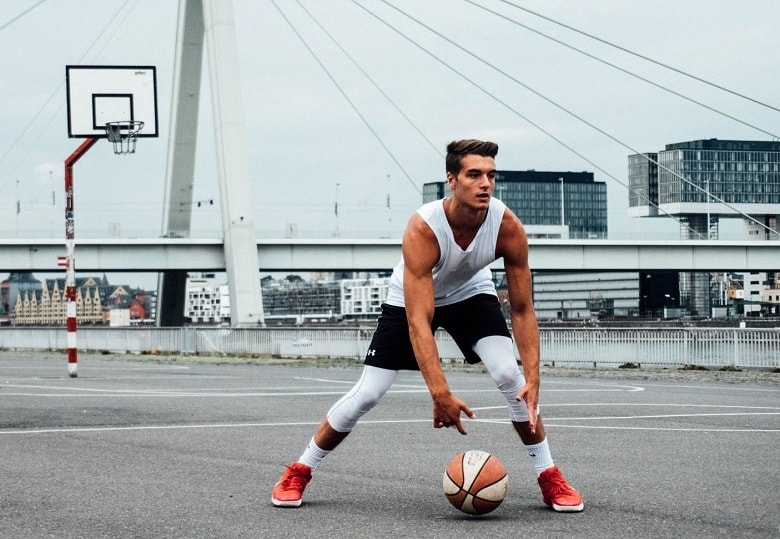 What You Need To Know Before Buying Basketball Knee Sleeves
Here are the things that you should consider when looking for knee sleeves for compression.
Compression Level
The unit of measurement for compression or pressure is mmHg also known as millimeters of mercury. Pressure gauges that are used in medical instruments are made of mercury hence the name. This is the same unit used to measure your blood pressure. Higher numbers indicate a higher level of compression.
8-15 mmHg (mild) up to 15-20 mmHg (medium) is generally good for most mild cases of aching and swelling. This range provides great relief for tired legs when playing basketball. You can go up to a compression level of 20-30 mmHg (firm) for moderate swelling. Pressure of 20-30 mmHg aids in blood circulation. You should consult a doctor if you are looking at using anything higher than 20-30 mmHg or if your pain persists.
Stretchable materials like neoprene, lycra, and spandex are some of the fabrics that provide excellent compression.
Coverage / Length
The typical length for compression knee sleeves would be around 11 inches. If you need more coverage around your calves and feet, then you can wear compression socks in addition. You can also consider compression tights if you are looking for full leg compression.
Comfort
Comfort is a big factor in choosing knee sleeves. If you don't feel good in them, chances are you will not wear them. The material should feel smooth on your skin and should not be rough. Look for fabrics that are breathable and moisture-wicking. This will make the sleeves pleasant to wear even when you are sweating during basketball games. Finally, consider products that have specific features that prevent slippage. Some sleeves have silicone strips at the edges while some are made of thick textiles that have a strong grip.
Size
Knee sleeves for basketball should be snug in order to provide proper compression. However, it should not be too tight to the point that you feel restricted when you move or that it blocks the flow of blood to your leg. Neither of these will be good for you.
Getting the right size is important in order to get the optimal results from your knee sleeves. You will need a measuring tape to take the circumference of your thigh, usually around four to five inches above your knee. Follow the instructions provided by the manufacturer to get the best fit.
How Many Sleeves In The Package
A common cause of disappointment or confusion for buyers of knee sleeves is the number of products included in one package. It is more common to have only one sleeve per pack. There are a few manufacturers that include a pair (two pieces). Be sure to carefully check this to avoid unnecessary surprises.
Assess your needs carefully. Do you require a sleeve for both your left and right knee or do you just need one? I will state this information as part of the reviews for your convenience.
5 Best Knee Compression Sleeves For Basketball
Now that we understand the different factors to consider, let's go and decide which best knee sleeves for basketball to buy.
The PowerLix Knee Compression Sleeve provides superior compression of 20-30 mmHg. This will be suitable if you are looking for stronger support and pressure for your knee area. This will relieve moderate swelling, pain, and ease the tired feeling from your legs.
It uses a non-neoprene compression fabric with a special knitted design. It stretches really well so it won't interfere with your movements when playing basketball. The textile is soft, breathable, and is great at absorbing moisture. It has two silicone gel strips to keep it in place. This knee sleeve will feel very pleasant when you wear it. This will be an excellent option for people looking for firm compression.
To get an accurate fit, place the measuring tape 5 inches above the top of your knee cap, wind it around your leg then take the measurement. Hand wash the sleeves to make them last longer.
Pros
Specialized fabric with 4-way stretch capability
Smooth and soft fabric
Breathable and moisture-wicking
Anti-slip system with two silicone gel strips
Four different colorways
Cons
Sold as a single piece and not a pair
Length is sometimes inconsistent. It could range from 10.5 to 11.5 inches.
The Cambivo NS10 knee compression sleeve is made up of 65% nylon, 20% latex, and 15% spandex. This material has 3D elastic weaving which is rigid yet still breathable and does not restrict your movement. It has anti-slip silicone waves at the top to prevent slippage.
This knee sleeve is good for managing knee pain from activities that puts pressure on your knees like basketball. It aids in reduction of swelling, inflammation, and stiffness. The woven fabric helps retain heat which supports muscle recovery.
This product is fit for those looking for the exceptional value for a pair of knee sleeves. It provides medium compression, similar to the UFlex sleeves.
When measuring your leg to determine the right size, make sure that you are wrapping the measuring tape four inches above the center of your knee cap. Hand wash and air dry to keep the knee sleeves in best shape. Machine washing will also work but you should air dry instead of using the dryer.
Pros
Sold as a pair. Good value for money.
Provides medium compression and excellent support for stiffness and swelling
Breathable and moisture-wicking
Very stretchable and does not limit movement
Comes in ten different colorways
Cons
Not suitable for people who are allergic to latex
The McDavid 401 Knee Compression Sleeve is made of nylon and 3.2 mm thick latex-free neoprene which provides outstanding support while allowing flexibility. Neoprene is a form of synthetic rubber that has many uses, one of which is compression clothing. The neoprene used in this sleeve is the breathable kind.
The visible stitching across the knee sleeve is done with a five-needle stitch technique for a flatter, cleaner, and stronger seam. It will not cause skin irritation during extended use or intense basketball activity.
The compression on this sleeve is good for minor pains (arthritis, tendonitis, etc) and sprains. It retains a good amount of heat to relieve the aches.
The way to measure your knee for this sleeve is different. You should stand and bend your knee at a little less than a 45 degree angle then ask someone to take the measurement on the largest part of your knee.
I did not include the popular McDavid 6446 Hex Knee Sleeves in this list since the purpose it serves is protection from collision impact rather than compression.
Pros
Provides medium compression
Comfortable to wear and doesn't interfere with your movements
Sturdy and durable
Cons
Packaged as a single piece and not a pair
It can get too warm in your knee area if used for extended periods
Four way stretch lycra and nylon are the materials which make this Physix Gear Knee Support Sleeve lightweight, stretchable, and supportive. The fabric is woven with Physix Flexi Knitting which allows it to stretch and conform nicely to the shape of your knee. Silicone waves at the edges prevent it from slipping while you run and jump.
It gives you firm compression of 20-30 mmHg while still allowing the full range of motion. This is great for relieving your knee of stiffness, swelling, and inflammation.
You need to measure 4 inches above the knee to get the accurate fit for this sleeve.
Pros
Provides medium compression
Does not restrict your movements
Soft material, easy to wear
Keeps your knee warm but does not get hot or sweaty
Comes in three different colorways
Cons
Sold as a single piece and not a pair
The UFlex Knee Compression Sleeve is made of 67% polyamide (nylon), 32% spandex, and 1% latex. Similar to most of the other sleeves in this review, it gives you medium compression to help relieve pain and swelling. The level of support and compression is rather similar to the Cambivo knee sleeves.
The fabric is lightweight and uses 3D knitting technology with four way stretch capability. It follows your movement and doesn't get in the way. Anti-odor and anti-slip silicone round up the features that make this knee sleeve another decent contender for best basketball knee sleeves.
When measuring for size, position the measuring tape four inches above your knee cap.
Pros
Provides medium compression to relieve most cases of pain and swelling
Lightweight and odor resistant
With silicone strips to prevent slippage
Cons
Packaged as a single piece and not a pair
May not be suitable for those with latex allergies
The Awesome Choice
My recommendation for the best knee sleeves for compression and pain relief is the POWERLIX Knee Compression Sleeve. This knee sleeve will work for most people looking for firm compression that will help provide relief from knee pain, arthritis, sprains, swelling, tendonitis, and muscle fatigue. The fabric on this knee sleeve is sturdy and durable.
Basketball players will appreciate the pressure which will aid in their awareness of their body position. The freedom of movement from the soft and flexible fabric will not hamper your performance during intense moments of the game which makes me pick this as the best knee sleeves for basketball. It stays secured to the knee and will stay dry so you can focus on the game.