If you're looking for a quick recommendation, then the Wilson NBA Authentic Indoor/Outdoor Ball is my choice for the best indoor/outdoor basketball.
I love basketball because it is a versatile sport. It is one of the few team sports that can be played both indoors and outdoors. Most indoor games will follow the official rules while outdoor games tend to be more relaxed on the rules but competitive nonetheless. If you play in both types of games then a basketball that is suitable for indoor/outdoor use is your best option.
In this article, I will review the following indoor/outdoor basketballs:
Differences between indoor, outdoor, and indoor/outdoor basketballs
There are many choices for basketballs and going through everything available on the market and online can be an overwhelming task. Start with knowing where you will be playing basketball and narrow your choices from there. So, what are the differences?
Outer Cover
Indoor, outdoor, and the "hybrid" indoor/outdoor basketballs generally have the same internal materials. We have more information on what's inside a basketball here. The outer cover is where the key difference lies.
Indoor basketballs have a full leather or composite outer cover.
Indoor outdoor basketballs have a composite material. You should specifically look for those that are suitable for both indoor and outdoor use.
Outdoor or street basketballs have a rubber outer cover.
Cost
Indoor basketballs are the most expensive. Full leather balls are at the top end. Composite ones are on the more affordable range but are still more expensive than a composite indoor/outdoor basketball.
Indoor outdoor composite basketballs are in the middle range.
Outdoor basketballs with rubber covers are the most affordable and are good to use if you are just starting out. These are perfect if you are playing recreationally.
Why buy an indoor/outdoor basketball?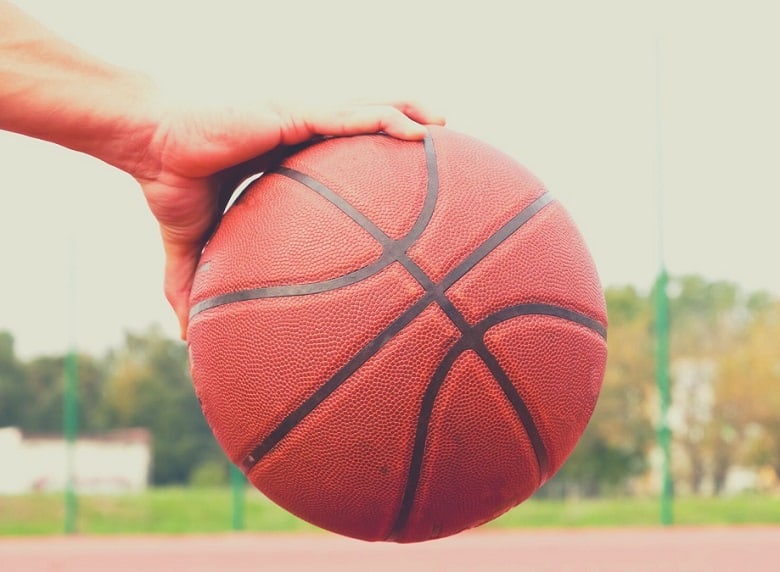 You would purchase an indoor outdoor basketball if:
You are unsure of the court surface that you will be playing on
You know for certain that you will be playing both indoors and outdoors and you want to buy only a single basketball.
You want the best of both worlds – a durable basketball to use on a hard concrete surface that will not be squeaky or will not be too bouncy when used on an indoor hardwood floor. Using an indoor basketball outdoors will easily wear it down and using a rubber ball indoors does not get you the same bounce and control.
What to look for when buying an Indoor/Outdoor Basketball?
Here are the things to consider when looking for the best indoor/outdoor basketball for your needs.
Durability
Since this ball will be used outdoors, durability is a key factor.
Manufacturers will explicitly label a basketball intended for both indoor and outdoor use. This is what you should look for as a guarantee for durability. These balls are made of a sturdier composite material which can withstand pounding on concrete or asphalt surface better than a full leather or indoor composite ball.
Grip
A ball with good pebbling and wide channels will give you better grip. Moisture wicking properties in the outer cover is a plus and will help reinforce a good handle on the ball when your hands are sweaty during an intense game.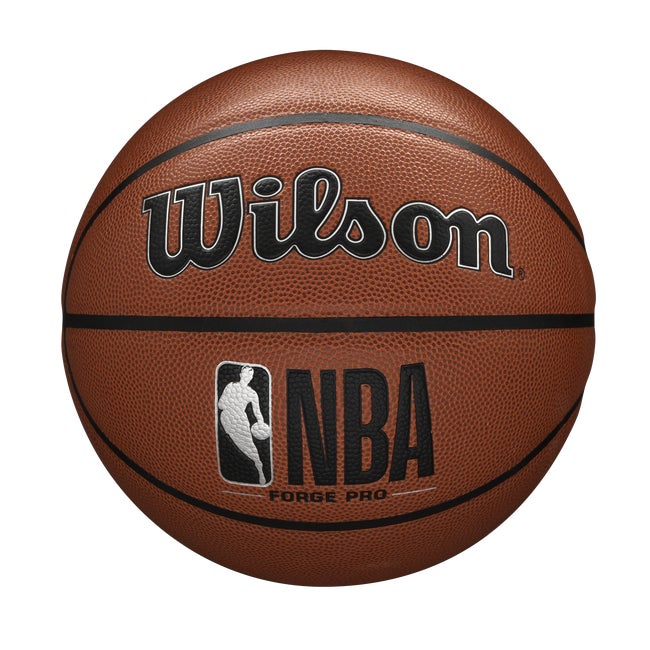 Weight and Size
Use official sized basketballs so you can get the best performance and bounce. Weight and size are probably the most important consideration for younger kids who are training in a basketball camp. Check out this helpful size guide for more information.
Price
The basketballs in this category all tend to be in the same price range but can vary depending on sales. It is best to shop around and look for the best deals. You won't find it difficult to get a good basketball for an amazing price.
How to Make the Most out of Your Basketball
Last few tips from us before you make your purchase.
Be ready with a pump
It is difficult to predict if a ball will come fully inflated, deflated or will need a bit more air. Having a pump ready will let you use the ball in just a few minutes. Look out for offers on some basketballs that come packaged with a pump. This is usually more cost effective.
The pump will continue to be useful as your basketball will eventually lose some of the air pressure as you use it over time.
Keep the ball free from dust
Using a basketball outside will get dusty. Dust will make a ball more difficult to grip. Have a look at our complete guide on how to clean different types of basketballs.
Do you need to break the ball in?
Indoor outdoor basketballs are generally ready to use as soon as you receive them. However, basketballs often get better with a little use so you have everything to gain if you take a bit of time to play with it before taking the ball for a spin.
My Top 5 Picks
Now that we have a good understanding of the different criteria, let's go and decide which ball to buy.
This is a basketball that has the look of the NBA Official Game Ball but with a more affordable price tag. Being a replica of the official game ball, it has a new channel construction design, Commissioner Adam Silver's signature, and the traditional orange basketball color.
This basketball is not just all about being a look-a-like. It packs on great features like a durable pure feel cover that works well for both indoor and outdoor play. It has a nice grip to it, feels comfortable in the hand, and has a consistent bounce. It is great value for the price.
Pros
Durable composite leather cover
Great grip and has a leather feel
Available in two sizes: size 7 (29.5") and size 6 (28.5")
Affordable price tag
Cons
May need to be broken in to get the optimal grip and feel
If you prefer Wilson basketballs and are looking for a composite leather ball at a lower price point than the more popular Evolution or NCAA replica ball then this is an option that you can consider. The ball features deep rubber channels and a soft touch composite cover which is good for grip and ball handling.
It does have a thinner cushion layer, making it a lighter ball. I'm not really sure what this feature achieves since balls have to be of standard weight. It may be useful for younger children who want to start using a size 7 ball without being weighed down but then again, it's better to use the right sized ball for their age.
The thinner cushion layer and soft touch composite cover may be contributing to the ball wearing down more quickly with continued outdoor use. I think this is more of an indoor ball that can be used outdoors occasionally.
Pros
Great grip and has a leather feel
Available in three sizes: size 7 (29.5"), size 6 (28.5") and size 5 (27.5")
Affordable price tag
Cons
The outer cover wears down after a few months
It doesn't have the laid-in composite channels that are in other Wilson composite balls.
The Baden Contender Indoor/Outdoor Composite Basketball has a composite cover that can withstand rough street surfaces and still has that soft touch of an indoor basketball. It has a decent grip with standard sized channels and pebbles.
The ball has a consistent bounce owing to the symmetrical and wide panel design. It features an innovative recessed stealth Soft-Valve System which limits the amount of exposed rubber from the valve stem for outstanding air retention.
Pros
Soft touch like an indoor basketball
Symmetrical construction for consistent bounce
Available in three sizes: size 7 (29.5"), size 6 (28.5") and size 5 (27.5")
Multiple colorways
Affordable price tag
Cons
Grip is just average and maybe better suited to players with larger hands
You don't need to second guess what makes this ball stand out; thanks to its name. The Spalding NBA Tack-Soft Indoor/Outdoor Basketball has a grip that clings to your hands. This works very well in giving you more confidence when doing a crossover dribble especially if you are just starting out.
It has a premium composite cover that is durable and works well on both concrete surface and hardwood floor. The cover has that wonderful leather feel to it and will be a winner for those that love soft basketballs.
Pros
Top-notch grip
Soft touch and leather feel
Available in two sizes: size 7 (29.5") and size 6 (28.5")
Affordable price tag
Cons
It can get slippery on the area where the NBA logo is printed which goes away after a few uses
There are several balls in the Top Flite (TF) series, from the TF-50 starter rubber ball progressing all the way to the top-end TF-1000 composite leather ball for indoor play only. The TF-250 is at the middle of the pack and the only one that is made for both indoor and outdoor play.
This Spalding basketball has an all-surface composite leather outer cover that is durable and works well with concrete surfaces but still has that leather feel and bounce making transition to indoor wooden floors seamless. It is an overall decent choice that we recommend for those that want an uncomplicated ball that delivers.
Pros
Durable for outdoor games
Decent leather feel and grip
Available in three sizes: size 7 (29.5"), size 6 (28.5") and size 5 (27.5")
Affordable price tag
Cons
No special features (tack, soft touch, etc) but it really depends on what you're looking for
Additional Options from my Best Outdoor Basketball Review
I have included two indoor outdoor basketball options from my Top 5 Best Outdoor Basketballs article which you can check out as well if you are looking for more options.
The Awesome Choice
I prefer the Wilson NBA Authentic Indoor/Outdoor Ball out of the five that I've reviewed in this article. The durability, grip, and leather feel of this basketball is excellent. It is not coarse like a rubber basketball. The balance between softness and firmness is just right, very close to what you will get from a full leather ball.
Serious basketball players that are used to regulation basketballs will appreciate the little details that give it the prestigious look of the Official NBA Game Ball. The price is not bad either. This is definitely my top choice for the best indoor/outdoor basketball.