Short on time? If you want to quickly find the best indoor basketball, then I would recommend the Wilson NCAA Official Game Basketball as the best one.
I love playing basketball on a full indoor court with a hardwood flooring as it is the ultimate competitive experience for me. The environment, rules, and techniques in an indoor tournament or practice session will be different from recreational basketball and you need the proper gear for these games. A high quality basketball is the most important of all the equipment that you need to arm yourself with. This is exactly what I will help you with in this review.
In this article, I'll be reviewing the following indoor basketballs:
How To Choose An Indoor Basketball
Unlike outdoor basketball facilities, indoor basketball courts will have a wooden floor that is even and smooth. Provided you only use the ball indoors, durability will be less of a concern. What should you then look for when choosing a good indoor basketball?
Grip And Feel
To play your best game, you need to look for a basketball that has great grip and feel. This can make a difference in how you can easily dribble, pass, and shoot the ball. Look out for the following features:
Soft feel – a stiff and rough basketball will be more challenging to handle.
Pebbles and channels – leather basketballs generally have more pebbles and specialized channel construction. These surface features will enhance the strength of your grip on the ball.
Moisture absorption – the ball will not slip off your hands easily when you sweat. A great plus!
Outer Surface Material
Indoor basketballs have full leather or composite material on the outer surface.
The official organized league balls are usually full leather so this option gives you that similar experience as the competitive players. You should break in a full leather basketball before using it. Otherwise, it will be slippery and stiff; making it difficult to grasp. It will get softer and the grip will get better after breaking the ball in.
Composite balls are made of leather mixed with other materials or microfiber and generally do not require breaking in. There are certain exceptions and ball manufacturers will mention this.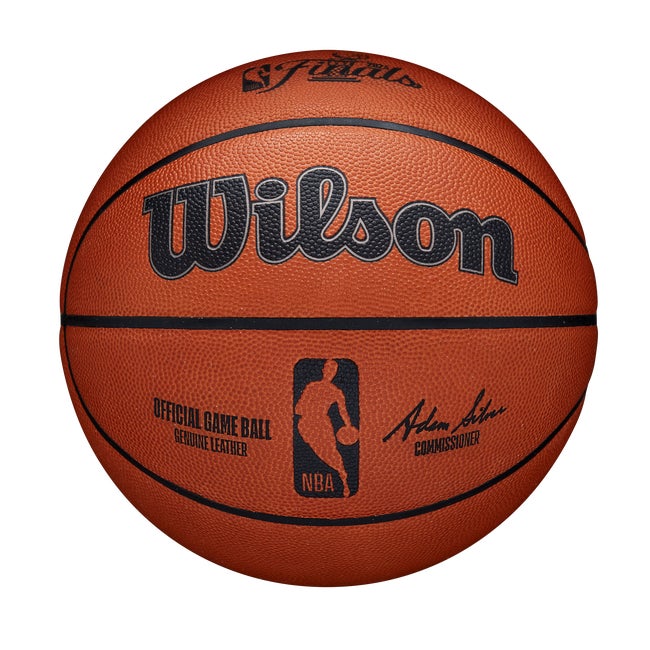 Weight And Size
Make sure that you get the standard sizes when buying a basketball for competitive play or serious training. Getting the right size helps develop your shooting technique. Check out this helpful size guide to find out what size you should be getting for your age.
Price
The indoor basketballs that have a full leather outer cover are more expensive than outdoor basketballs. A good compromise, if you are just starting to learn, would be the composite basketballs which are more affordable.
The use of higher quality materials and special features also impact the price. Some basketballs may use higher quality butyl rubber for the bladder for better air retention and full nylon windings. There are also those that have specially designed pebbles or channels for better grip.
Tips To Improve Your Indoor Basketball Experience
Get A Pump
Basketballs are generally shipped fully inflated. However, I would still recommend that you have a pump ready in case you get a deflated ball or if you need to add more air to it when you receive it. Balls will lose a little bit of air over time so you will continue to find this useful throughout the lifespan of your ball.
Break It In
Leather basketballs need breaking in before you can use it comfortably. The best way to do this is through repeated dribbling. Watch the video below for some great tips.
In general, composite balls do not require breaking in. That said, you may want to apply the same break in techniques if the manufacturer advises to do so or if you find that the ball you receive is stiff and too sticky.
Do You Need To Clean Your Basketball?
It is recommended that you clean your basketball as dust will interfere with the grip. Indoor basketballs do not accumulate as much dust so you won't need to do this frequently. Follow my complete guide to cleaning a basketball for more details.
One Last Reminder: Don't Use Your Indoor-Only Basketball Outdoors
I have mentioned this a few times and it is worth one last reminder. Your indoor basketball should not be used outdoors. You wouldn't want your pricey basketball to wear down very quickly.
My Top 5 Choices
Now that we have a solid understanding of the different factors to consider, let's go and decide which one to buy.
The Wilson Evolution Game Basketball is the most popular indoor basketball in America.
The Cushion Core Carcass gives the ball a soft feel, making it comfortable and easy to handle. The composite cover provides excellent grip and has moisture wicking capabilities so you don't have to worry about the ball slipping away from your hands when you sweat. The same composite material is used for the channels giving you a consistent texture all throughout.
This is a very popular ball so it is easy to get yours mistaken for another one when you are at the gym. I suggest putting your name on the ball or purchase one that has a different colored Wilson logo printed on it.
Another great option which I would recommend if you love genuine leather basketball is the Wilson NBA official game basketball. You can find it in this link.
Pros
Soft feel
Great grip
Comes in three sizes: size 7 (29.5"), size 6 (28.5") and size 5 (27.5")
Wilson logo printed in the ball comes in different colors for easy identification
Affordable compared to full leather basketballs
Cons
May require a little breaking in or additional air when you receive it
This is Baden's top of the line game basketball and is a close competition to the Wilson Evolution.
The Cushion Control Technology gives the ball its soft feel. The microfiber composite outer cover provides the right texture, stickiness, and grip. The combined features of cushion control and microfiber give you that great ball handling control all throughout a game.
Other interesting characteristics of this Baden basketball are the stealth (hidden) valve and the symmetrical panel construction. The ball will feel consistent anywhere you touch it.
This is a worthwhile option if you want something different, affordable, and good quality.
Pros
Soft feel
Great grip
Comes in two sizes: size 7 (29.5") and size 6 (28.5")
Affordable compared to full leather basketballs
Cons
May feel a little too sticky in the beginning
Interesting trivia: Spalding changed the NBA Official Game Ball to a composite one back in 2006. NBA players were quick to point out the challenges that they faced with this new ball. Among the feedback given was: the ball had an inconsistent bounce, it did not absorb moisture, was frequently stuck between the rim and backboard and had caused cuts in the player's hands. The composite ball only lasted in the league for three months.
Since then, only genuine leather basketballs have been in use in the NBA. The leather on this ball is made by Horween, a leather company based in Chicago.
This leather indoor basketball definitely requires breaking in to make it softer and have a better grip.
This is the most expensive basketball in the list. It has the prestige of being the NBA Official Game Ball (until Wilson takes over in 2021) hence the high price tag. It does come with premium materials but may not be for everyone.
If you are looking for the Wilson NBA official game basketball, you can find it in this link.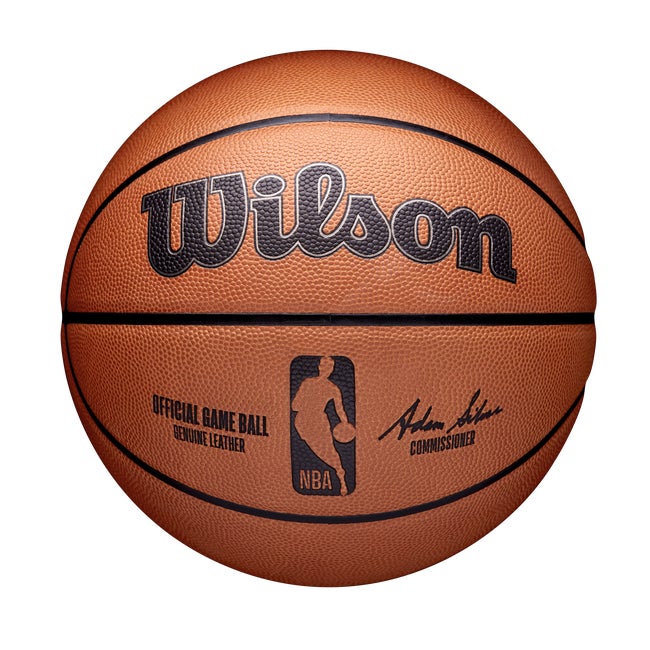 Pros
Official NBA game basketball
Genuine leather basketball
Premium materials used
Soft feel
Great grip
Cons
Most expensive basketball in this article
Takes time to break in
The Wilson NCAA Official Game Basketball has features that are very similar to the Wilson Evolution.
It has the same Cushion Core Carcass that gives the ball a soft touch and makes it easy to grasp. Compared to the Evolution though, this is a tad firmer but still soft nonetheless. The outer cover made of microfiber composite has great moisture absorption. The same composite material is used for the laid-in channels. These two features combined give you that excellent grip and control of the ball.
This is a ball that you would pick if you want an official game basketball that is relatively affordable. It is also a good option if you like the Wilson Evolution but prefer to have a different ball that is easier to identify.
Pros
Soft feel
Great grip
Excellent moisture wicking capability
Comes in two sizes: size 7 (29.5") and size 6 (28.5")
Affordable for an official game basketball
Cons
Firmer than a Wilson Evolution basketball (could be a pro as well)
This Spalding TF1000 ZK Microfiber Composite basketball was preferred by a lot of people until it was discontinued in 2010. Spalding brought it back as the TF-1000 Classic (not to be confused with the TF-1000 Legacy).
This is an overall good ball in terms of grip, feel, and performance. It is built solidly with a high quality bladder that retains air and full nylon thread windings for better structure. The ZK Microfiber Composite used in the outer cover is an exclusive Spalding material offering advanced moisture control and abrasion resistance. It comes with wide channels to further enhance the grip.
You do need to break this basketball in to get rid of the stiffness. People who love this new classic find that it has the right balance between softness and firmness which is closer to a real leather basketball.
Pros
Right balance between softness and firmness
Great grip
Comes in two sizes: size 7 (29.5") and size 6 (28.5")
Durable ZK Microfiber Composite outer cover
Affordable price
Cons
The Awesome Choice
So, what is the best indoor basketball? The Wilson NCAA Official Game Basketball is my top choice for the best indoor basketball. I would recommend this for those looking for a serious game basketball that has great features.
It has all the qualities that people like about the popular Wilson Evolution ball. The Cushion Core Carcass gives you a more pleasant ball handling experience. It is soft enough to let your hands dig into the ball for a better control but still a bit firmer than the Evolution. The durable composite material used for the outer cover panels and channels has great moisture absorption capability and has an excellent grip.
This basketball will bring you closer to the real NCAA competitive experience and will make you stand out from a sea of popular balls that you will find in practice sessions.