If you quickly want to know what my choice is for the best gift for a basketball player, then I would recommend the Wilson Customized Personalized NCAA Black and Gold Basketball as the best one.
Giving gifts to friends and family members is something that I always look forward to. The look of appreciation and happiness from the recipient of the gift is one of the most rewarding feelings. While I typically enjoy giving basketball-related gifts, it does take effort and you may not always have the time to browse through hundreds of merchandise to find the perfect gift.
To help you with this challenging task, I will be sharing with you my picks for the best gifts for basketball players. I have a lot of basketball-themed gifts to recommend which I've categorized into the following: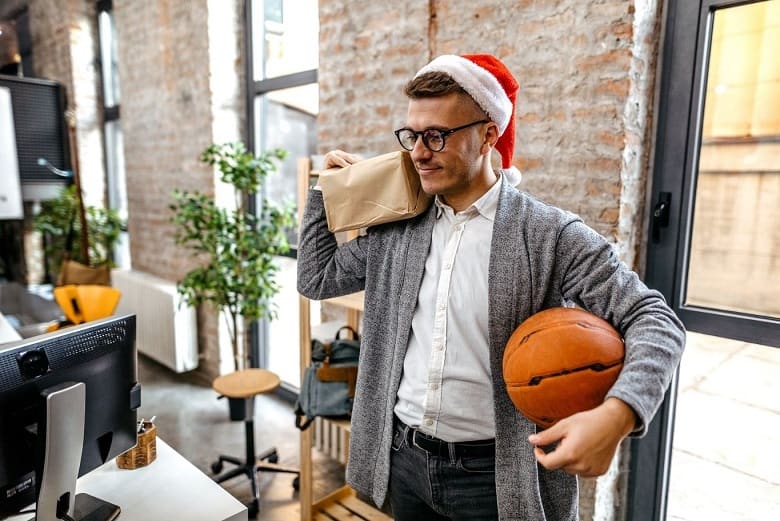 Basketball Training Equipment
This is a great gift idea if your recipient is a serious baller looking to further improve their skills. For best results, I recommend talking to the recipient. Ask leading questions to find out what they need without giving away your intention. Find out how their recent game or practice went. If they had a challenging game then they may readily provide information. If not, ask them – if you can further improve in one area, what would you like to work on?
Here are some great ideas on the best basketball training equipment. These can help hone their skills or make their training more efficient.
Great for: improving speed and lower body coordination
Basketball players need to run around a lot during a basketball game. They need to move quickly and navigate through other players. This requires fancy footwork and speed. A misstep can result in a lost opportunity to make the shot or the opposing player escaping.
This is where agility training equipment can help. This ladder and speed cones set comes with complete instructions on various drills which are great cardio exercises. The drills will increase a basketball player's speed and endurance, strengthen their leg muscles, and improve coordination and balance. As a bonus, other athletes in the family who are into team sports that require running such as soccer or tennis can also get a lot of use from this set.
Great for: mastering the moves around the court and learning to shoot over tall defenders
This dummy defender mimics a full height player on the court to create obstacles for drills and game simulations. The Xtraman is height adjustable so a player can use it to practice shooting over taller defenders. One can also use it to practice dribbling moves and positions around an opponent. It is lightweight and portable. It can be easily packed into a bag and taken to any practice session.
Great for: training the eyes to look straight while dribbling. Recommended for guards
Dribbling the ball while keeping their eyes on the court is one of the important skills that basketball players need to learn. This is even more critical for someone who plays in the guard position. A basketball guard gets to dribble the ball most of the time across the court. These pair of dribble goggles block the downward vision and will train the eyes to look ahead. It will also force one to dribble the ball by feel thereby improving ball handling.
Great for: developing hand and arm strength and acquiring better ball handling skills
The Baden SkilCoach Heavy Trainer is twice as heavy as an official sized basketball. The added weight increases the difficulty of dribbling, passing and shooting. The extra challenge will improve the arm's strength and ball handling. One can develop better skills in ball maneuvering when dribbling and makes passes and shots a lot more precise. With continued use, it becomes easier for a trained player to work with the normal weight ball.
Great for: developing hand and arm strength, improving ball grip and ball handling
These weighted anti-grip basketball gloves by Powerhandz help basketball players develop a stronger grip and improve their ball handling. The gloves make the hands and arms work harder when dribbling, passing, and shooting making it easier to do all these when the gloves are off.
If you are on the fence on whether to get this or the Baden SkilCoach Heavy Trainer basketball as a gift, then I recommend getting the basketball if you are uncertain about the hand size of the person that you are giving the gift to. Otherwise, get these gloves. You won't get the anti-grip feature in the weighted basketball. The gloves are versatile and can also be used when training for other sports like football and kickboxing.
Great for: improving dribbling drills, enhancing coordination
Basketball isn't just about dribbling straight to the hoop and making the shot. The opposing team will not make that so easy. A player needs to learn how to control the direction of the ball when dribbling and change the height at which the ball bounces. This helps avoid steals from the defensive team.
There are various drills that you will find on YouTube that shows how to use the SKLZ Dribble Stick Adjustable Height Basketball Dribble Trainer. Here's one:
Great for: saving time going after the ball during shooting practice, young players who are just starting to develop shooting skills
Shooting drills are fun. Chasing after missed shots isn't. Apart from taking the fun out of a shooting practice, it can also get really tiring very quickly. This Rukket Basketball 12×13 Net Guard is wide enough to catch the ball and bounce it back after every missed shot. This can save so much time and energy during shooting practice and allow you to focus more on learning the skill. I particularly like this one due to the versatility. It can work for any in-ground or portable basketball hoop. There are other options from Goalrilla and Silverback but do note that these nets are created for specific products in their range.
If you have a larger budget and would like a more sophisticated shooting system with a built-in ball return then have a look at my next recommendation.
Great for: improving shooting skills by learning the proper form, saving time going after the ball during shooting practice
This iC3 Basketball Shot Trainer is not just a highly efficient ball return system but a complete learning solution for perfecting one's shots. This is probably the best basketball return system that I have encountered.
The funnel-shaped net that covers the hoop serves two purposes. First, it forces the shooter to release the ball at a higher set point making a better arc. Having the arc right improves the chances of getting the shot in. Second, it catches all shots whether it makes the goal or not and returns it back to the shooter through a ramp. The ramp can be adjusted to a 180 degree angle allowing the shooter to get the ball back even if the shots are taken from one side of the court.
By installing the iC3 Basketball Shot Trainer, a player will be able to take up to three times more shot attempts making practice more effective. We all know that practice makes perfect!
Great for: someone looking to have the convenience of playing games or practicing at home on a regulation size hoop
A regulation size basketball hoop at home would probably be the most used item for any basketball enthusiast. I have previously looked at several options and what I recommend is the Spalding The Beast Glass Portable Basketball Hoop. It has a professional look and feel, a tempered glass backboard, solid build and is height adjustable.
You can read more about my review of this product as well as other options in my article about portable basketball hoops. While this gift is on the expensive end, it will be one of the best investments in someone's basketball journey.
Basketball Apparel And Gear
Basketball apparel and gear is a great way to support your favorite baller. You cannot go wrong with basketball jerseys and shorts. Any player will require multiples of these for practice or even casual games. The same thing with basketball socks and shoes. You can also be extra thoughtful by giving them things to protect themselves while playing. These gifts will certainly be appreciated and used.
When getting apparel as gifts, make sure that you have a way to determine the right size for your recipient. One way to do this would be to check the sizes of existing items they own. I would usually recommend these types of gifts for people who live in the same house since you can easily check their items without asking. If that is too difficult then the best option will be to get a backpack or checkout the other gift categories in this article.
Great for: someone who plays basketball frequently
Having the right apparel even during casual games and practice sessions can help a player perform their best. Choose clothes with the right materials and form to make practice sessions more comfortable and allow free movement. I recommend these Nike Dri-FIT Icon Basketball shorts which use Nike's dri-fit technology. Dri-fit keeps sweat away from skin and has great breathability. The shorts have an understated design with a discreet Nike logo. It does not restrict movement and can also be used as gym shorts.
If you would like to check out other options, then have a look at my review of the best basketball shorts.
Great for: someone who plays basketball frequently
An extra jersey or two is always handy so why not get your baller another one? These two color reversible jerseys are versatile and made of moisture wicking material. There are ten different colors to choose from. The best thing is that they can also be customized with the team name in front and the player name and number at the back.
Get the shorts or a jersey or perhaps get both!
Great for: basketball players looking for extra protection on their arms and elbows
This arm sleeve from McDavid provides warmth and compression. The compression is great to keep arm muscles and the elbow aligned and maintain the optimum range of motion. It protects the arm from abrasions and scratches and the cushions the elbow from rough blows. Do note that there is only one arm sleeve in each pack.
Get this as a gift if the recipient is already using an arm sleeve (it is a great upgrade!) or mentioned about getting their arm scratched or elbow bumped during a basketball game. Interesting trivia: the shooter arm sleeve became a fashion accessory for a while in the NBA when other basketball players started mimicking Allen Iverson. Iverson used one for medical reasons – to ease the swelling on his elbow due to bursitis.
Great for: basketball players looking for extra cushioning and support for their knees
Wearing a knee pad during a basketball game helps soften the impact on the knees in case of a hard fall. If you are getting one as a gift then I personally recommend the McDavid 6440 Hex knee pads. Apart from being effective in cushioning the knees, these knee pads are used by most NBA players and a great addition to someone's protective gear. Each pack comes with a pair.
If you would like to check out other options, then have a look at my review of the best basketball knee pads.
Great for: a basketball player looking for a shoe with color options to match their team colors.
Basketball shoes are essential in any player's uniform. Wearing shoes that match the colors of one's uniform is a fun way to coordinate and show off team pride. The Under Armour HOVR Havoc 2 basketball shoe comes in multiple colorways to complement any basketball uniform. This shoe rates high in performance with the HOVR foam technology making it extremely light yet very supportive. You can expect excellent impact absorption, responsiveness, outstanding traction and stability from this fantastic all-rounder.
You may also want to consider checking my other articles on basketball shoes that may be suitable for the recipient you have in mind. Check out my recommendations for best basketball shoes for guards and centers if you want something that's more customized to the position they play. I also have recommendations if you are on a budget or if you are buying for someone with wide feet.
Great for: someone who already has a lot of basketball shoes but has not invested in a great pair of socks
Socks provide that extra support by adding cushioning, protection from abrasion and moisture absorption. Wearing a comfortable pair that does not restrict movement is a great complement to any basketball player's outfit. The Nike Dry Elite 1.5 Crew Socks are made of Nike's famous dri-fit technology for moisture management. It has a specifically designed shape for the left and right foot for a great fit and superior cushioning on the achilles and ankle. It comes in multiple color options so it rates high on style.
It is a splurge for a pair of socks but affordable as a gift compared to shoes. If you are looking for alternatives, check out my article on the best basketball socks.
Great for: a baller who likes to bring along all his gear and keep his hands free
Getting a backpack that can fit all the things that a basketball player would need will certainly get a lot of appreciation. This MIER basketball backpack not only has plenty of room but it has cleverly designed compartments to keep everything organized. There is a separate section to store a basketball, plenty of interior and exterior pockets to keep water bottles, snacks, clothes and shoes. There is even a laptop and tablet sleeve.
The bag is made of tough material that is abrasion and water resistant. The part of the bag that comes in contact with the back has ventilated mesh padding for comfort. The straps are wide and padded which makes it easy to carry on the shoulders. This can be considered as one of the best basketball backpacks that are available right now.
Basketball Memorabilia And Collectibles
This category includes special items that show someone's love of the game. Memorabilia and fan collectibles may range from things that represent a general appreciation of basketball to admiration for a specific team or player.
Great for: a basketball player who likes standing out with one-of-a-kind basketball or someone who had previously lost a basketball after a mix-up
Giving someone a personalized basketball in a striking black and gold color is not only thoughtful and nice to look at, it is also practical. The ball can be customized with a person's name and number and takes only three days plus shipping time.
This Wilson personalized NCAA black and gold basketball is made of premium composite leather and can work well for both indoor or outdoor games. The unique color combination with the name ensures that the ball stands out and won't get mixed up with other basketballs.
Another fantastic option that I really love is the Wilson NBA official game basketball.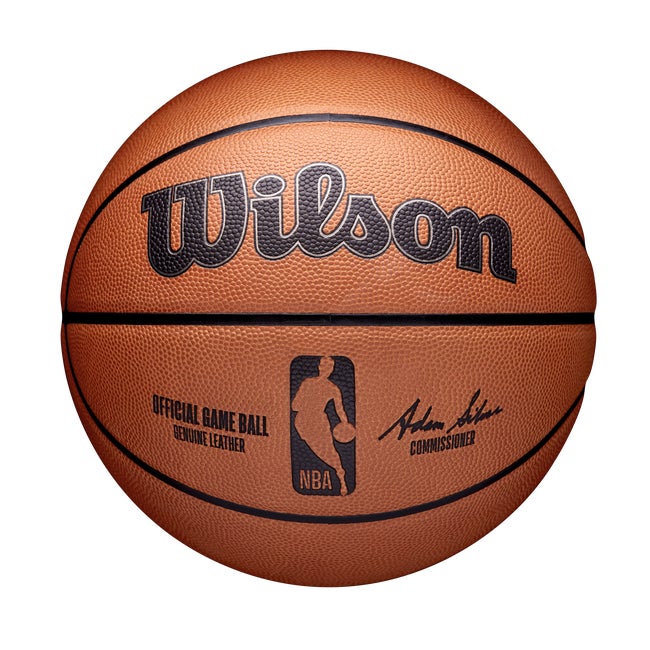 Great for: gift givers willing to splurge on a high quality basketball, basketball players looking for a collector's item to mark the glorious decades of partnership between Spalding and the NBA
Spalding was the official basketball of the NBA from 1983 until 2021. The league will switch to a Wilson leather ball in the 2021-2022 season.
This official game ball is made of fine quality leather created by the Horween company in Chicago. It is more expensive than your usual indoor basketball but if you are looking for that extra special gift then this is definitely worth the splurge. I'm sure this will end up lovingly displayed on a shelf and treasured.
If you are a more practical gift giver and prefer to give something that is premium but at a more affordable price point, then consider checking my other suggestions for best indoor basketballs.
Great for: collectors and big fans of a specific basketball player
If your recipient is a huge fan of a particular NBA player then getting an official jersey would make his or her day. There are various sources of NBA jerseys. Make sure that you get one from a source that is officially licensed by the NBA so you get the real deal.
Throwback jerseys of past basketball greats are also available and adds that extra special touch just like this Michael Jordan's NBA Finals jersey. These are pricier than the contemporary ones but make great gifts for collectors and enthusiasts.
Great for: fans of a specific team who loves sporting the team logo to show their support
If you prefer to give practical gifts that get used rather than displayed then a sports tee having the logo of his or her favorite basketball team is an awesome alternative to the basketball jersey. This t-shirt is lightweight and very comfortable to wear. It has a dri-fit like texture so it wicks wick away moisture. It has a good range of sizes and can be used as casual wear and not just for sporting activities. The price point isn't bad either.
Great for: fans of Kobe Bryant
Kobe Bryant's popularity as an NBA player is undeniable. The thunderous cheers he received during the 2008 Beijing Olympics confirmed how much his presence has grown beyond borders. A huge Kobe fan will certainly love to receive this book of glorious photographs and insightful commentary on Kobe's basketball journey.
I recommend getting the hardcover edition which is a pretty sizable book that your recipient can display on their coffee table. Wrap it up in beautiful packaging to make the gift-giving even more delightful.
Fun And Novelty Items
Basketball-themed novelty items are perfect if you are going for a simple, fuss-free but still thoughtful gift that the recipient can enjoy using or have fun with. This category is where you will usually find more affordable gift options which are suitable for most basketball fans.
Great for: basketball fans who are also video game enthusiasts
This is the latest release of the best-selling NBA 2K video game series. I won't go into a full detailed review of the game but just introduce some key concepts to help someone with little background on what they can expect.
NBA 2K video games are highly interactive and offer various experiences in the basketball universe. This is not just a game of taking two NBA teams and playing them against each other with a friend. It also offers other interesting features like MyCareer and MyTeam.
MyCareer puts video game players in the shoes of an aspiring basketball player. They get to make choices for the character such as which collegiate team to play in, which agent to go with, and others. There's also an option within MyCareer for the character to play pick-up basketball in a neighborhood setting which is in itself a visual delight. MyTeam on the other hand lets one build an NBA fantasy team of current players and historic legends and compete against people online.
While there are new features in this release such as a different shooting option called Pro Stick and the expansion of WNBA games into a full season, everything pretty much feels like the previous edition. I would recommend this as a gift for someone just starting out with the NBA 2K series or even a seasoned player who is just curious and wants to try out what is new in this edition.
It is available in several formats suitable for X-box One, X-box Series X, Nintendo Switch, Playstation 4 or 5, and others. Choose the one appropriate for your recipient's game console.
Great for: basketball fans young and old who wants to inject fun into their drink
Who doesn't love hot chocolate with marshmallows? This quirky mug adds even more fun to the drinking experience. After pouring the chocolate into the mug, take the marshmallows and have a little competition on who can shoot the most through the small hoop. Even those that don't make the shot will get the marshmallows on the chocolate making for a very tasty treat.
This is a large sized mug which can also be used as a bowl for cereals and soup. Fill the mug with the desired amount of milk and shoot those froot loops into the hoop. Make your soup more flavorful with some added crunch by shooting with oyster crackers. The mug is solid and good quality and will certainly be appreciated as a gift.
Great for: basketball lovers who take to shooting with every chance they get
An inexpensive gift that adds an amusing twist to a mundane activity such as throwing litter into the garbage. Attach this basketball hoop clip into any trash can and quickly turn a chore into an entertaining game in the household. Shooters will especially like having the challenge of a smaller hoop that will force them to take more precise aim.
If you'd like a more realistic basketball shooting experience indoors at home instead of shooting through a wastebasket then checkout my next recommendation.
Great for: shooters who like the convenience of having a small hoop to play with indoors or young kids who are just starting to practice shooting
This is a nice way to introduce the game to young children. It is also a fun piece of equipment that adults who like shooting will appreciate. It is a good way to destress or amuse oneself while taking a break from studying or working. I did a review of several mini basketball hoop options earlier and my recommendation is the Spalding NBA Slam Jam. This hoop hangs over the door and already comes with a small deflated basketball.
Great for: active basketball players who always bring along a drink during games or practice
This is a gift that is not only useful but also thoughtful and special. The water bottle features an orange basketball design to which you can add a custom printed name. The name can be up to 20 characters long. You can choose from 18 different fonts and 13 color options. Apart from adding that personalized touch, the name ensures that the water bottle doesn't get mixed up with other players during practice. It holds 600ml of drinks which is enough to quench thirst after a vigorous game without being too heavy.
Great for: any basketball player who has a mobile phone
This is an easy gift to get for anyone who likes basketball. Instead of just getting a generic basketball themed phone case, why not have their name and jersey number added in? This case features a dual layer protection – a silicone bumper plus a hard case which protects one's precious mobile phone from shocks and deep scratches.
There are multiple options available for customization: 21 different color combinations for the jersey while the name and number can be customized with 14 different foreground font colors plus 3 colors for the background font (stroke). 10 characters are available for the name and 2 digits for the number.
Great for: basketball enthusiasts looking for a comfortable piece of furniture to sit on
Adults and children will find this extra large posh bean bag a wonderful addition to any room where you need another chair to lounge in. This is great to sit on while reading a book, streaming a basketball game on tv, playing a video game or simply chilling out. The basketball design makes it appealing to fans who like to incorporate or showcase their hobbies or interest in their choices of furniture. The cover is removable and washable.
Access To An NBA Game
Finally, any serious baller would definitely love the experience of having access to an NBA game. Seeing the action unfold on a real-time basis brings about an excitement that is hard to top. This is even better if you as the gift giver is also a basketball fan since you can share in the experience.
Great for: people who want to be in the thick of the action
Nothing beats being in the arena and soaking up the atmosphere of the event. This is something that I enjoyed immensely when I watched my first ever live NBA game in the Quicken Loans Arena (now known as Rocket Mortgage FieldHouse).
Game attendance is still very much controlled due to the ongoing pandemic however, several NBA arenas have released a limited number of tickets. It is important to be mindful of the safe distancing measures and health security verification protocols in each venue to ensure a safe experience. If you can wait for the vaccine, then better to do so to further reduce risk.
Great for: people looking for convenience of streaming multiple live games from their devices
The NBA league pass is the best way to keep up-to-date on every game in each season. Stream the live games into your device of choice and watch it from your living room or even on your phone while on the go. The subscription can be paid for annually or monthly and auto-renews at the end of the payment period.
The pass is available in three tiers – team pass, league pass and the league pass premium. A team pass allows you to stream all the games of your chosen team for the entire season whereas a league pass will let you stream games for all teams plus older games from 2012 until the present. The league pass premium is the same as the league pass with the only additional benefit of being allowed one additional device for streaming.
An annual league pass subscription is the best value for money and this is what I recommend to give as a gift. Just remember to cancel before the next season tip-off if you do not wish to continue the subscription.
The Awesome Choice
If you are looking for a marvelous gift that can appeal to most basketball players, is hassle-free in terms of sizing and has a great balance of practicality, thoughtfulness, and cost then I would recommend the Wilson Customized Personalized NCAA Black and Gold Basketball.
The most important thing in gift giving is the thought. The fact that you've read through my entire article shows that you've taken the time and effort to find that special gift and nothing can replace such a wonderful gesture. I hope this basketball gift guide has given you enough ideas to help you in your search for the best basketball gifts.