No time to read? If you quickly want to know what my choice is for the best basketball underwear, then I'd recommend Nike Men's Boxer Brief as the best one.
When choosing good quality basketball underwear, comfort is my number one consideration. I would read the labels to understand the materials used to manufacture the fabric. The shape of the underwear is another critical factor that affects my overall comfort and support.
What are the best underwear for basketball? Are there affordable sports underwear options? These are the questions that I will be exploring the answers for.
In this article, I'll be reviewing the following best basketball underwear:
Top Quality Fabric
The quality of fabric used in athletic underwear is vital for comfort and breathability. The right material will help keep the skin in the right level of moisture and dryness. This will help reduce blistering and chafing. It also helps prevent odor, which can be a problem with sweaty basketball players like us.
Quick drying fabric like Nike's dri-fit technology material is always a good choice. I also notice that blended fabrics using polyester with spandex are pretty good at wicking moisture. The stretchability of the fabric also increases overall comfort.
In terms of the fabric finish, mesh weave is one of my favorites. It is light and is quick drying. It has good airflow to keep me comfortable at all times. However, not all mesh for underwear are created equal. I'd get the ones that are breathable and ergonomically shaped in the right spots.
Fabric density is another aspect to look out for. This serves as the base of the basketball underwear. It should not be too heavy nor too light. I always check out the density of the fabric because I am quite sensitive with the impact of fabric weight on my performance.
Durability is not very evident to the touch when buying basketball underwear. The first thing to check out is the drape. My main advice is to look at the construction and drape. I would slightly pull the edges of the underwear to get a feel of its elasticity. This is always a good indicator of how the underwear will react to repeated washing.
A comfortable pair of sports underwear should have good quality elastic waistbands. This helps them stay up without being too tight around your body. I always look for basketball underwear that fit snugly but not uncomfortably against my skin. My choice of elastic waistband material is blended spandex with synthetic fibers.
Excellent Underwear Construction
The best basketball underwear for me are the ones that are ergonomically designed. Every stitch and fold should have a purpose. Popular brands like Nike, Under Armour, and And1 have dedicated design teams to come up with their idea of the perfect sports undergarment.
I personally prefer underwear that are seamless with flat-locked stitching. This gives me a smooth and scratch- free feeling. Look out for basketball underwear with somewhat of a 3D contour. The space created by the contour gives the right amount of wiggle room to make quick moves during basketball games.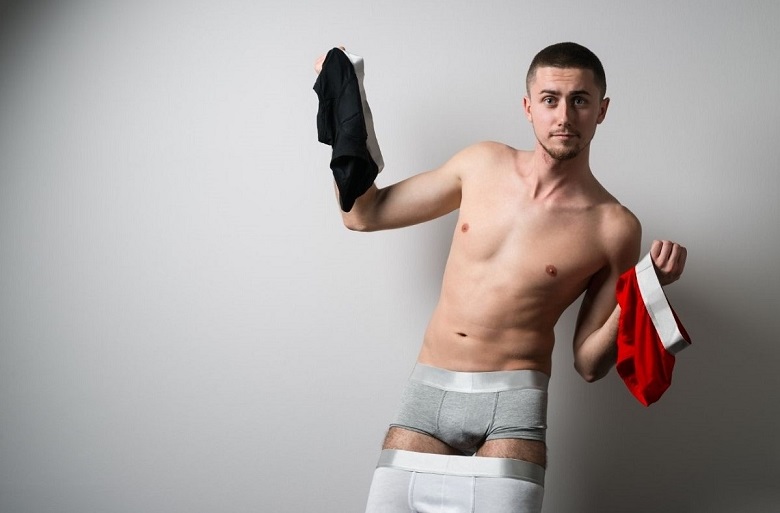 Bunching is a common problem in poorly designed sports underwear. The trick is to find underwear with a wide enough hem designed for athletes like us.
I also prefer underwear with a molded gusset. The comfort is noticeable when I run up and down the court. I get that distraction-free feeling. It definitely feels like a second skin if the underwear are molded to your physique.
Basketball underwear with a mesh pouch are quite functional. These pouches should be made of mesh weave material to maximize breathability. Compression level of the underwear should be at an optimal level. This is usually achieved by using stretchable fabric like spandex blend. The result is a basketball underwear that is flexible enough for us to move freely without constraint.
Repeated washing can cause underwear to lose shape. The solution is to find top quality underwear that are designed to withstand washing. I would look at the labels for washing instructions. Make sure that the underwear is suitable for machine washing. Tumble dry icon should also be printed on the label. These would ensure that the manufacturers have maintenance and longevity in mind when designing and making these basketball underwear.
The Right Fit For Basketball
Everyone knows the importance of proper basketball sports attire, but what happens when your underwear doesn't feel right?
Fit is the ultimate indicator of top quality basketball underwear. The right fit is achieved by knowing your size. The waist size range is the first thing that I would examine. Get the size where your waist measurement is right in the middle of the size range. I always have a measuring tape ready whenever I am making underwear purchases online. If you are unsure of your size, please make sure to check with the manufacturer's customer service. It is always better to be safe than sorry, especially with sports undergarments.
The next step is to check the length. My personal basketball underwear favorites are boxer briefs with about six inches in length. I feel comfortable and confident in this style and length. Try out a few styles and designs before deciding on which one suits you best.
Lastly, I would check the comfort level from reviews and from my personal experience. This means checking how well it fits around your body. Does it hug all over your hips, thighs, and buttocks? Is there any bunching up anywhere on your lower body? Do they stay put during basketball practice? Are they comfortable during intense moments of the game?
I have gone through so many different basketball underwear. I have also bought a few pieces that are not really up to the mark. In this review, I want you guys to avoid making the same mistakes. I have scrutinized different manufacturers and products. I am proud to say that I am now more knowledgeable in buying basketball underwear. I do this based on informed decisions and insights that I have gained over the years.
My 5 Sports Underwear Recommendations
Now that you have a good understanding of the different factors to consider, let us go and decide which best basketball underwear to buy.
The Nike men's boxer briefs are made from the proprietary Dri-fit technology. The fabric allows basketball players to stay cool and comfortable. The moisture-wicking capability of Dri-fit is top notch. This is especially useful during prolonged periods of intense physical activity.
The slightly relaxed fit provides comfort around the waist and buttocks. I like that the elastic waistband is really comfortable and durable. It allows me to be distraction-free and maintain my focus on the game.
I also appreciate how easy it is to get into them. The wide hem makes it easy to wear and take off. The mid-thigh length has flatlock seams that help prevent chafing and irritation from friction.
Nike claims that the fabric is anti-odor. I notice that while it retains a bit of moisture, the smell is not noticeable. Smelly underwear is definitely a turn-off to many so these Nike boxers pass this test.
These boxer briefs are machine washable so it is not a problem for busy athletes like us. Make sure that you wash them in gentle mode. You can use your regular detergent or even hand soap if needed but don't put any bleach on them as this will ruin their color.
Overall, Nike did a great job with these boxers. The comfort, fit, style, and material are definitely great for basketball players.
Pros
Dri-fit technology provides moisture-wicking capability
Good locked in support
Comfortable elastic waistband
Anti-odor fabric
Good overall construction
Cons
Not the best in terms of compression
The Under Armour boxerjock is made of soft and comfortable blended fabric. The material is made of 92% polyester and 8% elastane. The elastane component provides the elasticity and stretchability needed during intense basketball moments.
This boxerjock is designed with pull-on closure and a 4-way stretch construction. It gives us basketball players comfort in every move and angle. What I like most about this underwear is that the material is super quick drying. I notice that it wicks moisture away quite effectively.
The articulated mesh fly is another feature that impressed me about this underwear. The gusset is substantial enough for support yet soft to my feel.
I also love how they felt like a second skin to me. It is the combination of stretchable fabric and finish of the seams that result in overall comfort. The side and back are seamless which is not just comfortable but also quite aesthetically pleasing.
When wearing it under my basketball shorts, it stays put for an extended period of time. I think I can even wear compression pants along with this boxerjock. It does not ride up at all when running or jumping.
The UA boxerjock is machine washable. It is also available in many different colors. There is definitely one that will suit your preference.
Pros
Soft and smooth fabric
Comfortable 4-way stretch construction
No side or back seams
Wicks moisture effectively
Cons
Might be tight on the waist for bigger men; advisable to size up
David Archy is known for their good quality underwear and sleepwear. I also heard that they are known for high-quality fabrics and refined fitting. This is the reason why I decided to check out their sports underwear. I wanted to see if they are suitable for basketball.
I must admit that I am quite impressed with the quality of the David Archy sports underwear. The fabric is made of blended polyamide and spandex. The texture of the underwear is very smooth and soft. It is due to the higher amount of spandex. The label states that it is made of 77% polyamide and 23% spandex. The stretchability and comfort of the fabric make this sports underwear very suitable for basketball.
There are three versions for us to choose from: mesh with no fly, solid with no fly, and mesh with fly. I would recommend that you get the mesh with fly version. The contour in front is like a 3D pouch design. It provides the right level of support for basketball while not compromising on freedom of movement.
The fabric wicks moisture and dries very quickly. This type of fabric keeps your skin cool while defending your opponent or running down for that fastbreak.
What I like about the David Archy basketball underwear is that the legs are longer. These result in a better fit and support. I also notice that the fabric is dense yet lightweight. This underwear is a pleasant surprise to me because it is really great for basketball.
Pros
Lightweight and breathable
Smooth and soft
Fuller fitting support
3D contoured pouch design
Cons
The spandex material may not be for everyone
These AND1 men's boxer briefs are made of polyester and spandex. The material is stretchy, soft, and comfortable. It also has moisture-wicking capability making these underwear perfect for basketball.
Although these are considered compression briefs, the moisture control is quite good and you can wear these for an extended period of basketball game time. It helps that these briefs are tag-free and comfortable around the waist. The waistband is one of the most elastic and softest I have seen.
It comes with a functional mesh pouch that is made of breathable fabric. I notice that it stays cool all day. You can wear this to your basketball practice session or to the gym for a workout.
The stretchy fabric offers a good range of movement. I tried moving with different motions and speed levels. The legs stayed, remained put, and did not ride up. This is definitely a good indication of good quality basketball underwear.
These basketball boxer briefs are machine washable. I would recommend that you wash and tumble dry your underwear in your machine on gentle mode. Use a laundry net to prolong the life of your underwear.
With AND1's branding and experience with sports wear, you can be assured that these basketball boxer underwear will live up to their promise of quality.
Pros
Breathable mesh
Functional fly pouch
Stretchy fabric won't ride up
Soft and tag-free elastic waistband
Cons
The silky feel may take some time to get used to
DEVOPS may not be a popular brand but they manufacture some of the better quality performance sports apparel I've used. I have reviewed their compression pants in the article I have written about the best compression tights for men.
The DEVOPS sports underwear is a boxer type trunk brief. The fabric is made of polyester and spandex. The composition is 89% polyester and 11% spandex. I felt that the fabric is a bit denser compared to the other underwear in this list. Nevertheless, it is soft, comfortable, and breathable.
The fabric wicks moisture which is one of the most important considerations for me. I noticed that the material's so-called two-way air circulation is quite effective in keeping me cool and dry when running up and down the court.
The four-way stretch fabric is pliable and soft. It stays in its place even during intense workout. What I like most about the DEVOPS basketball underwear is the mesh weave type of finish. I can feel the difference in terms of airflow. It is cool when worn and quick drying after washing.
The diamond knit mesh is another feature that I like. It is ergonomically designed to provide the right level of support for sports activities. It is snug in the right places. The lower rise design helps provide enhanced support during high impact moments of a basketball game.
Pros
Breathable and comfortable mesh
Ergonomic diamond knit fly for snug fit
Quick drying fabric
Four-way stretch material
Cons
Sizing is tricky; read the size guide carefully
The Awesome Choice
I love wearing good quality basketball underwear and all the five that I have recommended above are top quality sports underwear. You can buy any of the five and be assured of its performance and comfort.
However, the one that really stands out for me is the Nike Men's Boxer Brief. The fabric with Dri-fit technology provides the best moisture-wicking capability. It is also the most comfortable overall. The support is locked in the right spots. The waistband is elastic, comfortable, and durable. I also like that it is anti-odor and has good construction all around. This is definitely suited for performance on the basketball court.