In a rush and no time to read? If you want to know what my pick is for the best shorts for basketball, then I'd recommend the Nike Dri-Fit Icon men's basketball shorts as the best one.
I start to feel excited and motivated for a basketball game or a practice session the moment I put on my uniform. Wearing the appropriate attire for the sport not only makes me feel good, it allows me to have the optimal range of movement and helps with my overall performance.
Basketball shorts are half of the essential gear that you need for basketball. In this review, I'll be sharing with you my top picks for the best basketball shorts.
Styles Of Basketball Shorts In The NBA
The NBA (National Basketball Association) sets the trend for basketball fashion globally. I have always been a keen observer of how the uniforms in the NBA have changed over the years. The style of the basketball shorts worn by the players give us a good indication of the time period when that game was played.
In the 1980s and earlier, basketball shorts were really short and form fitting. You will see great players like Larry Bird and Wilt Chamberlain wearing these shorts with long socks. This style gives the most freedom of movement for the lower body and emphasizes a basketball player's towering height.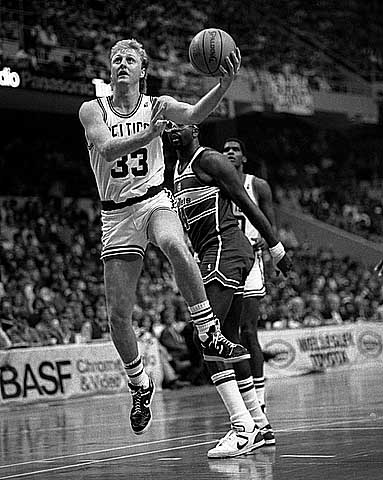 The short shorts started to get a little longer and looser in the 1990s. Take a look at Michael Jordan's uniform during his games for a good example. The shorts he wears are around four to five inches above the knee. The socks in this period are shorter.
Towards the end of the 1990s and into the new millennium (2000s), the baggy basketball shorts became the rage. Shorts were long enough to cover the knees and were very loose. Socks were very short in contrast. Allen Iverson is one basketball player that pulled off this trend very well.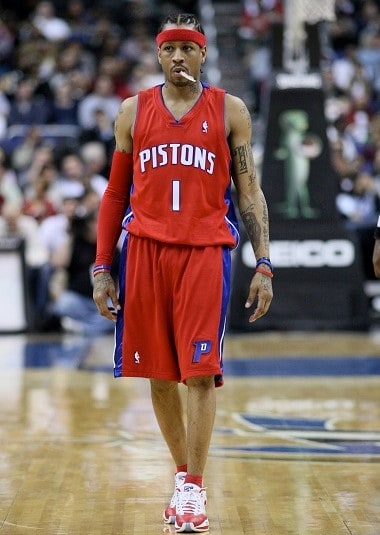 The length of these long and baggy shorts started to reduce in the following decade (2010s). Knees started to show again but shorts were still loose. A new trend started to appear in the form of compression wear. Basketball players started to wear knee sleeves or compression tights along with the shorts.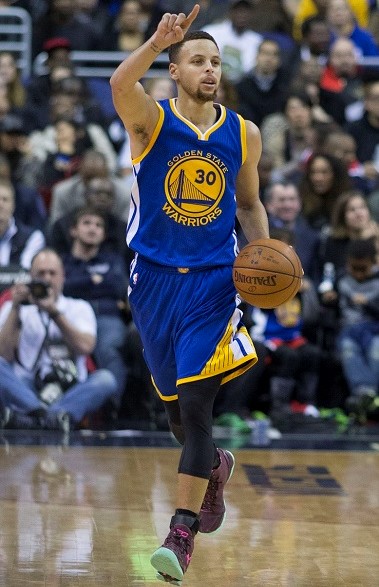 As we entered into the new decade (2020) and a new normal due to the COVID-19 pandemic, we started to see a gradual return into the shorts length from the 1990s. Some players are even turning back to the short shorts look. Take a look at the shorts worn by the players in this game from the 2020-2021 season.
What Are The Other Uses Of Basketball Shorts?
Basketball shorts are versatile. You can use them for a lot of other activities such as:
Gym wear and training – You don't need to buy an entirely different set of bottoms to wear if you are comfortable with the length of your basketball shorts.
Loungewear – I like to do this with my older pairs of basketball shorts.
Lifestyle and athleisure – Brands like Off-white offer fanciful designs that are popular as street wear. I personally don't use basketball shorts for this purpose but I can see why people would do it due to the ease of wearing and comfort.
What To Consider When Buying Basketball Shorts?
You should look at the material used for the pair of shorts that you are considering. Most cool basketball shorts are made of 100% polyester. Polyester is a synthetic fabric that has really good moisture-wicking capabilities and is durable. It does not trap sweat so you don't get that sticky and heavy feeling that you may experience with other materials. Polyester is a great material for sportswear and with advancements in manufacturing, breathability is no longer a concern with this synthetic fiber.
The way that polyester fibers are woven can produce different looks. They can be woven loosely into a mesh pattern or more tightly to form a closer knit. Look is subjective and depends on an individual's preference. You should note that most athletic shorts including basketball shorts will be made thin to keep them lightweight. Lighter colored ones may cause undergarments to show through. To get around this, select dark colors or wear compression shorts underneath.
Fit is another aspect that you should carefully consider. Choose a fit that you are comfortable in. Personally, I still like the look of longer basketball shorts from the 2010 period where they were still long but do not go past the knees. The ten inch inseam is what feels most appropriate for me. There wasn't too much excess fabric to swing around as I ran. At the same time, it has enough room which makes it versatile to wear for lounging.
While the 1990s fit is slowly making a comeback, most options in the market are still from the 2000-2010 period. The ten inch inseam or knee length shorts are still common and you also won't have trouble finding shorts that go way past the knees. If you like your shorts to fit like the 1990s, then I would recommend looking into running or tennis shorts.
Finally, you would want to get the best value for your money. If you are an occasional player, then I would recommend buying the best pair that you can afford since you won't need to buy too many of them. If you play and practice very frequently then go for multiple pairs in a pack so you have enough pairs to go around while the others are in the wash.
5 Best Basketball Shorts
Now let us take a look at the top options for basketball shorts that you can buy.
These basketball shorts from Liberty Imports is a set of five that you can get for a very affordable price. Each set comes with contrasting colors and designs and is great if you are looking for variety in what you wear for basketball practice. This is a fantastic option for basketball players who go through multiple pairs every week.
The basketball shorts are made of 100% polyester. They are breathable and have a micro mesh weave making them lightweight. They are very comfortable to wear and great for wicking away moisture.
The shorts are on the longer side and fall to close to the knee in terms of length. The fit is not baggy but if you prefer loose shorts then I recommend going up a size and using the drawstring at the waist to tighten in case the waistband feels too loose. A bonus feature are side pockets which make carrying small things convenient.
When choosing colors, I suggest going for darker shades. The light colored ones for this product tend to be see-through.
Pros
Affordable price – you get five pairs in multiple colors
Lightweight and breathable
Side pockets for convenience
Wicks away sweat
Cons
Colors in one set cannot be chosen individually
Nike's famous Dri-Fit technology enhances the breathability and sweat management capabilities of these 100% polyester basketball shorts. The fabric takes the sweat away from your skin and lets it evaporate quickly to keep you dry.
This pair of shorts have an elastic waist which can be tightened with a drawstring. They are almost knee length and come with deep pockets which are good if you want to keep your mobile phone close to you while playing. There is no lining but the fabric is thick enough so it doesn't show through for most colors. As each person's perception of sheerness can vary, I recommend wearing something underneath like compression shorts if you want to use the lighter colors and you think the fabric is see-through based on your assessment.
There are more than ten colors to choose from to compliment most jersey colors. A contrasting Nike logo on the left side adds subtle styling and minimalist branding. They do tend to run big so I recommend getting two sizes if you are initially undecided so you can try it for yourself.
Pros
Great moisture-wicking capability
Comfortable and breathable
Deep pockets for convenience
Minimal styling with multiple color options to choose from
Cons
These BALEAF basketball shorts have great things going for it. It is made of polyester so it will do a good job in keeping you dry during intense games or practice. Like most athletic shorts, it has an elastic waist which can be tightened with a drawstring for a more customized fit. These shorts tend to run on the longer side so something to take note of if you prefer shorter lengths. The inseam is a minimum eleven inches and gets longer as you go up in size.
Perhaps what makes it different are the zippered pockets which are great for keeping things such as keys and phones secure during play. With nine colors to choose from, these basketball shorts from BALEAF are a great option for those looking for a minimalist design at a lower price point.
Pros
Polyester material keeps you dry
Zippered pockets to keep your important things secure
Classic styling with multiple color options to choose from
Lower price point compared to other popular name brands
Cons
Runs a bit too long for most people
These shorts are designed to fit loosely with a longer inseam of eleven inches. The Under Armour Men's Perimeter basketball shorts are lightweight and breathable with mesh side panels for added ventilation. These do a good job of wicking moisture away from your skin to keep you dry. They are made of polyester woven in a texture knit pattern for added durability.
There are more than ten color options to choose from. Pockets and an elastic waistband with a drawstring for a more secure fit round up this product's features. Overall, this pair meets all the requirements for a good pair of basketball shorts.
Pros
Moisture-wicking and breathable
Soft texture and very comfortable to wear
Pockets to keep your belongings close
Decent price point
Cons
Tends to run small, try two sizes if you are uncertain
Although shorter shorts are gaining popularity in the NBA, the majority of basketball shorts available today are still on the longer side. Most of the options I came across have a ten inch inseam or more. While we wait for shorter lengths to go mainstream, I suggest turning to other athletic shorts for options.
I like these New Balance Men's Accelerate running shorts as an alternative. You can choose between three, five or seven inch inseams and a large variety of designs and colors. The shorts are made of polyester and have the moisture-wicking capabilities of basketball shorts. It comes with pockets and an internal crepe brief liner for additional coverage.
Pros
Keeps you dry and comfortable
Comes with internal crepe liner
Wide range of options in terms of length, colors and designs
Cons
Pockets on the shorter inseams are too small to fit a phone
The Awesome Choice
All the basketball shorts that I reviewed here meet the minimum expectation. They are all moisture-wicking, breathable, and lightweight. These features will give you that performance boost during practice or actual games.
If I had to choose one option though, my choice for the best basketball shorts would be the Nike Dri-Fit Icon. The Dri-Fit technology works very well in keeping you dry during intense moments of the game. The available colors give you options to match with the jerseys that you wear and the length is comfortable and not too long. The overall design is minimal and sleek and I don't mind wearing it out for errands or a quick run. While it is on the more expensive side, the fact that you can use it for more than just basketball gives you more bang for your buck.