If you quickly need to know what I'd recommend as the best basketball shoes for volleyball, then go for the Adidas Harden Stepback.
I enjoy volleyball so much because it is a tough but fun team sport. With all the spiking, blocking, and digging involved, pressure is always on your shoes to support your peak performance. Although the game of volleyball is fundamentally different from basketball, the criteria for choosing high quality volleyball shoes are not that different from that of basketball shoes. Whether you are executing a set, making a pass or serving the ball, superior traction is paramount on your shoes. Comfort and durability are the other aspects that I always scrutinize in order to determine the quality and suitability of the basketball shoes for volleyball action.
In this article, I'll be reviewing the following good basketball shoes for volleyball:
Crazy Traction
There are several types of surfaces used for volleyball courts. You should take into consideration the nature of the court construction that you are going to play on. Indoor volleyball courts usually use wooden flooring. Outdoor courts are typically made of synthetic surfaces. However, there are also other types of surfaces like vinyl, rubber or PP (Polypropylene). I will consider all these different flooring finishes when shortlisting the best shoes for volleyball.
Traction is influenced by a number of factors. Primarily, the quality of the outsole should be top-notch. Grippy gum rubbers are the most common materials used for volleyball shoes. This is similar to basketball shoes as wide base with solid rubber outsoles are becoming the standard for good quality basketball shoes. Let us check out these volleyball highlights to get an idea of the level of shoe traction that is required to perform at your peak.
The outsole pattern is another factor that heavily affects traction and grip. Herringbone pattern has traditionally been used for athletic shoes. This is because the herringbone design has a high amount of rubber that comes in contact with the surface and the tread pattern provides superior grip on different types of surfaces. In recent years, manufacturers have started churning out basketball shoes with unique tread patterns that provide a high level of traction. We will consider each of the outsole material and tread patterns to determine their suitability for volleyball action.
Thickness of the outsole should not be neglected when examining the quality of athletic shoes. I will make sure to consider the right amount of thickness of the recommended shoes so that the pressure from your feet will result in the desired traction on the outsole against the court surface.
Comfortable Fit
The feeling of wearing uncomfortable shoes does not only affect your confidence but it will ultimately impact your performance on the court. Midsole cushioning is an important factor that determines the bounciness and softness of the shoes. EVA (ethylene-vinyl acetate) is one of the most comfortable midsole materials on the market. Coupled with good padding around the ankle, a high quality midsole should give you a comfortable sock-like feel that molds to your feet when broken in.
Sizing may be tricky and you have to get it right to achieve a high level of comfort on your volleyball shoes. You should always follow your sizing for athletic shoes. Socks are also important because they impact the way your feet come in contact with the inner layers of your volleyball shoes. Poor quality socks will result in too much friction and could potentially cause blisters. Make sure to stick to high quality volleyball socks to prevent painful friction during crucial games. You can also opt for basketball socks if you like their aesthetics. I have written a review of the best socks for basketball shoes that you can refer to.
Shoe inserts are another option if you prefer to have additional cushioning. You can read my article where I have comprehensively analyzed the best insoles that will give you superior comfort. If you decide to wear an insole, make sure you size up to accommodate the extra space that will be taken up by the insole. I would recommend sizing up half a size for the insoles that I've mentioned in my article.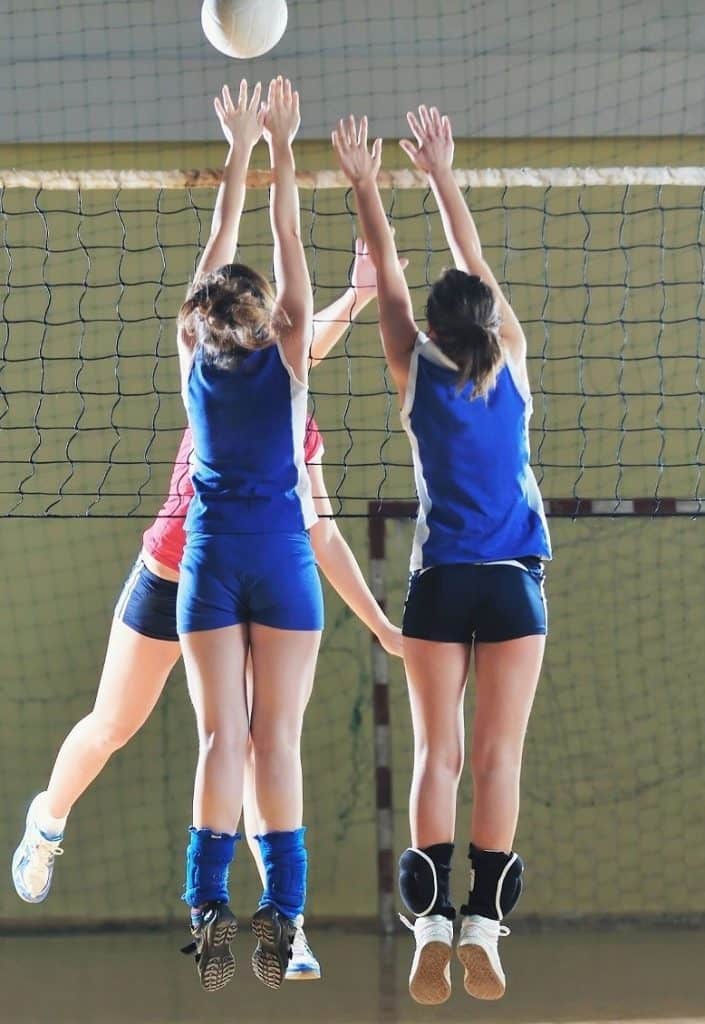 Tough and Durable
Volleyball shoes should be durable in order to withstand the demands of all the pressure that is applied to your shoes during a volleyball game. With the advancement in technology, several synthetic materials have been developed to make athletic shoes extremely durable. Many of these new technologies are applied to basketball shoes and volleyball players can certainly benefit from this by choosing to wear basketball shoes.
Mesh uppers that have a good knit pattern are not only durable but are also breathable. These are the types of materials that I will be looking for when narrowing down the choices for the best basketball shoes for volleyball. Midsoles that conform to your feet and bounce back to their original form are usually the ones that last longer.
Thick and pliable outsoles affect durability. Most basketball shoes are designed for indoor play but are also suitable for outdoor volleyball courts if the tread patterns are of good quality that does not wear out easily. This will be my main consideration in this aspect when it comes to shoe selection. In order to preserve the durability of your shoes, make sure that you separate your indoor shoes from the one that you use outdoors. Always clean your shoes by wiping the outsole and drying the upper before storing them. I would also recommend that you keep your shoes odor-free by putting some deodorizing sneaker balls in them when not in use. Putting them back in their original box can help retain the shoes' form and shape which can increase the longevity of your shoes.
5 Best Basketball Shoes for Volleyball
Now that I have explained the different aspects of the shoes, let's go and decide which basketball shoes for volleyball to buy.
This pair of Adidas James Harden signature shoes have a synthetic toe cap and are made of good quality textile on the upper. It comes with an ergonomic lacing system that gives you a secure and snug fit that is not too tight and remains comfortable for an extended period of time. The overall construction makes this pair of shoes lightweight and provides a distraction-free feel to the wearer. Your every serve, dig, spike or block will be supported by the grippy outsole and soft cushioning.
The design is low top and the forefoot is wider. The midsole is properly cushioned and has great flexibility for different moves. Traction is excellent with the traditional herringbone pattern on the front of the sole. The heel part of the outsole has a different pattern that is unique and gives a strong grippy effect. The outsole is made of thick rubber which is suitable for either indoor or outdoor volleyball courts. To increase the lifespan of your shoes, make sure you keep your indoor volleyball shoes separate from the pair that you use on outdoor courts. Before storing your shoes, wipe and brush the outsole of your shoes to keep them clean and free from dirt.
Pros
Breathable upper
Lightweight and comfortable
Ergonomic lacing system for a secure fit
Comfortable cushioning
Cons
One of the features of this Kobe Bryant signature shoes is the embossed material used on the upper that provides improved control of your feet. This gives you solid balance and stability. It may not appear as flashy as the other Nike shoes but it is designed for action on both basketball and volleyball courts. The shoe lace eyelets are made of good quality TPU (thermoplastic polyurethane) using snake eyes as the motif.
Traction is derived from the outsole pattern that is distinctively inspired by the Mamba design. This gives you great grip on the floor surface when executing forward and lateral movements. The Zoom Air units are incorporated in these shoes to provide support especially on forceful strikes and blocks where safe landings require your shoes to work on absorbing the shock. The midsole responds quite well and the bounce is noticeable on every jump.
The outsole has a wider outrigger that improves both stability and traction. I would recommend using this pair for indoor volleyball courts to maximize its performance and longevity. In terms of aesthetics, it looks quite cool with Kobe Bryant's signature "The Sheath" logo prominently displayed on the tongue.
Pros
Good traction for volleyball
Wider outsole outrigger for improved stability and balance
Soft and responsive midsole
Cons
Tread pattern is not suitable for outdoor court
The Nike Zoom Freak 1 is made of textile upper that is lightweight and breathable. The shoe construction has a solid finish that reinforces balance and stability which will benefit volleyball players. This pair of Nike shoes comes with a padded collar for a locked-in fit yet comfortable during high impact activities. You will appreciate the secure fit it provides especially during intense moments of the game.
Giannis Antetokounmpo's signature shoes have a midsole that is quite soft and responsive. It is made of resilient foam with high impact absorption capability which is extremely useful for hard landings. You will also notice the dual Zoom Air units added under the heels. These provide enhanced support and cushioning to reduce the stress around the sensitive ankle and foot areas.
The outsoles of these shoes have multi directional traction from the very intricate tread patterns. Grip is noticeably good especially on indoor courts. The stability is excellent from the good quality outsole. A rubber clip is added for lateral support. This extends from the outsole all the way up to the sides of the shoes. In terms of design, the outsoles have subtle inscriptions that pay homage to Antetokounmpo's roots.
Pros
Padding for ankle support
Enhanced lateral stability support from rubber clip
Intricate traction tread pattern
Extra cushioning from the dual Zoom Air units
Cons
Outsole tread pattern gathers dirt easily
These Nike Kevin Durant basketball shoes are made of beautifully engineered mesh upper. The material is flexible, soft, and breathable. This is suitable for volleyball use as the cut and design of the shoes allow flexibility and support.
For this pair of KD shoes, Nike rolled out its revolutionary Renew foam and used it on the insole. The foam is extremely responsive and provides the maximum level of shock absorption which is beneficial to volleyball players. You will notice that the shoes are comfortable on the first wear which feels like it is already broken in. The rubber outsole is thick, strong, and durable enough for both indoor and outdoor volleyball court surfaces. The outsole also comes with a translucent layer that projects a cool aesthetic that fits quite well on volleyball players. The lacing system is secure and adjusts tightly to provide a secure locked-in fit. Traction is excellent with the gum-like rubber outsole that gives a very grippy feel.
I love that cleaning and maintenance of this pair is a breeze. Due to the breathability of its upper, odor is always under control. The outsole can easily be cleaned by wiping the dirt off with a cloth.
Pros
Superior traction from the grippy outsole
Nike's revolutionary Renew foam for shock absorption
Affordable
Cons
The upper can quickly lose shape if not properly stored
Kyrie Irving's signature basketball shoes have an upper that is constructed using ballistic mesh and engineered leather materials that are fused to achieve a durable upper. It comes with a mesh vamp that wicks moisture and allows airflow for breathability. The Kyrie 6 comes with added padding around the collar. The heel counter is solid and securely wraps your feet. This keeps your ankles and heels aligned to your feet during spikes, digs, and blocks. Another plus from this pair of Kyrie shoes is the adjustable midfoot strap that is thick and runs across your forefoot. This feature further enhances the support around the ankle and forefoot.
One of the most common shoe concerns is abrasion from friction during volleyball games. For this pair of shoes, the toe box is reinforced and it reduces the friction from constant movement. Another welcome feature is the Nike Air Zoom Turbo unit that is added under the ball of the feet. This effectively gives you multi-angle cushioning and support.
Traction is excellent due to the blade tread pattern in the outsole that is multi-angled. You will feel the flexibility and traction from both forward and lateral movements. The outsole also extends to the sides giving you added traction on the edges.
Pros
Multi-angle traction
Cushioning from Zoom Air Turbo units
Moisture-wicking mesh vamp
Cons
Tricky sizing. Going half a size up may help
The Awesome Choice
With all the different shoes that I have reviewed and gone over, my top choice for the best basketball shoes for volleyball is the Adidas Harden Stepback.
The shoes are lightweight and extremely comfortable. The breathability of the upper allows airflow and at the same time prevents odor. The wider forefoot provides maximum stability while the cushioned midsole absorbs a high level of impact. The herringbone tread patterned outsole has excellent traction and the ergonomic lacing system fastens your feet securely. Considering all these great features against the price tag, I would highly recommend this pair as the best basketball shoes that can be used for volleyball.