Not enough time to read? If you quickly want to know what my choice is for the best basketball return system, then I'd recommend the Rukket Basketball Air Defense Return Net Guard and Backstop as the best one.
I love shooting baskets. What I don't like is chasing after my missed shots. It takes time and energy that I could have otherwise used for shooting practice. I got excited when I found out about basketball return systems and rebounding machines. If you are working on your shooting, then getting yourself one of these will help you make the most out of your practice sessions.
In this article, I'll be sharing with you the best following basketball return systems and rebounding machines.
Benefits Of A Basketball Return System
Shooting is one of the most fundamental and important skills for a basketball player. You won't score if you don't make the shot.
What people overlook is that basketball players who are good at shooting, whether it's from the perimeter or inside the paint, create opportunities for the team. When the competition knows that you are a good shooter, they will try to close out on you with a double team. This leaves other players open for an easy pass and shot.
There are many ways to improve a player's shooting ability. The best tip and most popular way is to practice by making hundreds of shots a day. The player should shoot from all angles: layups, free throws, and three-point shots.
A basketball return system is a device that returns the ball to the same spot it came from. This saves time and effort in chasing after loose balls. The time and effort can be diverted to practicing shots instead. Basketball players and coaches tend to agree that a return system can greatly improve the game. It helps develop muscle memory since you can make more shots in quick succession.
There are added benefits depending on the type of return system that you choose. I will talk about the types of return systems in more detail in the next section.
Types Of Basketball Return Systems
I came across three categories of basketball return systems. They serve different purposes. It is important that you know what you need so you can pick the one that is best for you.
Rim Attachments
Rim attachments are the simplest types of basketball return systems. You hook them on to your basketball rim. As each shot goes in, the ball will slide off the attachment at an angle that will bounce back to you easily.
Rim attachments are very easy to set up and are relatively inexpensive. The downside is that they only return shots that go in. You still have to chase after missed shots.
Nets Or Yard Guards
Nets and yard guards keep the ball within the court. This is a good safety feature especially for those with young children. It will prevent the ball from going into the street. You also avoid the risk of ruining your garden or your neighbor's.
These basketball rebounding systems return both successful and missed shots. They take a bit more effort to set up and cost more.
Shooting Trainers
Shooting trainers are basketball rebounding machines that not only help with returning shots that you made and missed. They help to improve your shooting form by forcing you to shoot at the correct angle or arc.
These are more sophisticated return systems that require a bit of time for assembly. They are also the most expensive of all the three types.
What To Consider When Buying A Basketball Return System
Determine The Type That You Need
Here are the questions that you need to ask to help you make the choice:
1) Do you focus mostly on free throw shooting?
If you are working on your free throws, then the simplest rim attachments would be good enough. These are angled in a way that the ball will slide down the rim and bounce back to the free throw line.
If you are trying to improve your shooting from the corner of the court then look at rim attachments that can rotate. These can be adjusted to return the ball from any side of the court.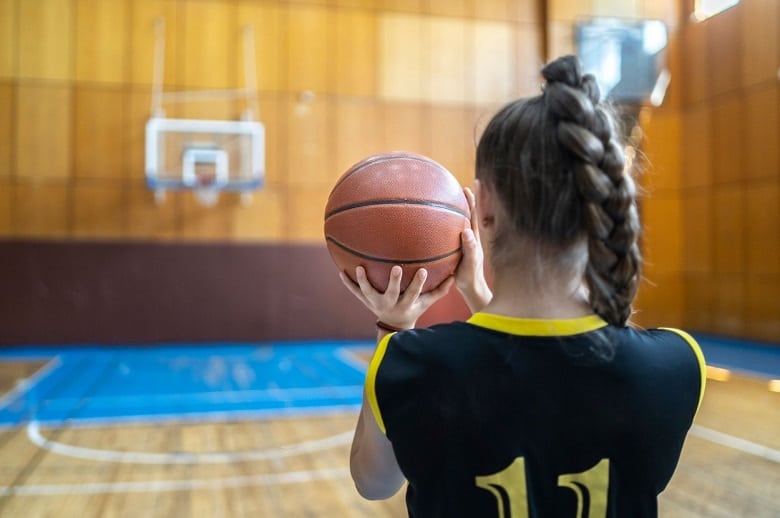 2) Do most of your shots go in?
If most of your shots are successful then a rim attachment will work for you. However, if you or the person using the return system miss most shots then you'll have an easier time with a net or shooting trainer.
3) Do you need help with your shooting form?
A shooting trainer will work best for you.
4) Is your basketball hoop located in an open area?
If yes then a net or yard guard will work best. It will keep the ball away from your neighbor's yard or the street.
If you have a fence around the area of your basketball hoop then you can consider a rim attachment (if most of your shots go in) or a shooting trainer.
Installation And Portability
The basic rim attachments barely take five minutes to install while a net or shooting trainer may take up to a couple of hours to put together. If you plan to leave your return system in the same hoop then this will not matter much since you only need to put the effort in once.
However, if you would like to bring it around and use it on different hoops then you need to look for one that is portable and can assemble easily. Your time will be limited so get one that won't take much time and effort. You don't want to use up your practice time just setting up the rebounding system!
Cost
You need to determine how much you are willing to spend for your basketball return system. Of course, it will not purely be about cost since there is no point in buying a cheap item that you won't be able to use. A more expensive product that you use will end up being better value for money.
5 Best Basketball Return Systems
Now that you have all the information you need about basketball rebounding machines, let's take a look at the best options that you can buy.
This net type basketball return system from Goalrilla is 12 feet wide by 9 feet tall. As with all net basketball return systems, it is great not only for rebounding but also keeps the basketball in the court. This feature is really useful if you do not have a fence around your basketball hoop.You will save a lot of time chasing down balls when you miss or make a shot.
The net installs on Goalrilla basketball hoops with a square pole having the following dimensions: 5″x 5″, 5. 5″x5. 5″, 6″x6″ or 6″x8″. It folds neatly into the pole when not in use. This saves space and protects the net from being exposed to elements.The net is made of nylon while the frame is made of powder coated steel. Setting up the net is relatively easy. It may take around 30 minutes to a maximum of two hours to complete.
Although the manufacturer markets this as suitable for Goalrilla goals, it is possible to use for non-Goalrilla branded hoops with the same pole dimensions. I would recommend taking extra care during installation so you can return it in case it doesn't fit your pole.
Similar options are available from Silverback and Goaliath which are suitable for smaller 4" x 4" poles. These are slightly smaller at 10 feet wide by 8 feet tall. They are also slightly less expensive.
Pros
Huge size – effective at catching loose balls
Saves you time and effort in running after balls. Put more time in perfecting your shot.
Foldable when not in use – saves space and prolongs the life of the net
Sturdy build
Relatively easy to assemble
Cons
Not portable
One of the more expensive options in this list
The SKLZ Kick-Out Basketball Return Attachment conveniently hooks into your basketball rim. It installs in minutes. This is a great option if you are looking for a return system for the shots that you sink into the basket. Unlike a net or yard guard, it will do nothing for missed shots so you still have to run after stray balls. This is best to use if you have a fence around the perimeter of your basketball hoop and you are looking for a less expensive option.
This basketball rebounding system has a 360-degree rotating chute. You can adjust the angle where the chute faces with a quick twist of the handle. What this means is that you can shoot from anywhere in the court. The ball will get returned to you as long as you adjust it.
This product is not without its faults. The system tends to rotate by itself. If you find this too troublesome then you can use electrical tape to hold it in place. The hook that attaches the return system to your rim may come off quickly. You can secure the hook with a zip tie if you find it coming off too frequently.
Pros
Installs in minutes
Reduces time and effort in running after made shots
Flexibility to adjust the chute makes it possible to shoot from any angle in the court
Relatively inexpensive
Cons
Has a tendency to rotate by itself
It can be noisy when the ball hits the attachment
Hooks are not very stable
Simple but it works! The Spalding Back Atcha Ball Return training aid sets up in seconds. You simply attach it to your basketball rim and immediately start shooting.
This basic rebounding machine returns shots within a 90 degree arc from the hoop. This means that you not only get the ball back when shooting straight at the hoop from the free throw line. You also get the ball back when shooting at a 45 degree angle from the left or right side of the hoop.
The ball return will not work if you shoot from the extreme left or right side of the hoop. It will also not return missed shots. You will still need to run after the ball in these situations.
This attachment fits the following Spalding made rims: Standard, Pro Slam, Arena Slam, and Slam Jam. It can also work for non-Spalding branded rims such as those from Lifetime. In case you find that it doesn't work for your rim, you can consider the Ballback Pro Basketball Ball Return System.
Pros
Installs in seconds
Reduces time and effort in running after made shots
Returns the ball within a 90 degree arc from the hoop
Inexpensive
Cons
Does not return missed shots and shots taken from the extreme left or right side of the hoop
May not fit all hoops
The Rukket Basketball Air Defense Return Net comes in two sizes. A smaller one at 6 x 10 inches and the XL which has a huge dimension of 12 x 13 inches. Both types come with the net, stakes to support and hold it up and a carry bag for easy transport.
The smaller 6 x 10 net has a dual function. Aside from being a ball return system, you can use it as a shot blocker or defender by adjusting the angle to an upright position. This is really helpful when practicing your jump shots. The XL on the other hand gives you the maximum coverage from loose balls. You can focus your time and effort in perfecting your shots.
This basketball return system installs in minutes with no tools needed. It is extremely portable. You can bring it with you when shooting baskets in a friend's house. It will work with any basketball hoop regardless of dimension since it doesn't need to attach to the hoop.
Pros
Easy to install and take down. No tools needed.
Reduces time and effort in running after both missed and made shots
Works with any basketball hoop
Huge size net protects from loose balls
6 x 10 version can double as a shot blocker for practicing jump shots
Comes with a lifetime warranty
Cons
More expensive than rim attachments
The IC3 basketball shot trainer is not only great at returning missed and made shots. The conical shaped net that goes over your basketball hoop forces you to put an arc on your shots. This improves your shooting form.
This basketball rebounding machine is extremely efficient in returning balls which increases the number of shots that you can make. You can get up to 800 shots per hour if you practice with two basketballs. The return chute can be rotated up to 180 degrees so you can get the ball returned from any angle around the court.
The system requires initial assembly which is relatively easy with basic tools like a ratchet wrench. I recommend watching the youtube video if you are having challenges with the details in the instruction manual. After initial assembly, it is easy to take the rebounder out and mount it into a different hoop. The entire thing folds down to a size of 22 x 22 x 59 inches. This makes it easy to store when not in use or keep in your car trunk to transport.
All this functionality comes at a price. This shot trainer / basketball return system is the most expensive in this round up. I would say that it is worth the investment if you would like to play at a competitive level.
Pros
Relatively easy to install with basic tools
Portable and can be folded for easy transport and storage
Very efficient ball return increases shooting frequency per hour
Reduces time and effort in running after both missed and made shots
Works with any basketball hoop
Cons
Most expensive option in this review
If the Dr. Dish IC3 is not available, you can consider the Brother Brother shot trainer which looks similar. Do note that this is a relatively new product.
The Awesome Choice
My choice for the best basketball return system or rebounding machine is the Rukket Basketball Air Defense Return Net Guard and Backstop. It gives you the best value in terms of functionality and cost. You get both missed and made shots returned to you which means more time spent shooting hoops. It acts as a safety net and prevents the ball from going into the street or your neighbor's lawn.
The ease of assembly, portability and the fact that it works with any basketball hoop gives you the maximum usage. I love the fact that the smaller net also doubles as a shot blocker for those practicing their jumpers. Overall, this is a really good product for the price.