If you want to know what my choice is for the best basketball movie, then I would recommend the movie Coach Carter as the best one.
My favorite thing to do during the NBA off-season is to watch basketball movies. It is very fascinating to see the various creative ways that film makers weave stories around the game. Whether it's a fantasy type movie involving unlikely basketball heroes or a story of the challenges of chasing one's dream, there is a movie out there for anyone who wants to see another side of the game that we all love.
I will share with you my top picks for the best basketball movies in this review:
How I Picked My Top Basketball Movies
I love exploring and watching different movie genres. You will notice that my selection spans across different movie types such as action, adventure, comedy, fantasy, and romance.
I am not a movie critic by any means, just a basketball enthusiast. The movies that I have chosen are based on my preferences. I do not use an elaborate rating system and do not use any movie-industry criteria. It is all fun and amusement.
I choose movies based on their entertainment value. A film that draws me in and keeps me intrigued is entertaining. I like a unique storyline which presents something new. A narrative that reveals something that I may not have been aware of will captivate my attention. The exploration of a common human theme or desire in a fresh light will likewise be interesting.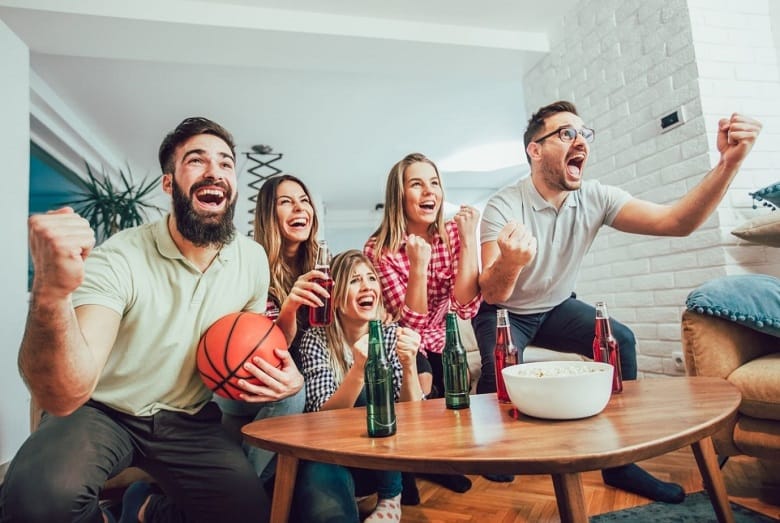 On the other hand, I also wouldn't mind a movie that is light-hearted. Something that doesn't require a lot of analysis to understand the plot. I also appreciate movies which are heartwarming and family-oriented. Likewise comedy films that can bring in the laughs.
Now that I have shared with you my very simple criteria for my movie selection, let's get into the list of the best basketball movies that I would recommend. I hope you like them too!
10 Best Basketball Movies Of All Time
I have mentioned my top basketball movie choice at the beginning and end of the article. All other movies are listed in no particular order.
A good movie to watch for those looking for a romantic spin on basketball. A unique story combining romantic and athletic elements. The film was released in 2000 and was generally well-received. It is still popular until today.
The love story is told in four quarters like a game of basketball. Two young children (Monica and Quincy) became neighbors in 1981. They found out that they have a shared love for basketball. The movie follows the couple's romantic relationship and basketball career progression. Quarter one shows the first meeting where Monica beats Quincy (Q) in a game of basketball. Quarter two shows the couple during high school. Quarter three covers their time in university. Finally, quarter four takes us through their professional careers. Monica and Q have an on-off relationship at each phase of their lives complicated by family matters, school pressures, and life decisions.
I liked the fresh take on the female character who had a strong and determined personality. While Quincy was certainly an important character, it was Monica's consistent display of grit and basketball talent throughout the film that made it interesting for me. She fought for her goals in spite of the many challenges along the way.
Samuel Jackson plays the main character Coach Carter. The film tells the true story of Ken Carter, the former head basketball coach of Richmond High School in Richmond, California. He played for the same basketball team thirty years before and set all-time records for scoring, assists and steals. After completing high school, he went on to pursue further education, graduated from college, and established successful businesses. He was asked to take over as a volunteer basketball coach to steer the Richmond Oilers basketball team to victory.
Instead of just winning in basketball, Coach Carter had bigger plans for the team. He got all the players to sign contracts. The contracts had conditions that required them to do well in school to stay in the team. This was viewed as unusual at the time and was faced with disagreements from players as well as parents. The movie goes on to show the various struggles faced by the players in their personal lives. It also shows their efforts to balance their time and energy between academics and basketball.
The pivotal moment in the movie came as the team was starting to gain success. After being undefeated in thirteen games, Coach Carter found out that several players had not been keeping the conditions of the contract. He locked the entire team out of the gym and forfeited two games. The team did manage to win the next games after the lockdown and go on to the state tournament. I won't say anymore to not spoil the ending but definitely look out for the real victory at the end.
This is one of the best inspirational basketball movies for me. It shows you what is really important in life and what you should do to achieve real victory. Certainly something that I would recommend to anyone looking for motivation.
Hoosiers is a movie of second chances and overcoming the odds. It is loosely based on the real story of the Milan High School Indians basketball team. They are the team who won the Indiana state championship in 1954. I found this to be a riveting film that will appeal to the entire family.
Gene Hackman stars as Norman Dale who arrives in the small town of Hickory, Indiana to work as the coach for the Hickory High Huskers basketball team. Dale replaces a well-liked basketball coach who had died. The death had upset the team's star player, Jimmy Chitwood, leading him to quit the team.
With no star player and with barely enough people to form a basketball team, Dale not only had to work on getting the small team motivated and trained up but also had to gain the trust of the townspeople who were pretty much involved in decisions concerning high school athletics. Dale made unpopular decisions that would almost jeopardize his stint as coach. He enforced a rule of four passes before shooting and enlisted the help of the town drunk, Shooter, as assistant coach.
The return of Jimmy Chitwood to the basketball team saved Dale from getting fired as coach. This was the turning point for the team as they started to work together and win basketball games. Shooter becomes a hero in one of the games where he stepped up as coach when Dale was ejected. He devised a play that resulted in a last-second shot win.
The Husker's victory at the Butler Fieldhouse was the ultimate test of courage, confidence and focus. The team was up against the popular and favored South Bend Central Bears. They were not used to playing with a huge crowd. To shake off his team's fears, coach Dale gave his most memorable pep talk to his players.
"You'll find this is the exact same measurements as our gym in Hickory. Forget about the crowds, the size of the school and remember what got you here."
Directed and produced by Spike Lee, He Got Game is a movie of a father and son reconciliation with basketball being a focal point in the plot. The film is top-billed by Denzel Washington and former Milwaukee Bucks player Ray Allen. They play Jake (father) and Jesus (son) Shuttlesworth respectively.
Jake is serving a fifteen year prison sentence for the accidental killing of his wife. His son Jesus is the star player of the Abraham Lincoln High School basketball team, the Railsplitters. He has a promising future as an athlete with coaches and agents all attempting to sign him up. Jake was let out of prison for a week by the governor to convince Jesus to sign with Big State, the governor's alma mater. He was promised a shorter sentence if he is able to do so. This proves to be a difficult task as Jesus made no secret of the fact that has never forgiven his father for the death of his mother. In their first meeting after Jake's release, Jesus referred to his father as a stranger.
Jake will go on and try to convince his son to sign with Big State. He eventually tells Jesus what is at stake for him. Everyone else around Jesus had their own agenda. His basketball coach, an NBA agent, college agents, his girlfriend and even his uncle all try to get him to make a decision that will benefit them. Jesus finds himself being lured with money, cars, women and other flashy luxuries.
The climax of the film was the one-on-one basketball showdown between father and son. If Jake wins, then Jesus will sign with Big State. If Jesus wins, then Jake will leave Jesus alone. While it was Jake who seemed to be winning at the start, he eventually gets tired and Jesus ends up winning. Jake kept his end of the deal and left. Before going, he gave a farewell message to Jesus to get the hatred out of his heart. Otherwise, he'll end up just like him.
Unfortunately, I wasn't a big fan of the ending of this movie. The father and son relationship got mended which was good. However, the happy ending that I hoped for did not happen.
What made this interesting apart from the dramatic storyline was the cameos from various basketball stars. NBA players like Michael Jordan, Shaquille O'Neal, Scottie Pippen, Reggie Miller, Bill Walton, and Charles Barkley plus basketball coaches like Jim Boeheim, Rick Pitino, and George Karl make an appearance in this movie.
Michael Jordan and Bugs Bunny in a movie? Back in the 90s, getting the most popular basketball player and cartoon character together in a film was no easy feat. It took the talent and effort of several hundred crew members plus modern digital technology to produce this well-loved animation. The effort did not go to waste. Space Jam became a box-office success and is the highest-grossing basketball film of all time.
The main conflict in the movie begins with the scheming villain Mr. Swackhammer and his crew of Nerdlucks. Swackhammer wanted to boost the profit of his outer space amusement park, Moron Mountain. He planned to capture the Looney Tunes and use them as attractions. He sent the Nerdlucks on a mission to catch them.
When Bugs Bunny and the Looney Tunes saw how small the Nerdlucks were, they challenged them to a game of basketball to determine their fate. The Nerdlucks did their research. They found out that they can steal the talents of the top basketball players of the world to win the game. They put this plan into action and turned into a group of huge, muscular and skilled basketball playing monsters (Monstars).
Bugs Bunny then turns to Michael Jordan (MJ) for help. He catches MJ during his golf game with Bill Murray and Larry Bird. He asked MJ for help to win the basketball game against the Monstars. MJ reluctantly agrees to help and starts working with Bugs Bunny to recruit and train the "Tune Squad".
The basketball game between the Tune Squad and Monstars was the highlight of the movie. The film makers mixed in elements of classic Looney Tunes gags which made for unconventional but entertaining scenes. Disclaimer: I am a Looney Tunes fan. The Tune Squad won in the end. It was a good ending for the Nerdlucks as well. They got the courage to fight back and send Swackhammer back to his amusement park after a pep talk from MJ. They then returned the stolen talents back to the basketball players and sent MJ off back to earth.
There were also a lot of cameos in this film from real professional basketball players. Charles Barkley, Shawn Bradley, Patrick Ewing, Larry Johnson, and Muggsy Bogues were there. They were the ones whom the Nerdlucks stole talents from. While the storyline of this movie was far-fetched and unrealistic, I found it really amusing and worth the time.
Lil Bow Wow plays the role of Calvin Cambridge in this basketball movie. Calvin is a young orphan from Chesterfield Group Orphanage run by Stan Bittleman. He loves to play basketball and longs for a family. He is always bullied by an older boy, Ox.
An old pair of basketball shoes with MJ written on them changed Calvin's life. He retrieves them from a telephone line in the middle of a thunderstorm and gets hit by lightning. Calvin survives and finds out that wearing the shoes can make him play basketball "like Mike".
Calvin became famous after beating Los Angeles Knights basketball player Tracey Reynolds during half-time while wearing the shoes. The team owner signs him up immediately on a one game contract. When Calvin starts to win the game for the Knights, the one game turns into a season contract. Calvin leads the team to victory after victory with the shoes on. He gets close to Tracey Reynolds who becomes like a father figure to him.
Calvin's fame gets the attention of Bittleman who tries different ways to make money off him. He steals Calvin's shoes and bets against the Knights. Calvin's friends in the orphanage help him get the shoes back so he can play in a crucial game against the Toronto Raptors. While Calvin was able to cut the Raptors lead down, the shoes were ruined during a commotion towards the end of the game. Will the Knights be able to win without Calvin's magic shoes?
I won't reveal the ending but I can assure you that it was a satisfying one. Overall, this is a wonderful feel-good movie that everyone in the family will enjoy.
Jackie Moon (played by Will Ferrell in this basketball movie) is a one-hit wonder singer. He used his fortune to buy a team in the American Basketball Association (ABA), the Flint Tropics. Jackie made himself the head coach, starting power forward and pre-game announcer. With the ABA not making enough money to keep the league alive, the commissioner announced a plan to merge with the more successful National Basketball Association (NBA). Unfortunately for Jackie, only the top four teams in the ABA will get into the NBA. The Tropics are the last seeded team and needed to get their act together in order for a chance to survive.
Semi-Pro follows Jackie and his hilarious antics to get his team in the NBA. Apart from getting the team into the top four spot, he also needed to get at least 2000 fans to watch at every home game. He traded the team's washing machine for Ed Monix, a one-time basketball championship point guard who is nearing his retirement. Monix becomes the head coach and gets the team to train more seriously. In an attempt to boost ticket sales, Jackie got himself into various stunts such as a wrestling match with a bear. He also attempted a dangerous act of skating down a ramp to jump over the team's cheerleaders.
Although the Tropics managed to win most games, they did not end up going into the NBA due to doubts about the team's popularity. The movie ending was not too bad though. I won't divulge all the details but everyone got something worthy in return for their efforts.
The movie is hilarious and uses a lot of slapstick humour. There is a lot of coarse language and some sexual content, hence earning an R rating. In spite of this, I found the movie entertaining as a historical parody of the ABA.
Another movie that is perfect for a relaxing movie night. While the plot does seem unlikely, I rate this film highly when it comes to the fun factor. With it's rating of PG-13, this is a good alternative to Semi-Pro for younger audiences.
Eddie (played by Whoopi Goldberg) is a die-hard New York Knicks fan and a limousine driver. She watches every Knicks game from the nosebleed section of the Madison Square Garden. During one of these games, she was given the chance to be the assistant to the head coach for the second half after sinking a free throw during half-time.
Eddie captures the interest of team owner "Wild Bill" Burgess who loves putting up a good show for fans. Her half game stint as assistant coach turned into an actual coaching job after the head coach quit. While this may have been her dream job, she realizes that the team has a lot of troubled players. Eddie learns to deal with these challenges and leads the team into enough wins to get them in contention for a spot in the playoffs.
A twist in the plot comes when Wild Bill tells Eddie of his plan to sell the team. This was right before the all important game against the Charlotte Hornets. Winning this game will give the Knicks the coveted last spot in the playoffs. To save the Knicks from being sold off, Eddie decided to expose Wild Bill's plan. This was met with vehement opposition from fans who pressured Wild Bill to stop his plans. The movie ends with the Knicks winning and taking the last playoff spot.
This movie takes you to the streets of Los Angeles where streetball games are not just friendly competition. Wesley Snipes is Sidney Deane, a basketball hustler who plays in the streets to make ends meet. He is unable to support his wife, Rhonda, and their children with the money from his day job. Woody Harrelson plays Billy Hoyle, a skilled basketball player who happens to be white. He uses the stereotype that white men are not good at basketball to his advantage. He gets people to bet against him and takes their money when he wins. Billy is a compulsive gambler who lives with his girlfriend Gloria. Gloria wants Billy to find a real job and stop getting into trouble.
The two men first start out as competitors but eventually team up to win games and make money. The film follows their journey as they win and lose games (and money). They help each other find ways to get out of debt and trouble but they also fight and go against each other. The biggest loss for Billy came after he and Sidney won a high stake match against two streetball legends "The King" and "The Duck". Will this loss finally force Billy to change his ways?
The focus on streetball plus the mix of comedy and drama make this movie different from the others. I recommend this to those who are looking for variety. The basketball scenes on the blacktop are great to watch – the jokes, trash talking and authentic plays. There are a few NBA players in the movie like Marques Johnson and Duane Martin. It is rated R due to the use of coarse language and some sexual content.
This Disney basketball movie is a heartwarming tale about a dog playing basketball. It is a story of friendship between a golden retriever (Old Blue / Buddy) and a young boy Josh.
Josh's family (mother and sister) just moved to a new neighborhood following his father's death. He was having a tough time dealing with the sadness of his dad's passing and the challenges of fitting into a new school. Josh loves to play basketball but does not have the confidence to try out for the school team, the Timberwolves. He meets a golden retriever while practicing basketball at a court hidden behind an old church. The golden retriever is Old Blue. He escaped from his old master, a clown, who trained him to catch and shoot balls as part of their show. Josh forms a bond with Old Blue over basketball, brings him home and names him Buddy.
Things start to look up for Josh when he meets school engineer and former pro-basketball player Arthur Chaney. Arthur encourages Josh to try out for the Timberwolves. He eventually makes it. Buddy got in on the action during one of Josh's games. He ran into the court and made a shot which the audience loved. Buddy became the team's mascot.
Things get complicated when Buddy's former owner sees him on television and tries to get him back. Will Buddy be separated from Josh? You will certainly love how this film ends. It is a good movie about friendship, loyalty, teamwork and how we can all overcome difficult times.
The Awesome Choice
The list I have compiled gives plenty of choices for your next movie night. The variety ensures that there will be something for everyone. If you have time for only one today then I would recommend the movie Coach Carter.
This is a film that I absolutely enjoyed watching due to the intriguing storyline and inspiring message. The real-life Coach Carter was present as the movie was filmed to ensure it depicted the events of 1999 as close to reality as possible. It is a wonderful feel good movie that will leave you feeling better after watching. Enjoy!