If you quickly want to know what the best basketball knee pads or sleeves are, then I'd recommend the McDavid 6440 Hex Knee Pads as the best one.
Suffering a knee injury is one of the most fatal circumstances that may disrupt a basketball player's career. While accidents can occur anytime especially in a fast paced game like basketball, there are several ways that you can protect your knee and prevent injury.
In this article, I will scrutinize knee pads and knee sleeves, understand exactly how they can help you, and will go through the top knee sleeves and knee pads for basketball that you can buy online.
These are the eight best knee sleeves and pads for basketball that I will be reviewing:
Difference Between Knee Pads, Knee Sleeves, and Knee Braces
Knee pads, knee sleeves, and knee braces offer different types of support and protection for your knee. You may see these terminologies used interchangeably and in some cases, a single product can serve multiple functions. Let's get into more details so you can make an informed decision on what is most suitable to your needs.
Knee Pads
The main purpose of a knee pad is to provide cushioning. Think of it as a layer of foam or gel material on top of your knee cap to protect from bruising and absorb some of the impact during collisions. Knee pads in general tend to cover just the knee cap with a few inches of elastic material above and below it to secure the pad to your knee. The elastic material in certain knee pads may also provide compression which improves blood flow.
Knee Sleeves
You will see two types of products when you shop for knee sleeves. The first type is essentially a "longer" knee pad. These have a longer elastic fabric wrapping around your leg. The material usually extends down to a few inches above your ankle. The additional fabric will help protect against cuts and scratches. Some knee sleeves may even have additional cushioning in the shin area. This review will focus on this type which is primarily for protection.
The other type of knee sleeve is classified as compression wear. These improve blood circulation to your knees and surrounding areas. The compression helps with fatigue and relieves minor pain. These are longer and cover a good part of your lower thigh and your calves.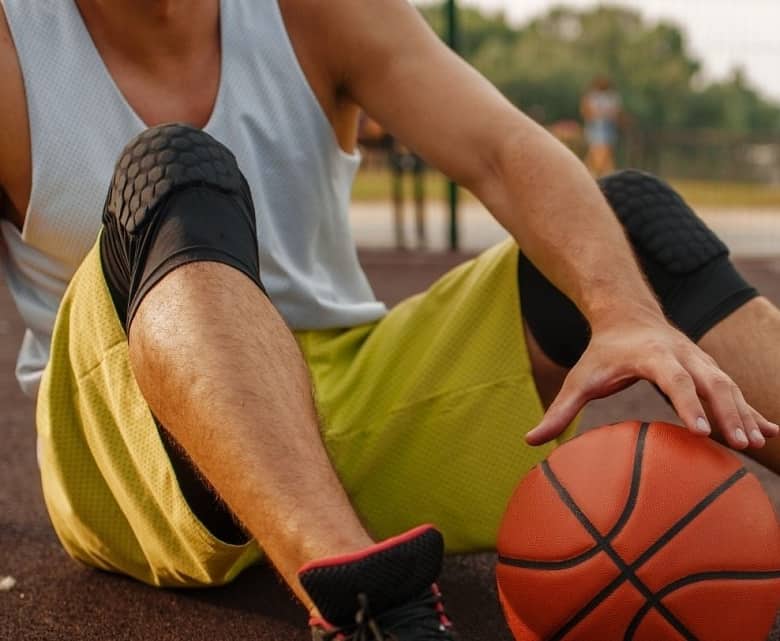 Knee Braces
Knee braces provide the maximum level of support and protection for your knee. Athletes recovering from knee injury will wear one of these to slowly and to safely ease their knees back into physical activity. This is usually achieved by additional straps or metal hinges to guide knee movement and reduce lateral motion. These will not be as soft or flexible and can limit some of your mobility depending on the type and design.
Does Wearing a Knee Pad Really Help?
A study published in 2019 by Michael Schwarze from the Department of Orthopaedics in Hannover Medical School, Germany confirmed that the use of knee protection, specifically a knee pad, helps reduce the overall force on the knee during collision. The study aimed to provide material for further study into the development of more advanced knee protection.
Do note that prevention of injuries to the knee ligaments cannot be done through protective gear alone. Knee ligaments can tear even without collision. Proper training and practice on how to correctly land on your knees when you jump will play a larger role in prevention.
This video looks into Derrick Rose's knee injuries and briefly explains how the right landing position from a jump reduces stress on the ACL (Anterior Cruciate Ligament).
How to Choose a Knee Pad or Sleeve for Basketball
Shock Absorption and Flexibility
Look for shock absorbing materials like EVA (ethyl vinyl acetate), Sorbothane, sponge or foam for the pad. Ample padding will reduce the force from an opponent bumping your knee or the impact from accidentally tripping on the floor and landing on your knee.
Thicker is not always better here. A very thick pad may interfere with your movements. Thicker knee pads are more suitable for volleyball and YBall players who do not run around as much and have a higher chance of landing on their knees when trying to save a low ball. You should get a knee pad that still allows you movement and flexibility.
Comfort
The material that attaches the knee pad to your knee must be sturdy but at the same time should not be restrictive. Most knee pads will usually slip on to your knee and are kept in place with elastic fabric.
There are three key things to look out for here. The first is the ability of the material to keep the knee pad in place without being too tight. A knee pad that slips off your knee during the game will not only be distracting but also cancels out any protective benefit. A knee sleeve will generally stay up better than a shorter knee pad as the additional material will hug your leg better and keep it in place. Some may find the additional leg coverage a bit troublesome. This will be down to individual preference.
Second is the fabric texture. There will be a lot of friction between the fabric and the skin around your knee during a basketball game due to all the movement. A fabric with a soft texture will prevent chafing.
Lastly, you should look for a material that keeps your knee cool and dry. This will keep you comfortable throughout the game.
Size
Follow the manufacturer's guide to get the optimal size for your knee pad. A right-sized knee pad will ensure proper coverage for your knee cap and will fit correctly around your knees to prevent slippage or extreme tightness.
8 Best Basketball Knee Sleeves And Knee Pads
Now that we understand the different factors, let's go and decide which best basketball knee pads to buy.
The pads on the JMOKA Non-Slip Soft Knee Pads are made of thickened anti-collision sponge which are about half an inch in thickness. This gives good cushioning without being restrictive. It is held in place by elastic cuffs which are soft, moisture-wicking, and breathable. These are very easy to put on and take off so you won't need to spend a lot of time when getting ready before a game.
The product comes in three sizes (Small – S, Medium – M, and Large – L). S is the size that will work for children ages 12 and below. You know you have the right size when it feels snug and secure but not painful. It should not prevent your knee from flexing when you walk or run.
Pros
Thickened sponge pad which absorbs shock well
Elastic cuffs that hold the product in place without being restrictive
Moisture-wicking and breathable
Cons
The cuff fabric has small ridges which may not be comfortable for a few people
These Bodyprox Protective Knee Pads are made of high density foam measuring around two centimeters (more than half an inch). They are a little thicker than most of the ones in this list. This option is for people who prefer a thicker pad that still allows for freedom of movement.
The fabric cuff has considerable elasticity and clings to your knees to prevent slippage during intense motions. It is breathable and feels pleasant on your skin. You put them on and forget you have them. These knee pads provide a bit of compression to prevent stiff muscles, relieve knee pain, and improve blood circulation.
The Bodyprox Protective Knee Pads come in two sizes (Small/Medium – S/M and Large- L). The S/M is for leg circumference of 13.5-17.5 inches and the L for 17.5-20.5 inches. To measure, position a measuring tape four inches above your knee and wind it around that part to take the measurement.
Pros
Sufficient padding to cushion the knee cap
Comfortable elastic fabric that is breathable
Good grip on the knee
Provides compression to improve circulation
Cons
Thicker than most of the pads in this list
The padding on this McDavid basketball knee pad is made of Sorbothane which is a brand name for a viscoelastic polymer material that provides excellent protection from shock and vibration. The padding is not thick at all but can definitely take a pounding.
The elastic that keeps this pad to your knee is made of neoprene and is latex-free. It fits snug so I recommend going up one size if you are in between sizes. It provides warmth and compression which helps with conditions like arthritis and improves blood circulation. An outer heavy duty nylon enhances durability. This item will last for many basketball games.
One important thing to note is that this product only comes as a single knee pad. It does not come in pairs.
Pros
Sorbothane gel insert instead of usual foam. Superior shock absorption.
Excellent compression
Enhanced durability from the outer heavy duty nylon
Cons
Expensive compared to other options. The price you pay is for one knee pad, not a pair!
Take a size up if you are between sizes otherwise, it will be too tight for comfort.
Instead of a single thick pad to cushion your knee, the McDavid 6440 Hex Knee Pads uses the exclusive HEX technology composed of lightweight hexagon cells. These cells conform to the shape of the body part and provide cushioning and support. Each cell measures nine millimeters and is made of a proprietary material.
It uses the HydraVent hDc Moisture Management Technology on the fabric which pulls moisture away from your skin and lets it evaporate quickly. As a result, the areas covered by the knee pad stays cool and dry and the pad remains odor-free. The elastic fabric holds the pad firmly in place and provides light compression to help in knee pain relief. It is very flexible and doesn't interfere with your movements.
McDavid developed the HEX technology in 2004 and has since been using it not only on knee pads but also in sports apparel like tank tops and tights.
The McDavid 6440 comes in seven different sizes for a close fit Youth (9.5-10.5 inches), XS (10.5-11.5 inches), S (11.5-12.5 inches), M (12.5-14 inches), L (14-16 inches), XL (16-18 inches), and XXL (18-20 inches). The wide range of sizes make this product versatile. You can purchase multiples of this to use in other parts of your body like your elbow or shin. It comes packaged as a pair unlike the McDavid 410. I recommend that you size up if you are at the top end of the size range for a better fit.
A longer version of this knee pad is available. Checkout the next item if this is what you are after.
Pros
HEX technology conforms closely to the shape of your knee
Moisture wicking fabric keeps you comfortable throughout a game
Knee pad stays firmly in place
Works well for basketball game movements
Packaged as a pair
Cons
Sizing can be tricky. Order the next size up if you are in the higher range for a more comfortable fit.
The McDavid 6446 Hex Knee Sleeves is an alternative if you prefer to have more leg coverage. The padding itself is not much more than what is in the 6440 but the additional fabric provides more extensive protection from scratches and bruises. It uses the same HEX technology for protection and hDc Moisture Management to keep you cool and comfortable. It comes in six sizes for a close fit: Youth (10-13 inches), S (13-14.5 inches), M (14.5-15.5 inches), L (15.5-16.5 inches), XL (16.5-18.5 inches), and XXL (18.5-21 inches).
Pros
Better leg coverage against scratches and abrasion
HEX technology conforms closely to the shape of your knee
Moisture wicking fabric keeps you comfortable throughout a game
Knee pad stays firmly in place
Packaged as a pair
Cons
Sizing can be tricky. Order the next size up if you are in the higher range for a more comfortable fit.
You will notice that the COOLOMG Protective Knee Pads uses a honeycomb pattern instead of a single thick pad for cushioning. This structure somewhat resembles the McDavid HEX 6440 and could be an alternative if you are looking for a similar product. Each individual cell is made with EVA material and protrudes out more compared to the McDavid 6440. The design makes it easy for the pad to conform to the shape of your knees.
Polyester and spandex blend material hugs your knee while a non-slip silicone band gives additional security against slippage. It is extremely lightweight and flexible. It won't interfere with your movement when you run or make a dash for the ball when you've just forced a turnover.
It comes in five different sizes: XS (13-14 inches), S (14-15.5 inches), M (15.5-17 inches), L (17-18 inches), and XL (18-20 inches). Measure your thigh by placing a measuring tape 5 inches above your knee cap then wrap it around to get the circumference.
You can check out the next option if you like this knee pad but prefer a longer version.
Pros
Honeycomb structure on the pad conforms well to your knee shape
EVA material provides adequate cushioning
Lightweight polyester and spandex keep the pad in place
Cons
Sizing can be tricky. If you are on the border of two sizes, go for the larger size.
This is the longer version of the COOLOMG Knee Pads. Like the shorter version, it also uses a honeycomb pattern for cushioning. The extended length provides coverage against scratches and bruises on the lower thighs and calves. The extra material also secures the knee pad better.
Like the short knee pad version, you get your size by measuring your thigh. Place the measuring tape five inches above your knee cap then wrap it around to get the circumference. Pick the closest size from the six available options: XXS (12-13 inches), XS (13-14 inches), S (14-15.5 inches), M (15.5-17 inches), L (17-18 inches), and XL (18-20 inches).
Pros
Honeycomb structure on the pad conforms well to your knee shape
EVA material provides adequate cushioning
Lightweight polyester and spandex keep the pad in place
Cons
Sizing can be tricky. If you are on the border of two sizes, go for the larger size.
There are two things that make this knee sleeve worthy of a spot in this list. First, apart from providing adequate leg coverage against cuts and abrasions, it has extra cushioning in the shin area. Second, it has sizes that extend to XXL and XXXL which others do not have. This is a good option if you have a larger frame.
The Kuangmi knee sleeve uses a moisture-wicking and breathable material to keep you sweat-free in spite of the extended leg coverage. Four non-slip silicone stripes keep it firmly secured to your leg. The knee sleeve has a very attractive design. The uniquely placed stripes make it eye-catching and stylish.
To get your size, wrap the measuring tape 13 centimeters above your knee cap then wrap it around to get the circumference. Buy the larger size if you are at the upper limit. The knee sleeve comes in six sizes: S (32-36 cm), M (36-41 cm), L (41-47 cm), XL (47-53 cm), XXL (53-59 cm) and XXXL (59-65 cm). I recommend using centimeters when measuring for this product. The equivalent numbers in inches could cause confusion and you may end up with the wrong size.
You may notice that I talk about this product as a singular item. The main issue that I have with it is that there is only one sleeve (and not a pair) per package!
Pros
Comes in XXL (20.8-23.2 inches) and XXXL (23.2-25.6 inches) sizes which are not available for other products
Provides cushioning for both knees and shins
Quick drying and breathable material
Cons
Package comes with only one sleeve. You need to order two if you need a pair.
Getting two pieces can become expensive
The Awesome Choice
The McDavid 6440 Hex Knee Pads is my recommendation for the best basketball knee pads. The HexPad material conforms to the shape of your knee and adequately cushions it from bruises and mild impact. It is excellent for general purpose protection and support. If you prefer more leg coverage then choose the McDavid 6446 Hex Knee Sleeves.
Both the Hex knee pads and sleeves come with a comfortable moisture wicking fabric which keeps that pad in place and doesn't restrict movement. These products are popular with NBA players because of the great balance between protection and performance.