Short on time? If you quickly want to know what my choice is for the best basketball backpack, then I would recommend the MIER Basketball Backpack as the best one.
I have several basketball backpacks and I absolutely love using all of them. All of us have our own favorite backpacks. Is your favorite one suitable for your basketball needs? Basketball backpacks nowadays come in a huge variety of features across different price ranges. I am going to share with you here what you need to look for so you can decide which one is the best backpack for your needs.
In this article, I'll be reviewing the following best basketball backpacks:
Modern Design And Aesthetics
Basketball backpacks are a necessity for players of all levels. You need an ergonomic backpack with enough room to store a basketball and personal items. This could be challenging to find.
A new category of backpacks called "ball backpacks" are one of the latest additions to hit the market. Ball backpacks provide a dedicated storage for a basketball. They also have space for your basketball gear and even laptops which are an essential these days.
Modern-day basketball backpacks are more than a simple bag to carry your sports stuff. Although they are designed for the game of basketball, they come in many styles and colors that can be used for more than just sports or basketball.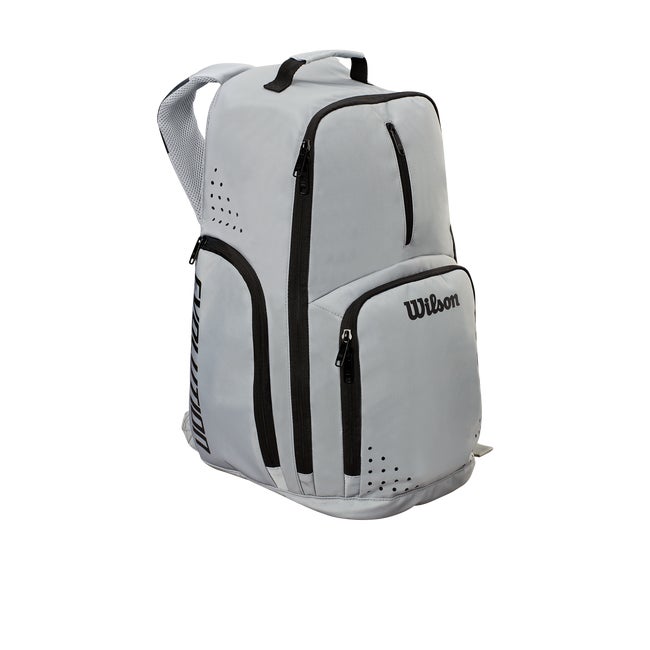 Some of the newly-designed basketball backpacks appear to be small when you first see them. You will be surprised to find that they offer a variety of pockets and compartments. This makes them much easier to carry around. This is precisely why you need to know the different features of the best basketball bags that are currently available on the market today.
Large sports companies forming strong partnerships with NBA players have become common. Nike, Adidas, Under Armour, and even the Jordan Brand have partnered with established and up-and-coming NBA stars. They let them design cool basketball accessories including backpacks.
Kevin Durant is one example. Durant and the rest of the Nike-NBA basketball partnership has been a success. Both parties have poured a good deal of investment into designing and marketing products especially created to complement our basketball lifestyle. You will find a lot of Kevin Durant shoes and other basketball apparel in stores. I am hoping that Nike and other sports companies will have more collaborations up their sleeves. I see these partnerships as beneficial to our basketball community.
Comfortable Shoulder Straps
I easily get irritated when it gets uncomfortable carrying my backpack. The weight of a backpack is a factor in the discomfort it causes, but the fabric it's made from can also have an impact. In order to prevent being irritated from carrying a backpack, I try to find one with a back that won't chafe my skin. The backpack should also have wide enough shoulder straps so that it doesn't put pressure on my shoulders.
It's no secret that carrying things in a backpack can cause sweat on the back, neck, and shoulder areas. When you wear a backpack, your back becomes sweaty because of the constant movement of your body. Fortunately, there are some fashionable and functional solutions to this problem.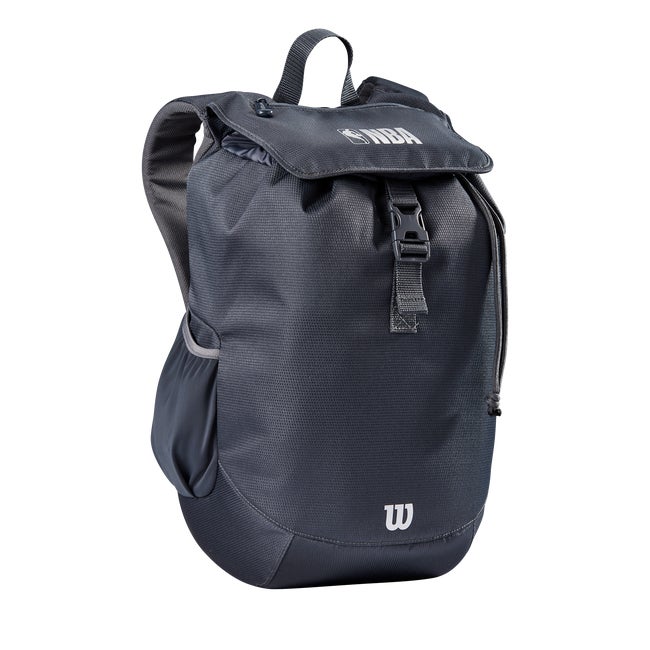 Microfiber is a fabric that wicks away sweat which makes it perfect for use in sporting equipment like backpacks. This material is created by weaving micro fibers together which makes it durable but lightweight. When used in a basketball backpack, it also makes the whole backpack more comfortable.
Basketball backpacks come in a variety of shapes and sizes. They can be made out of different materials that vary in weight, durability, and price. The most common materials for basketball backpacks are nylon and polyester. Nylon is typically lighter in weight and less expensive than polyester, but it's also less durable so its lifespan may not be as long. Polyester is much more durable than nylon but heavier and more expensive.
I love backpacks that have some combination of lightweight materials and durability. Basketball backpacks that are made of lightweight material are usually the first priority for me. It is also important to have some type of durability. I think that some type of compromise between these two qualities is ideal for a good backpack. A new trend I've been noticing lately are backpacks made out of recycled materials. They can be very durable, so that is something that I will be considering.
Large Storage Capacity
I love that basketball backpacks these days come in a variety of colors and designs. Many of them also come with additional storage spaces. This allows me to carry all sorts of sports equipment including shoes and a basketball.
The backpacks that I usually choose are the ones that are large sports bags with durable exterior shells. These are usually built tough with abrasion resistance materials. This is perfect for demanding athletes like us. The first thing I would check about a backpack is whether it has adjustable padded shoulder straps or not. This will allow me to carry the backpack comfortably for an extended period of time.
Anyone who has ever packed a backpack knows that after you've filled it with all your stuff, it grows heavier and heavier. For this reason, it is important to buy the right backpack for the occasion.
I also prefer to buy basketball backpacks that have wide back panels that reduce strain on the shoulder and spine as you carry it. Basketball backpacks with a large capacity can be a great investment for athletes like us. We are always on a lookout for a bag that can serve our needs for all seasons. Unlike typical one-season backpacks, these bags have multiple compartments. It can store our basketball gear and other items such as clothes, books, and even snacks.
Backpacks that have large storage capacity can easily be used for exercise or to carry your belongings from the locker room to home. Their versatile design makes them perfect for both everyday use and athletic activities. I won't have to worry about buying a new backpack midway through my basketball season. I can just continue using the same one throughout the entire school year or season.
5 Best Basketball Backpacks
Now that you know what my considerations are when buying bags, let us get into my list of the best backpacks for basketball.
Nike has been a household name in the athletic gear industry for decades. While their headliners are their shoes, Nike also produces a variety of bags and apparel to fill out a well-rounded line of sports products. One of these items is the Nike Elite Pro basketball backpack, which is designed for high performance sports athletes. The bag is made from 100% polyester and holds up to 15″ laptops.
This basketball backpack is made with Dri-FIT microfiber fabrication that wicks sweat away to help keep you dry, cool, and comfortable. The material does not absorb moisture and is designed to swiftly move sweat away from the skin, while still remaining breathable; this reduces heat and discomfort by allowing heat and sweat to escape faster. The fabric also assists in regulating body temperature and is quick-dry.
Based on experience, this backpack can store an official size basketball and a pair of basketball shoes. This backpack definitely satisfies all the criteria that I have for an excellent basketball bag.
Pros
Made of Nike's proprietary moisture-wicking Dri-FIT microfiber
Large capacity which can accommodate a basketball and a pair of shoes
Comfortable 13″ shoulder drop
Cons
No separate compartment for a basketball
The MIER basketball backpack is one of the most cleverly designed basketball backpacks that I have encountered. I love that it has a spacious ventilated pocket that can comfortably hold an official size basketball (29.5″). In terms of storage capacity, this backpack is certainly at the top of my list. It is huge enough to hold all my basketball stuff including an extra pair of shoes.
I also like that the manufacturer has incorporated all the features that I am looking for. From the sturdy top handle to the comfortable shoulder straps, every detail is well thought of. Although the zippers are not YKK, they are durable enough for everyday use. It also comes with side suppression straps which is a feature that is not available in some other basketball backpacks.
The exterior shell is quite durable and can withstand abrasions from constant contact with benches and flooring.
I felt that the buckles would last a long time based on the materials used. The sternum strap is also adjustable which is a nice added feature. This backpack is actually great if you are going to be carrying the backpack in a crowded area. I also like carrying this backpack when I am late for my practice or if I am rushing to go to the gym.
Pros
Huge storage capacity of 40 liters
Durable exterior shell
Multiple pockets: tablet pouch, side mesh pocket, side open pockets, etc.
Comfortable shoulder straps
Top carry handle that is easy to pick up and grip
Great value for money
Cons
Zipper are not YKK which would have been perfect
The ATHLIO basketball backpack is a lightweight backpack that fits the needs of basketball players like us or any person who likes to carry their belongings during sporting events. The multi-purpose pocket will allow us to carry all your essentials without having to worry about bringing a bulky bag just for a ball. The ATHLIO backpack also comes with an inside zipper pocket and a padded sleeve for a laptop or tablet, which is perfect if you have homework or school work to do while traveling.
This basketball backpack is perfect for storing all your sporting equipment. It comes with a heavy duty waterproof dual layer internal lining to ensure no moisture gets in. The bag includes a big enough main compartment with a zippered pocket at the top for smaller items.
What I like is that there is an additional zippered pocket for accessories and snacks. This is a great feature for the teenage boys who are going to be using the backpack for school or other sports. This is a great choice for beginner to intermediate basketball players.
Pros
External pocket for basketball
Side pocket that can fit up to two water bottles
Lightweight
Ventilated compartments
Cons
Storage capacity is not as big as other backpacks (21 liters)
The Wilson Evolution basketball backpack has a sleek and streamlined aesthetics. The main compartment is large enough to fit a full size basketball along with a pair of my favorite basketball shoes.
It comes with seamlessly designed perforations on the side and front. These are effective for bag ventilation and ensures odor from our shoes, damp jerseys, and dirty basketball won't stay inside the backpack for too long.
What I also like about this basketball backpack is a thermal lined pocket which is extremely useful if you are bringing drinks or food which need to be temperature controlled during storage.
I must admit that I rely on my phone so much that having an easy access phone sleeve on the arm strap is such a great feature that I absolutely need. This feature alone can already make up for the lack of an exterior ball compartment.
If you love customized apparel and equipment, this Wilson Evolution basketball backpack is for you. You have the option to add your team logo and your player number. This can be added on the front pocket panel.
Pros
Large storage capacity in the main compartment
Perforations on the front and side for ventilation
Pocket with thermal lining for maintaining temperature
Phone sleeve on arm strap for ease of access
Optional team logo and player number
Cons
Does not have an external ball compartment
The Under Armour Scrimmage backpack is made of a material that is a fusion of polyester and nylon. The shoulder drop measures 16 inches which is quite good for basketball usage.
The proprietary Under Armour Storm technology was used for this backpack. The UA Storm material effectively repels moisture and water without sacrificing breathability.
The feature that I like most in this backpack is the adjustable and padded HeatGear shoulder straps which are very comfortable and durable. Both sides come with mesh pockets which effectively allows two water bottles to be carried on this backpack.
You can also use this as a casual backpack as it comes with a soft-lined laptop sleeve. In terms of compartments, the Scrimmage backpack comes with two zip-shut compartments and one quick-stash pocket in front. The design is elegant and can be used as a sleek backpack when commuting to work or school as it comes with a soft-lined laptop sleeve.
Pros
Durable polyester and nylon blend material
Solid zipper closure
16 inches shoulder drop
Under Armour Storm technology material to repel water and wick moisture
Cons
Lacks compartment for a full-sized basketball
The Awesome Choice
While each of the five basketball backpacks have their pros and cons, the one that really stands out for me is the MIER Basketball Backpack.
The massive storage capacity of 40 liters is the ultimate backpack that I would bring to that all important game. The compartments are cleverly designed such that all the basketball stuff that you can think of bringing will have an appropriate place for them to be securely stored.
The exterior shell is durable and will last a long period of time even if used with minimal maintenance. The comfortable shoulder straps are a winner for me as I can carry this while walking or running a fair bit of distance. This backpack definitely meets all my defined criteria for my best backpack to use for basketball and sports purposes.