Need to make a quick decision? If you quickly want to know what my choice is for the best basketball arm sleeves, then I would recommend the McDavid 6500 Hex Shooter Arm Sleeve as the best one.
Arm sleeves are another popular trend that I have seen with NBA players. Allen Iverson first sported the look in 2001. Since then, I've found well-known players like Ray Allen, Dwayne Wade, Lebron James, and even the late Kobe Bryant wearing arm coverings whenever they play. Are there actual benefits to wearing shooting sleeves apart from the style factor? Do you want to know if it is worth getting one?
In this article, I'll be sharing with you the following basketball arm sleeves:
Benefits Of Wearing Arm Sleeves
Without a doubt, NBA players who wear shooting sleeves look really good when wearing them. However, arm sleeves are not just fashion statements. Before diving into the benefits, take a look at Allen Iverson's 2000-01 NBA season. This is the year when he started wearing arm sleeves and became MVP.
Some of the important benefits of wearing arm sleeves for basketball are protection from injuries, performance improvement, and post exercise recovery.
Protection
The most important benefit of wearing arm sleeves during basketball is protection against injuries. Arm sleeves protect against injuries by providing a cushion for any contact on the arm. This reduces the chance of injury or bruising that can occur when another player or ball hits the unprotected arm, which in turn will lead to fewer players being injured. Also, wearing the sleeves will provide extra protection if an elbow is hit with force during play.
Arm sleeves are typically worn by guards because they provide protection when reaching out to catch a pass or when fighting for position.
Performance
Wearing arm sleeves during basketball makes it easier for the player to have better control over the ball. According to a study by Hooper DR et al, compression garments help improve the performance of athletes through increased awareness of the position and movement of the body. Baseball pitchers and golfers who wore compression garments had better pitching and shooting accuracy.
Post Exercise Recovery
Arm compression sleeves help facilitate post exercise recovery by reducing the severity of residual muscle soreness and inflammation. This is thought to be due to the increased blood flow in the part of the arm where there is compression wear. A study by Kim J et al showed faster strength recovery following exercise and lower muscle soreness during the recovery period for the male students who wore compression sleeves.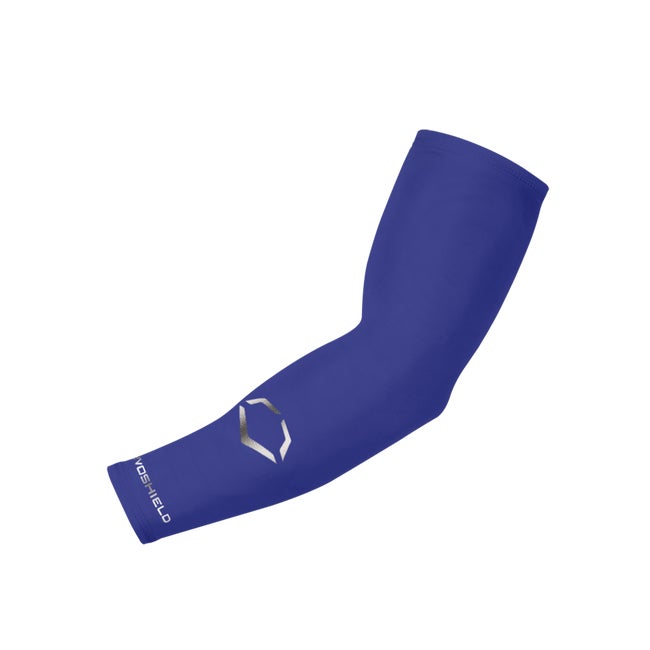 Types Of Arm Sleeves
There are two different types of arm sleeves: compression sleeves and arm guards.
Basketball compression arm sleeves are made of stretchy material that is lightweight and breathable (usually spandex or nylon). They are tight enough to compress the muscle but not so tight that it restricts movement. The sleeves can be worn during any activity without hindering performance. They are typically used to relieve muscle soreness, swelling, or inflammation on the arm.
Arm guards are made of abrasion resistant fabric that covers the upper arm, elbow, and forearm. Some may have additional padding for added protection. These are worn by a player on their arm to prevent injuries from contact with other players, the ground, or various obstacles. They are typically made out of spandex, cotton, neoprene, or nylon.
There are arm sleeves that combine both the functionality of an arm guard and compression sleeves.
What To Look For When Buying An Arm Sleeve For Basketball
Material
Choose a comfortable, breathable fabric with moisture-wicking properties.
Most shooting sleeves are made of polyester or nylon combined with a stretchable material which could be spandex or elastane.
Polyester is a good material for arm sleeves because it is lightweight and breathable. It also helps to wick sweat away from the body, which is important when playing sports.
Spandex or elastane is a synthetic material that is used to make clothing like leggings, swimsuits, and tight fitting tops. It is made of polyurethane, which is a synthetic fiber.
Another popular material for arm sleeves is neoprene. Neoprene is a synthetic rubber that can be used in many applications such as for wetsuits, insulation, and gaskets. It is a tight and water-resistant fabric. This is a good choice if your goal is to keep your arm warm and reduce swelling.
Fit, Length, And Sizing
When looking for an arm sleeve for basketball it is important to choose the right size. For players of any height, arm sleeves should fit snug on the bicep. They should also be tight enough that they're not going to slide down your arm, but loose enough that you can still move your arms without them being too restrictive. The arm sleeves should be long enough to reach the wrist.
Different brands have different ways of measuring for size. I recommend using a soft tape measure and wrapping it around your arm with the tape touching the skin. Get the measurement of your biceps. This would be around four inches above the elbow. This point is the largest part of your arm. Check this measurement against the sizing guide provided by the manufacturer.
Colors And Print
Black and white are preferred colors. White is often used on arm sleeves because it's a neutral that can be worn with any other color. Black is often used because it creates a more bold look than other colors.
Arm sleeves may also have stripes or graphics on them. Choosing arm sleeves based on your team's colors is a good idea. It helps keep the team's branding cohesive. The print of the arm sleeves can have the team's logo or a design that is relevant to basketball. For example, the Jordan logo or the NBA.
If you are allowed to by your league and team, feel free to experiment with different colors and prints to find out what suits you best.
One Arm Or Two Arms?
Arm sleeves can come in a pair (two pieces) or one piece in a pack. You should pay attention and read the product description closely before purchasing them. It is very frustrating to find only one arm sleeve when you expected two!
It is not uncommon for basketball players to wear only a single arm sleeve. It all depends on what you need and the look you are going for.
Price
There are many different price points for basketball arm sleeves. More popular brands such as Nike, Under Armour may charge a premium for the branding. Cheaper ones are available from lesser known brands.
If you are buying mainly for the look and you are just starting to try arm sleeves out, then I recommend the cheaper ones. This will give you an idea if you like wearing them or not before deciding to spend more.
If you are buying for protection, then you should be prepared to fork out a bit more to have additional features such as built in padding.
5 Best Arm Sleeves For Basketball
Now that you have a good idea on what to look for, here are my top choices for the best basketball shooting sleeves to buy.
These cool shooting sleeves from the Nike Jordan brand are made out of 83% polyester and 17% spandex. As with most Nike sports apparel, you get the Dri-FIT technology which is well-known for wicking away moisture. I find these very comfortable to wear.
The fabric is abrasion resistant so you can be sure that your arms are protected from scratches. Provided you get the right size, the sleeves are form-fitting so you don't need to worry about them sliding down. It gives you ample support while shooting.
The Jordan brand logo near the wrist of the arm sleeve is subtle enough to not get in the way of the overall design, but is still recognizable. There are two arm sleeves in each package.
What this product lacks is the variety of choices. It only comes in two colors – black and white. It only comes in two sizes – S/M and L/XL.
Pros
Features Dri-FIT technology, moisture-wicking and breathable
Form-fitting, does not slide off easily
Abrasion resistant, good for protecting your arms
Comes in a pair
Cons
Only two colors available – black and white
Limited range of sizes
The McDavid 6500 Hex Shooter Arm Sleeve are compression sleeves with a 9mm HEX technology padding positioned at the elbow. Hex Technology is developed and patented by McDavid. It is made of durable foam bonded to moisture management fabric. The padding has a hexagonal pattern that provides protection without restricting movement. The hex padding is also available in other popular McDavid protective gear like knee pads.
The shooting sleeves are highly breathable and moisture-wicking. This is due to the hDc Moisture Management Technology. This product maintains muscle warmth and prevents abrasions and scratches. It enhances recovery time and reduces muscle soreness.
The shooting sleeve comes in an array of sizes from XS, S, M, L, XL, XXL, XXXL so you have a lot of options. Do note that only one sleeve is included in each pack.
Overall, this product is a great all-rounder. The inclusion of a hex pad in the elbow is great value. It can double up as an elbow pad. You also get compression support which can potentially help speed up muscle recovery after an intense basketball game.
Pros
Padding on the elbow gives additional protection
Moisture wicking and highly breathable
Provides compression and warmth to your arms
Available in seven different colors
Huge range of sizes
Cons
Only one sleeve in the package
The Nike Pro Elite Sleeves 2.0 is made of 80% polyester, 15% spandex and 5% silicone. It has a lot of stretch and does not limit your arm movements.
The Dri-FIT technology wicks moisture away. It keeps your arm cool and dry. These shooting sleeves are very comfortable to wear. You can barely feel the flat seams. They have an added bonus of UVA and UVB protection.
These arm sleeves have a simple design. It features a vertical line broken down into four parts along the middle of the outer arm. The Nike Swoosh logo is positioned near the wrist. The print of the line and Nike logo is done in a contrasting color. It is simple but striking.
Each package comes with a pair of arm sleeves. The product is available in two sizes: S/M for biceps with circumference of 8.5″-13.5″ and L/XL for biceps measuring 14″-19″. In terms of color choices, these sleeves only come in black and white.
Pros
Moisture-wicking
Stretchy material, they do not restrict your arm movement
UVA and UVB protection
Each pack contains two sleeves
Cons
Limited colors – black and white
Limited range of sizes
If you want to use your arm sleeves to make a statement then look no further than these arm sleeves from Bucwild Sports. These shooting sleeves stand out for the range of prints and colors. They have a pink one for breast cancer awareness, the USA flag, a baseball, and camouflage prints. The camo print comes in at least 20 color combinations.
These arm sleeves are made of polyester and spandex which is great for wicking moisture away. It provides mild compression to your arms to help with muscle soreness and muscle recovery. It comes with a sun protection rating of UPF 50+.
It comes in eight different sizes. For youth, it comes in small (bicep size 6-7″), medium (bicep size 7-8"), and large (bicep size 8-9") . The adult sizes are: small (bicep size 10-13"), medium (bicep size 13-15"), large (bicep size 15-17"), XL (bicep size 17-19″), and 2XL (bicep size 19-21″).
Do note that each pack includes only one arm sleeve.
Pros
Impressive range of colors and designs
Moisture wicking and provides mild compression
Offers sun protection of UPF 50+
Cons
Only one arm sleeve included in a pack
The designs may be too loud for some
This arm sleeve from Under Armour is created with HeatGear. HeatGear is used in Under Armour's performance baselayers. For this arm sleeve, they have made it very stretchable so it does not restrict your movements when shooting. The composition is 80% polyester and 20% elastane. It will keep your arms cool and dry even during long games.
It fits ultra tight like a second skin. The compression from the sleeve aids in circulation to boost performance.
It comes in two sizes and goes by length: S/M which is 15 inches long and L/XL which is 17 inches. You have a choice of six different colors. Only one sleeve is included in the package.
Pros
Moisture-wicking
Fits like a second skin but does not restrict movement
Provides mild compression to aid in circulation
Available in six different colors
Cons
Only one arm sleeve included in a pack
Sizing options are limited
The Awesome Choice
My choice for the best arm sleeves for basketball is the McDavid 6500 Hex Shooter Arm Sleeve. What stands out for me is the additional protection provided by the HEX elbow pad which is also available in their other protective gear. The durable construction of the sleeve protects your arms from scratches during intense games. It provides mild compression to help relieve muscle soreness and increase awareness of your arm position and movement.