How To Choose The Right Basketball Size
There are several basketball sizes that are available online. Take a look at the basketball size chart below that I have created to know your options so that you can make the right choice of basketball sizes by age.
Size
Circumference
Age Group
Size 7
29.5″
Boys 14 and above
Size 6
28.5″
Boys 12 to 13
Girls 12 and above
Size 5
27.5″
Boys and girls 8 to 11
Size 4
25.5″
Boys and girls 4 to 8
Size 3
22″
Boys and girls below 4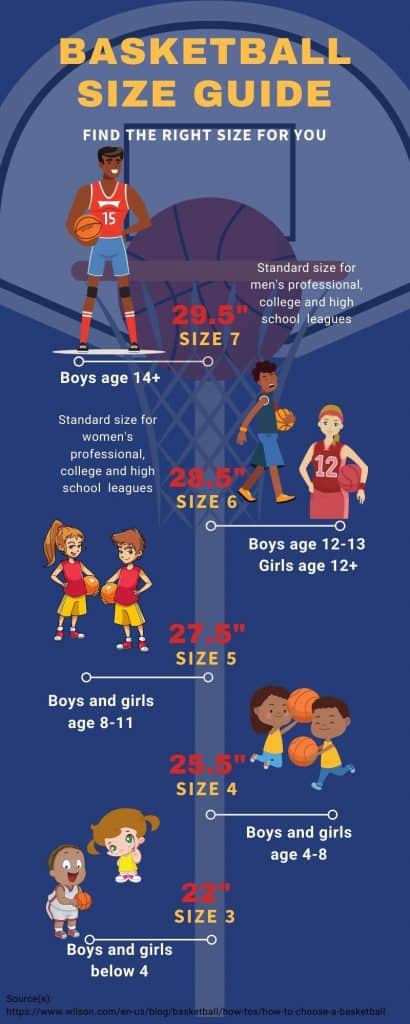 More About Basketball Sizes
Sizes 7 (29.5″) and 6 (28.5″) are the regulation size basketballs.
Size 7 is the official men's basketball size for professional, college, and high school leagues. This basketball size is for boys aged 14 years and above. This is the official NBA basketball size. Go for the Spalding NBA Official Game Ball or the Wilson NBA official game basketball if you want the same experience as what the professional basketball players use.
Some of the other best basketballs that I'd recommend in this size are:
Size 6 is the official size for women's professional, college, and high school girls' basketball. This is the size used by the WNBA. It is also suitable for boys aged 12 to 13.
Some options available for this size are the following:
Size 5 (27.5″) is a youth sized basketball suitable for boys and girls aged 8 to 11. There are a number of options in this size range. Here are a few of the good ones that I'd recommend:
Size 4 (25.5″) is the basketball size for 4 year olds and can work up to 8 years old. This size is child-friendly. There are less options in this size range and most of them are rubber balls. You can take a look at the following:
Size 3 basketball (22″) is a fun and playful size. This mini basketball size is perfect for 3 year olds and below. Most of the size 3 basketballs are made of rubber and similar to the size 4 basketball, options are also less compared to sizes 5 to 7.
A few of the good ones that you can check out are the following:
Why Getting The Right Basketball Size Is Important
The right basketball size is important to develop the correct shooting technique especially if you are just starting to learn basketball.
Many basketball coaches have observed that using an incorrectly sized basketball will lead to bad shooting habits. Our bodies will instinctively use a position that feels most comfortable to get the task done.
Still Confused? What to do if you are in the borderline or in-between sizes?

Boys and girls aged 8 and 11 and boys aged 13 and 14 are the ones who are most likely to find themselves in between sizes. Here are some tips if you are on the fence.
Follow Your Coach's Advice
Your coach will be the one teaching you the techniques for shooting and ball handling. Follow their recommendation so you get the right equipment that will work best with the techniques that you will be taught. Your coach may adjust his or her recommendation as you progress and improve your skill-level during your training.
Try Two Sizes
If you are selecting a ball to learn by yourself or for recreation, you should definitely try two sizes and see which one you are more comfortable with.
Take The Smaller Size
If you could not decide between two sizes, it is better to take the smaller size. It will be more comfortable for you to use. You can always upgrade later once you have mastered your technique using the smaller ball.
Conclusion
There's no need to rush in getting to the next larger size or more expensive basketball. Getting the right size for your age and skill level will help you develop your technique better and will increase your enjoyment of the game. When in doubt, you can always refer to the above basketball size chart that I have created for guidance on basketball sizes by age.